- Advertisement -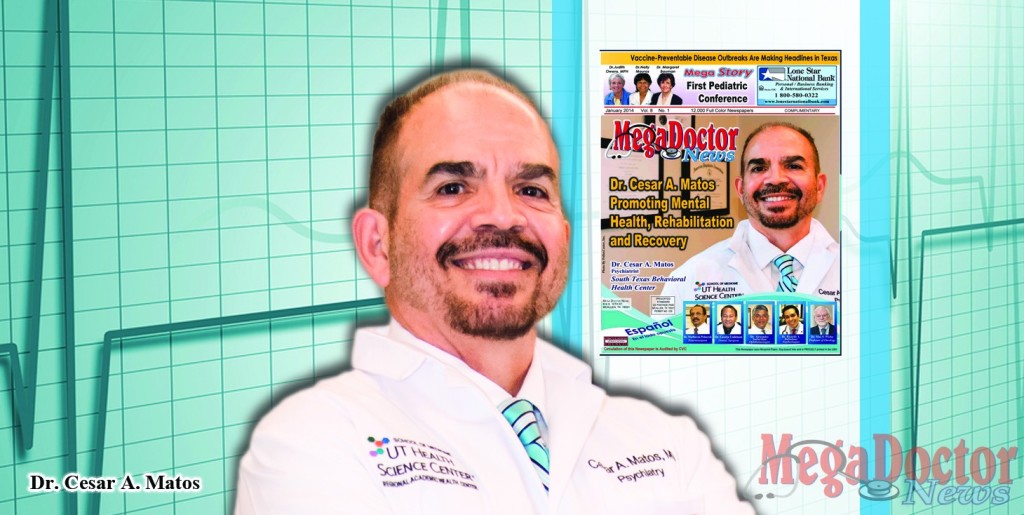 Mega Doctor News – 
By Roberto Hugo Gonzalez
The psychiatric profession is not an easy one. It comes with a big responsibility and requires that you hear heart-wrenching stories from people without getting emotional. In a few words, aside from spending several years in medical universities and fellowships you have to be emotionally strong to be able to handle this profession to start with.
Our Mega Doctor of this month is Dr. Cesar A. Matos, a medical doctor with a specialty in psychiatry. In this New Year, he will be celebrating 33 years in practice in this profession.
He has acquired a vast experience with no parallel in this field. He treats patients suffering with anxiety and mood disorders, as well as panic disorder, social anxiety, symptoms of post-traumatic stress disorder including major depression, and bipolar disorder.
During his long career as a psychiatrist he has served thousands of patients, a volume that speaks for itself. Dr. Matos is a doctor that is truly trusted by more than seven thousand patients that he currently treats.
He also provides medication management for bulimia and premenstrual symptoms, and treats adults and older adolescents who have attention deficit disorder.
- Advertisement -

Dr. Matos practices adult psychiatry, and cares for all types of patients with dedication to patients afflicted with Alzheimer's disease and their caregivers. And as in any area where alcohol is available everywhere, he helps patients suffering with alcohol abuse.
Dr. Matos was born in San Juan, Puerto Rico, obtaining his medical degree at the Universidad Autónoma de Guadalajara, in the state of Jalisco, Mexico. After his graduation he spent a year in San Juan, Puerto Rico, completing his internship and he was accepted at the University of Florida Medical School for his residency and specialty in psychiatry.
Upon the completion of his residency program, Dr. Matos moved to New York where he completed a fellowship at Columbia University.
Dr. Matos is board certified by the Board of Psychiatry and Neurology and was certified in Clinical Psychopharmacology. He was an attending physician in the Mental Health Department of Columbia University for several years. In 1993, Dr. Matos and his family moved to McAllen and that was almost 21 years ago.
He told Mega Doctor News that his specialty is a fascinating profession. "Years ago this specialty was looked down on and people usually didn't want to train in these areas." He continued, "I wanted to be a psychiatrist even when I was in premed, since then I decided that if I was going to be a doctor it was going to be in psychiatry."
He recalls that one his mentors told him, "We are dealing with the mind and the mind controls everything. If your mind is gone, it does not matter if you have a great heart."
Dr. Matos was eloquent about his profession and drug treatments. Before the eighties there wasn't an available medication to alleviate the suffering of the human mind; after the Food & Drug Administration approval in December 1987, Prozac (Fluoxetine Hcl) became a very effective medication to control depression.
The interest in research by the pharmaceuticals to develop new medications to help people that had mental health issues was there. "So it was a big boom in the eighties," he said.
He recalls that psychiatrists were not important for the pharmaceutical industry but it was a time of discoveries of new treatments and Fluoxetine came to be. He said that pharmacy reps started visiting doctors to tell them about the use of this drug.
Before this medication, Dr. Matos said that psychiatrists had to deal with mental health based on the teachings of Sigmund Freud, an Austrian neurologist who became known as the founding father of psychoanalysis.
Freud's treatments included psychoanalysis and psychotherapy. There were few medications available for the very disturbed patients suffering with schizophrenia that often ended up locked up in an institution for the rest of their lives.
"Another medication was Thorazine (Chlorpromazine)," he said. But as he explained, Thorazine had many side effects. "This medication alone had between 35 to 37 side effects and if compared to new medications, they also have side effects but not as many," he said.
Mega Doctor News published this article on January 2014, and to continue reading the rest of the story follow the link that will take you directly to the complete to the article: https://j.mp/drcesarmatos MDN