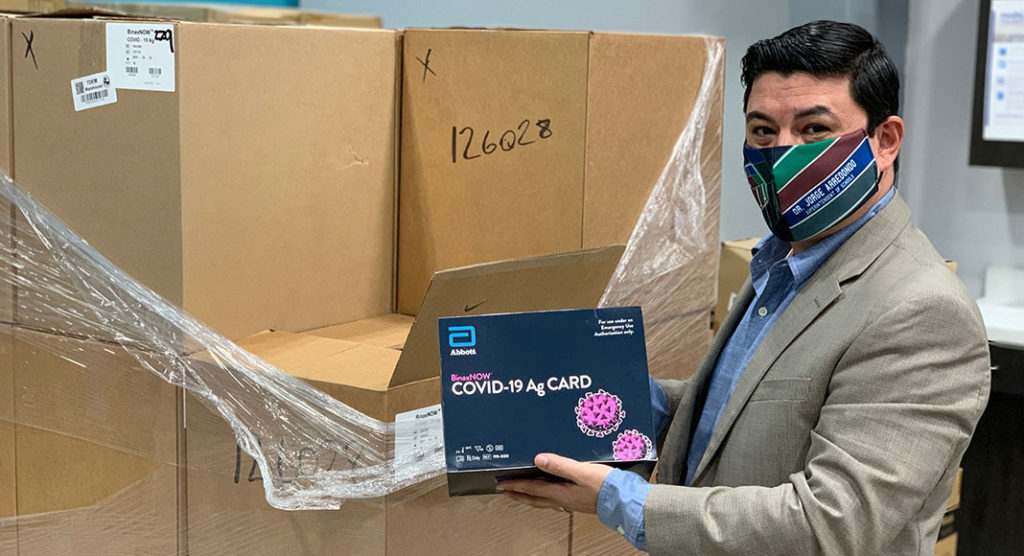 Mega Doctor News
PHARR – This week, TEA released details about the Rapid COVID-19 Testing Program available to all schools in Texas. In preparation for a re-opening phase starting Monday, Nov. 16, Pharr-San Juan-Alamo ISD received 11,000 kits for rapid COVID-19 testing.
"We're the first school district in the area to receive the COVID-19 Ag Card," said PSJA Superintendent Dr. Jorge L. Arredondo. "This will allow our employees and students, if they choose to, to get tested and within 15 minutes find out if they are COVID-19 positive. We're proud to provide yet another safety layer, and the first in the Valley to provide this to our community."
According to the Texas Division of Emergency Management (TDEM) website, as part of the Nation's Coronavirus Testing Strategy, the United States Health and Human Services Department has distributed 150 million of these kits. The State of Texas has begun receiving its weekly allotment of these tests for utilization in settings that need rapid, low-tech testing.
The Texas Division of Emergency Management (TDEM), in coordination with the Texas Education Agency (TEA), has been directed to ensure the effective distribution of these kits to Texas school systems to further this national effort. As a part of this project, school systems are provided with delivery of the kits, personal protective equipment, product training, and support to refill supplies as available.
The tests are completely voluntary—no student or staff can be asked to take the test. The tests are administered through the nose and produce results in 15 minutes.  All results of the tests will be reported through the app.txrapidtest.org application.