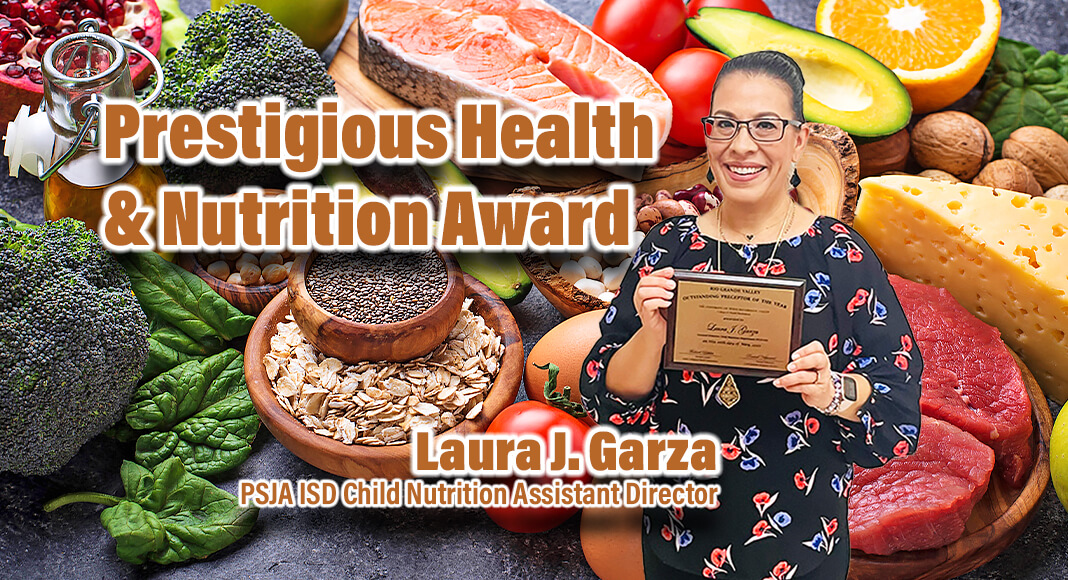 Mega Doctor News
PHARR, Texas – Pharr-San Juan-Alamo Independent School District (PSJA ISD) Child Nutrition Assistant Director Laura J. Garza was recently awarded the Outstanding Preceptor Award from the University of Texas Rio Grande Valley (UTRGV) Department of Health and Biomedical Sciences.
Established in 2021, the UTRGV Master of Science (MS) in Dietetics Program aims to prepare graduates for practice as Registered Dietitian Nutritionists who focus on ensuring food and nutrition innovation, research in healthcare, sustainability, promoting health and wellness equity, and providing nutrition leadership in the Rio Grande Valley as well as the national and global communities.
As part of the graduation requirements for students enrolled in the program, the PSJA ISD Child Nutrition team was selected to mentor the students throughout their Supervised Experiential Learning (SEL). The SELs include a series of competencies and activities to complete during their rotation including menu development, production, safety, sanitation, equipment, and facility planning to name a few.
The program recently held its first preceptor orientation in the Spring of 2023 to recognize the efforts of the preceptors who mentored students throughout the duration of the program.
During the event, four awards were given out to Outstanding Preceptors to recognize the exceptional teaching, mentoring, and leadership in four categories: Child Nutrition, Health Care Foodservice, Community and Public Health, and Clinical Nutrition.
The criteria used to select the Outstanding Preceptor per category was determined through student site evaluations. The students were asked to provide feedback on their practical experience at their respective sites, as well as mentorship and guidance.
The evaluations were completed after each SEL. The Child Nutrition category was very competitive and included 10 nutrition services departments throughout the Rio Grande Valley.
Garza and the PSJA Child Nutrition team were selected for this prestigious recognition for providing the students with outstanding practical experience and mentorship.
"It's an honor to receive this award. I am blessed with a career where I can impact the nutritional status of the children in my community daily," said Garza. "With that in mind, I am grateful for the opportunity to educate the future of dietetics as someday they, too, will serve our communities in different areas related to the practical application of nutrition. I would like to thank God, my family, and my amazing CNP staff who without, I could not fulfill all that I do daily. In education, we say, 'It takes a village,' and I am blessed with the best of villages!"