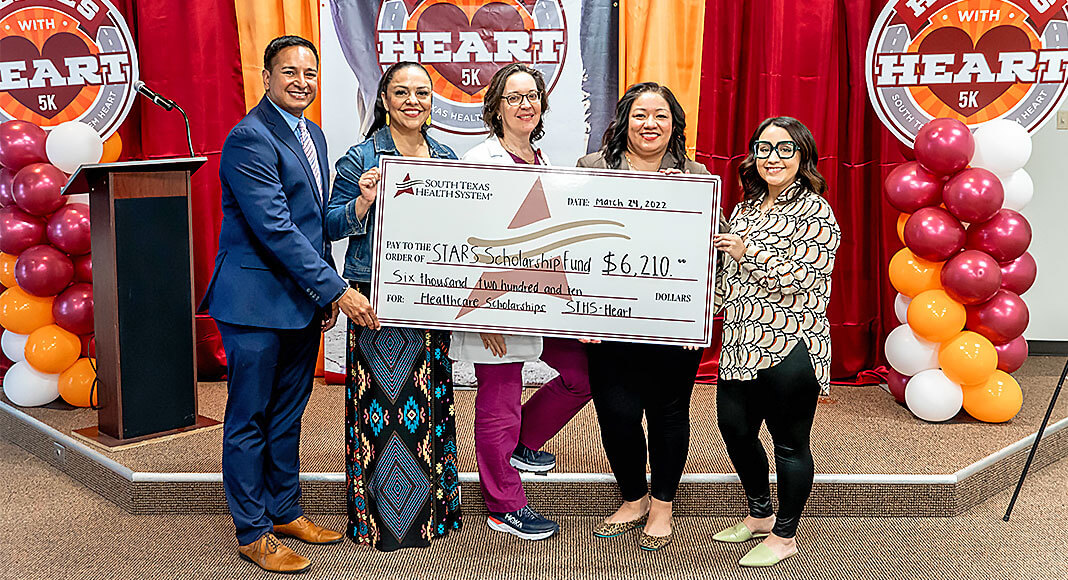 Mega Doctor News
- Advertisement -

SOUTH TEXAS HEALTH SYSTEM HEART – Brenda Mata is part of a growing statistic. Every 40 seconds, someone in the U.S. suffers from a heart attack, according to the CDC, and while it's decreasing in older adults, it is increasing in women from the ages of 35 to 54.
Now 50, Mata had a heart attack at the age of 36. With no family history of heart disease or major known risk factors, it came as a shock. Following emergency care and surgery, her doctors discovered she was born with a heart defect.
Motivated to get back to her classroom at Mercedes I.S.D.'s Sgt. Harrell Middle School and avoid future heart problems, Mata immediately committed to increasing her physical activity, eating well and making other heart-healthy lifestyle adjustments. Six weeks after her heart event, she was back in the classroom with her students living her passion.
"I'm so lucky to have survived; I realize there could have been a different outcome," she said. "My cardiologist explained to me that when people may age have a heart attack, they often don't bounce back from it.
"Though it's been almost 15 years since, I still go see him every six months. I keep up with my medications and try not to do anything that will jeopardize my health so I don't fall into the same place again."
In sharing what she went through, Mata has inspired her friends, family members and coworkers to take better care of their own health. And as a 2022 South Texas Health System Heroes with Heart 5K ambassador, she helped raise awareness for heart disease throughout the community.
Mata and Mercedes I.S.D. Licensed Professional Counselor-Associate Kasie Sauceda were chosen as race ambassadors for their roles in education as everyday heroes who have survived and thrived in their and their families' battles with heart disease and for leading by example when it comes to living heart healthy.
- Advertisement -

Though not personally impacted by heart disease, it runs in Sauceda's family. Her father suffered with heart disease for 20 years before succumbing to the disease in his 70s. Determined to beat the odds and "stay around to become a grandmother" to her son's future children, she commits to exercising six times a week and maintaining a balanced diet.
"I think the most important thing is for there to be conversations about heart disease with your doctor and not be timid or embarrassed to say, 'This is where I come from. This is my history. What can I do?'" she said. "When we feel certain symptoms or alerts from our body, say it.
"So many times, we just shove it off to the corner and just kind of ignore it. But I think if we become more vocal about it, I think that really changes the path."
With more than 300 participants in the Heroes with Heart 5k held Saturday, February 26, more than $6,000 was raised for the Stars Scholarship Fund. The money will be used to provide educational scholarships to Valley students pursuing careers in healthcare.
On Thursday, March 24, STHS Heart held a check presentation to award these funds, which are being generously matched by South Texas College, bringing the total scholarship value to more than $12,000. That amount should result in approximately 12 one-year scholarships to the community college in an industry desperately in need of talent.
"There's an incredible need for healthcare professionals in the Rio Grande Valley, from registered nurses to medical technicians and laboratory specialists. We're seeing the need across our 11 facilities, and we're committed to helping educate the next generation of healthcare heroes," says Tom Castaneda, System Director of Marketing and Public Relations, South Texas . "In partnering with STARS Scholarship Fund, and with the dollar-for-dollars match by South Texas College, which produces the highest number of registered nurses in Texas, the future looks bright for the Valley."
South Texas Health System will develop a mentorship program for the students selected to receive the South Texas College scholarships to help them through their college career and help prepare them for their future careers.
To learn more about the Heroes with Heart ambassador's stories, visit sthsactive.com.