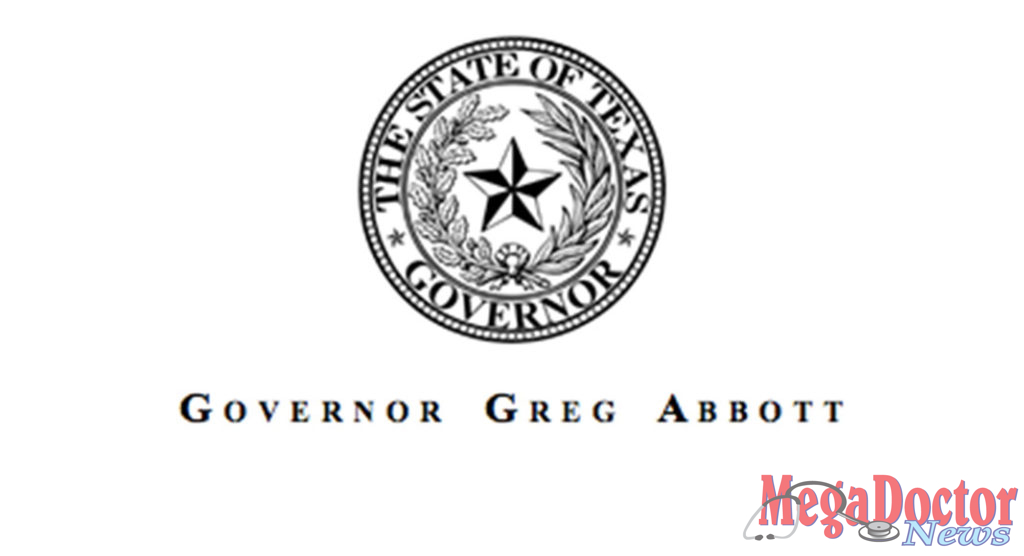 Mega Doctor NEWS
AUSTIN – Tessa Weinberg, Fort Worth Star-Telegram: Texas Education Agency Commissioner Mike Morath said educators across Texas are doing everything in their power to support students amid school closures. 
---
---
"Like many parents in Texas, I'm a parent who has two young children, and we are wrestling with a new reality," Morath said. For a little bit more time, we all must remain apart so that we can come back together." 
Q&A: Q.1: Governor Abbott, you had been adamant that your previous statewide restrictions closing schools was not a shelter-in-place or stay-at-home order. With these increased restrictions now on businesses, would you classify it as that? 
Abbott rejected both labels for the restrictions that have been implemented so far and said that shelter-in-place means "you need to take shelter immediately right there," whether someone is in their home or on the roadside, in the event of a disaster like a tornado. And because Texans may still leave home to access essential services, Abbott said describing the measure as a stay-at-home order is also not accurate."A stay-at-home strategy would mean that you have to stay at home, you cannot leave home under any circumstances. That obviously is not what we've articulated here," Abbott said. 
Q.2: How can you enforce an order like this? 
"What the executive order does, it empowers any law enforcement officer in the state of Texas to enforce it. It's enforceable by either a fine or jail up to 180 days," Abbott said. Abbott also noted that John Hellerstedt, the commissioner of the Texas Department of State Health Services, is able to enforce quarantines under his public health disaster declaration. 
Q.3: You mentioned that right now, we do have enough hospital beds for patients that we're seeing. What about when it comes to PPE equipment?
We have heard some stories that in Dallas people are being asked to reuse that equipment, things like that. Texas Division of Emergency Management Chief Nim Kidd said his agency is hearing the same thing. "There's no secret that the supply chain has taken quite a shot," Kidd said.
Hospitals are, "on a rationing program right now so that they don't completely run out." Kidd noted that under normal circumstances providers usually use a new mask per patient interaction, but that right now if possible, healthcare providers should "try to use one mask per one provider per one shift," unless the mask gets compromised. 
"On the front end, how we use it will help determine how much we have," Kidd said. "On the backend, our team is working very hard at an international level to find the right personal protective equipment that's going to come in and be distributed in a very rational and bed count and population-driven manner," Abbott added that based on conference calls with federal officials, investments are being made to increase supplies. 
Q.4: We've seen on a local level, even with local state-at-home orders on businesses that there are differences between counties. And with this being statewide now – determinations of essential services – when questions arise for businesses if they're not falling in those essential categories or those gray areas, will they have to go through the state then to get clarity on whether they're essential and can remain open or? 
Abbott pointed to language in the executive order on the line between local orders and the statewide mandates. Under the executive order certain statues are suspended, including some provisions under Chapter 418 of the Texas Government Code related to local disaster declarations, "to the extent necessary to ensure that local officials do not impose restrictions inconsistent with this executive order," the order states. 
Abbott used religious services as an example. "So to the extent, for example, that religious services are permitted as specified in this executive order, they cannot be denied by a local ordinance under this order. However, to the extent that there are things that are not mentioned in the executive order, it still gives local jurisdiction jurisdictions the latitude to establish their own rules," Abbott said. 
When asked if that means that local jurisdictions could be stricter in some areas under their local orders, Abbott said: "To the extent that it's not overridden by this executive order, local jurisdictions do still have the flexibility to impose standards that they may consider to be more strict." John Wittman, a spokesman for Abbott, clarified after Tuesday's press conference what is allowed in terms of "essential" versus non-essential services. 
"The only thing that is allowed is essential services and personal activities that correspond with those services. That is in addition to the personal and religious activities that the executive order explicitly allows," Wittman said. More to come. Feel free to send me a note at tweinberg@star-telegram.com or text/call at (817) 807-3200.