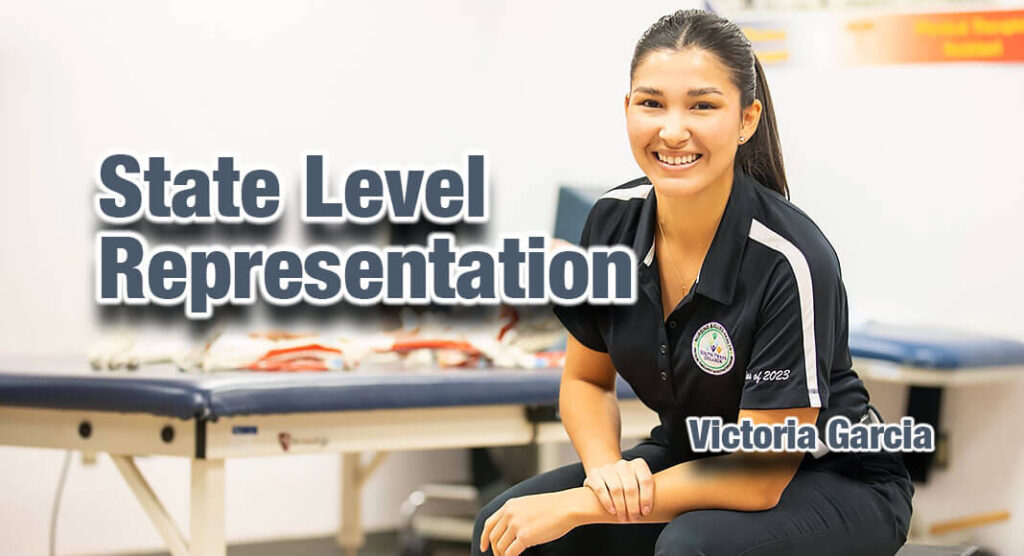 - Advertisement -

Mega Doctor News
By Joey Gomez
McALLEN, Texas – Victoria Garcia, a Level II Physical Therapist Assistant student at South Texas College, looks ahead to being a voice for Valley students and STC at the state level as a PTA delegate for the Texas Student Physical Therapy Association (TSPTA).
TSPTA is the student voice for the Texas Physical Therapy Association, which represents working physical therapists across the state.
Recently selected as a PTA student delegate, Garcia will serve as an advocate and representative for thousands of PTA students throughout Texas.
"I really wanted to see how much I can grow while studying at STC and at the same time I wanted to continue to foster my love for the profession, so that made me look for what I could do on a bigger scale," Garcia said. "I was searching for leadership roles, but I still wanted to go a step further and work with students with similar goals across the state. Now I'm the only student from our PTA program at STC to be selected as a delegate for TSPTA, and I look forward to being a voice for the Valley."
Garcia is a second-generation PTA who follows in the footsteps of her father. Now set to graduate in May 2023, she says everyday growing up was a "little career fair" at home.
"My dad helped me learn as much as I could about the profession and he helped grow my love and passion for it," Garcia said. "As I grew up, I did my own research and I looked into programs, and I knew STC was one of the best programs that I could get myself into."
- Advertisement -

PTA faculty at STC say Garcia's desire to serve will undoubtedly make her an outstanding TSPTA Delegate.
"Victoria is truly deserving of this honor and recognition. Over the course of her PTA education, she has demonstrated great tenacity, professionalism, leadership and personal growth," said PTA Department Chair, Diana Hernandez. "She is respectful and communicative, embodies the altruistic nature of physical therapy and is a positive role model for her peers."
Garcia will serve for a year at TSPTA gaining valuable insight and networking with professionals in the field. She is also set to attend the APTA National Student Conclave and the TPTA's annual conference in Irving this year.
"I speak regularly with the president of TSPTA, and we strategize on what my continued role is as we advocate and listen to what students need from the organization," Garcia said. "You hear a lot about San Antonio, Austin, Houston and those bigger cities that have a lot of resources and a lot of health professions, but the Valley is also growing and there are so many people here who are so intelligent and gaining recognition for our region. It's special to be a part of a huge organization and say, 'I'm from the Valley…this is who we are."
For more information on STC's PTA program, visit nah.southtexascollege.edu/pta/.
Registration for spring 2023 is underway. Classes begin Jan. 17.