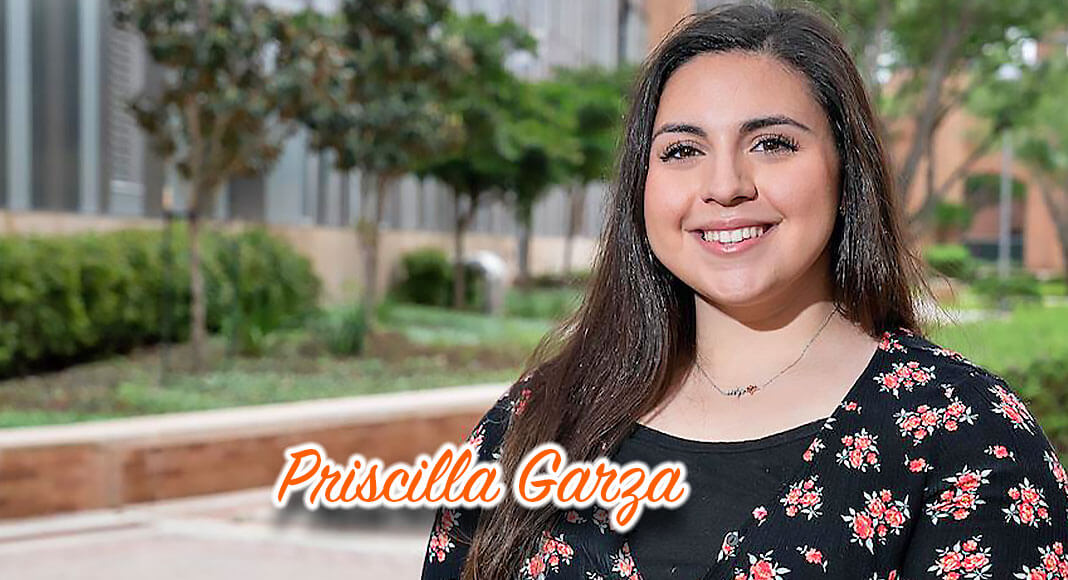 - Advertisement -

Mega Doctor News
By Amanda L. Alaniz
RIO GRANDE VALLEY, Texas – Priscilla Garza, a UTRGV junior and School of Nursing major, was appointed the new ApplyTexas Advisory Committee student representative. She is the first UTRGV student selected for the position.
The ApplyTexas Advisory Committee, under the Texas Higher Education Coordinating Board, discusses and votes on proposed changes to the ApplyTexas application for upcoming cycles.
The committee also works to strengthen student participation and access into higher education.
Garza, an Edinburg resident, learned about the student representative opportunity from an email she received from Dr. Eloisa Tamez, RN, FAAN, UTRGV School of Nursing professor. The opportunity piqued her interest, but she wasn't sure how it would fit into her major.
"I emailed Dr. Tamez and asked her, 'Do you think I should do this?' I do have some experience helping high school students. She inspired me to go for it and take a risk," Garza said.
It paid off for Garza, who received the news that she would be the UTRGV nominee for the ApplyTexas student representative position.
- Advertisement -

BALANCING EVERYTHING
One thing Garza was certain she had a passion for was helping people. During high school, she would volunteer at a local hospital, and remembers watching the nurses at work.
"I would see how involved nurses were in the patient care and it truly inspired me," she said. "Getting to help people, taking care of patients, making a difference in someone's life – it paved the way for me to choose nursing."
Garza, a first-generation college student, is familiar with navigating college and the challenges of the unknown. She conscientiously works to set a positive example for her own siblings, and helps them through their own educational journeys. She also worked as a tutor at her high school, answering questions students had about college.
"I started working as a tutor some time before the pandemic, so we all had to suddenly shift and learn how to go virtual. It was crazy, but fun," she said. "I got to help high school seniors with their college experience, and taught students how to apply for college and how to write their essays."
Garza's passion remains in the medical field, but she also has an interest in education. And although her appointment to the ApplyTexas Advisory Committee is a non-voting position, she still hopes she can make an impact for Texas students by helping create an easy transition into higher education. Texas Education Code requires the THECB to appoint non-voting student representatives for select advisory committees, including ApplyTexas.
"The committee votes and proposes changes to the ApplyTexas application, and I will be able to voice my concerns and potential ideas," she said. "It's important to make it easy for students to navigate and not feel intimidated by the process. ApplyTexas is the first thing students see when applying to college, so the easier they make it, the better for students."
Students seeking nomination to an advisory committee may serve for a two-year term beginning June 1 and ending May 31, so Garza will have a lot on her plate, including nursing school and participating in school organizations. But this brand-new opportunity is a bonus, not a chore, she said.
"I know what I'm doing right now is what I should be doing," Garza said
For more information about ApplyTexas, visit goapplytexas.org and ApplyTexas Advisory Committee.