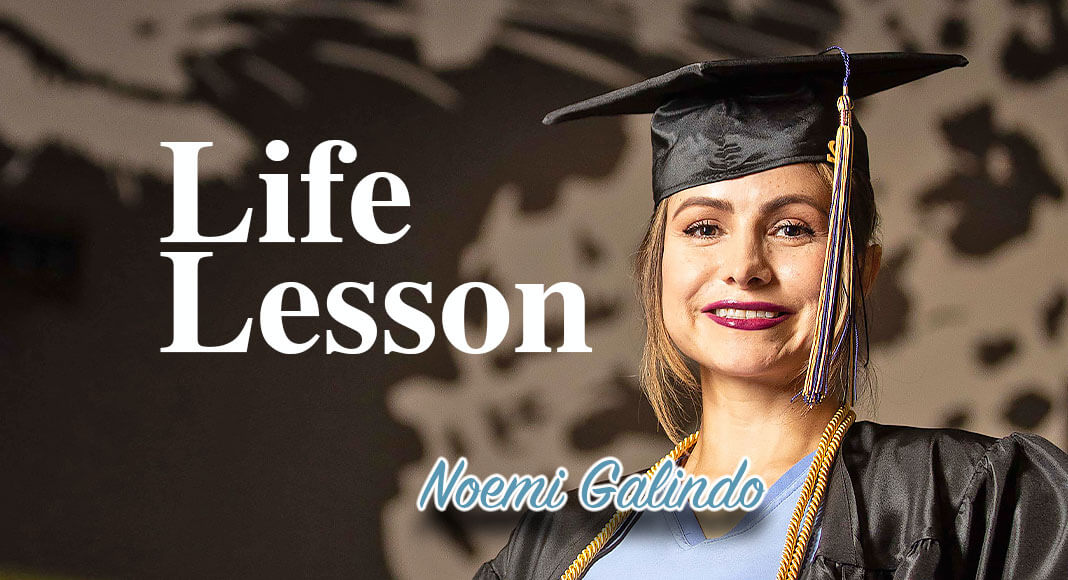 - Advertisement -

Mega Doctor News
By Joey Gomez
MCALLEN, Texas – From high school dropout to nursing graduate, Noemi Galindo has overcome great challenges, the kind she said that either break you or make you stronger.
In 2015, she gave birth to her daughter Sofia who was diagnosed with Arthrogryposis, a term used to describe a number of conditions involving joint contractures, the shortening of the muscles, tendons and tissue.
"What do you do when your child is born but remains in a vegetative state? She didn't move for six months, and then the first year after that was surgery after surgery. I did the only thing I could. I went back to high school and did what needed to be done, but instead of getting my GED I received a high school diploma," she said. "I did it all online, finished it in six months, and even graduated with honors with a GPA of 4.0. That helped me get into the (nursing) program."
This Saturday 12/10/22, Galindo will be among the 118 graduates to receive an Associate of Nursing Degree. Sixty vocational nurses and 13 Bachelor of Science in Nursing graduates will also receive their degrees at commencement during STC's 12:30 p.m. ceremony.
STC will confer a total of 2,147 degrees in three ceremonies at the Bert Ogden Arena in Edinburg.
For Galindo, the ceremony is the end of a chapter where she went to "hell and back," she said. Through it all, were those health care professionals who exemplified compassion not just for their patients, but for the struggling families.
- Advertisement -

"My daughter was in the Neonatal Intensive Care Unit (NICU) for four months at birth, and they told me she wasn't going to be able to walk. But she does 15 steps by herself, which is amazing. I fell in love with the care that was provided by her nurses," said Galindo who especially singled out the staff at University Hospital in San Antonio, some of whom offered their homes to her when she was there for an extended stay with her daughter.
It was the nurses' compassion that has inspired her educational journey.
"I was there for months at a time, and I remember I lived in a hotel right next to the hospital, and when I didn't want to leave my daughter's side, they actually set up a camera so I could watch her from my hotel room while I rested," she said. "When someone shows empathy, that's something you will never forget. It inspired me to become a nurse and have the opportunity to be there for someone else when they are going through emotional, critical and stressful situations."
Recently completing her clinical rotations in the emergency room of a local hospital, Galindo said she now looks ahead to studying for her BSN degree at STC in the spring.
ADN faculty say the kind of strength Galindo has shown serves as an inspiration to others that anything is possible.
"As a faculty of a rigorous nursing program like the ADN, it pleased me to see her doing so well in the courses despite the challenges she had to deal in health care related to her child," said Raquel D. Esguerra, Ph.D., faculty with the ADN and BSN program. "Yet she chose to grow in the nursing profession with the goal of giving back, the same if not greater level of compassion and support to others, she received from nurses during those critical situations. My heart is overjoyed to see such an amazing and inspiring story."
For a home video created by the Galindo family please visit https://youtu.be/AO7IWNZ2sgc.