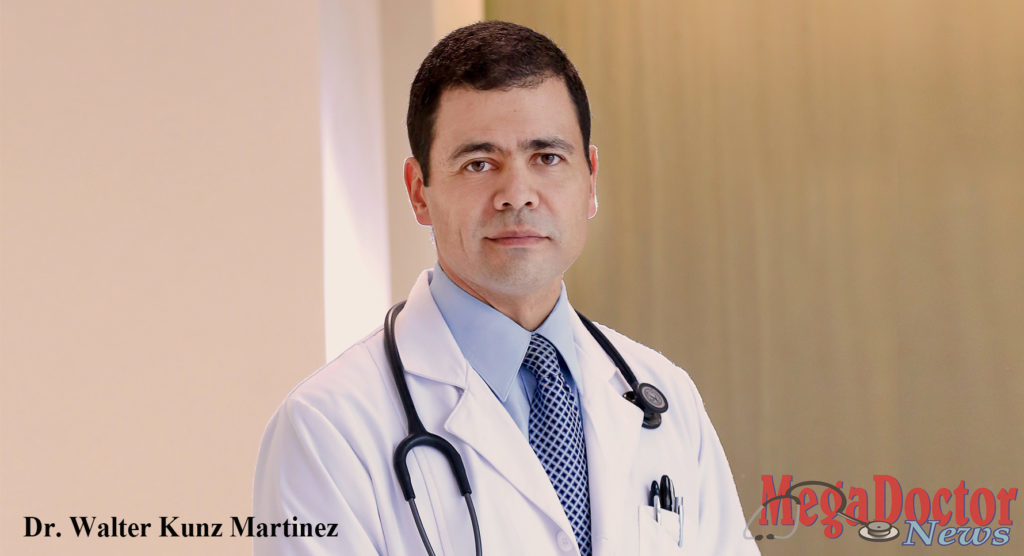 Mega Doctor News
When I learned about a doctor in Mexico, performing a surgery that puts Diabetes Mellitus Type 2 in remission, I researched him as quickly as possible to learn about him and his work. I found that last year, Dr. Walter Kunz and a team of physicians presented a Clinical Research in Diabetes and Endocrinology. The report was on a study of 30 cases of patients suffering Diabetes Mellitus Type 2 (DMT2) that underwent a surgery called Intestinal Transit Bipartition (ITB).
When I spoke with Dr. Kunz to propose the idea of a feature story for Mega Doctor News, it became apparent to me that he was ready. One of the biggest challenges for him is the resistance of other professionals in the field and the territorial defense in place.
I am familiar with this type of behavior; it exists in every field; I consider it normal. But, in this case, the best that has happened to Dr. Kunz, are the results of the first Mexican series of patients that underwent the ITB surgery.
According to Kunz and what was officially presented in his research, the surgeries were a success by putting in remission this horrible disease of Diabetes. Dr. Kunz told Mega Doctor News that patients reported a feeling of being reborn. "No more medicines or insulin," Dr. Kunz stated. Indeed, this success in medicine brings hope.
Since this surgery deals with the intestine, I had questions for Dr. Kunz; here are some of his responses.
How long is the intestine of a Diabetic Mellitus patient?
Approximately 24′ 11.21″ +- 23.62″.
How long is the intestine of a healthy person?
Approximately 11′ 9.73″ +- 15.74″.
How much of the intestine is removed during ITB surgery?
It is not removed; a union is made to reduce the path to 40% of the total.
I am so excited to inform you about this surgery. This is not an endorsement, because my job is to report the evolution in medicine no matter where it takes place.
Dr. Kunz will travel to Narita Japan in October 2019, attending the neurology conference because ITB also serves Parkinson's disease. But, next month, in September, Dr. Carlos Raymundo Jáuregui Pasache, a neurologist from San Juan del Río, Queretaro will attend the Parkinson's World Conference in Paris. Their findings and work will be evaluated at the Summit of Diabesity.
In October of 2019, Dr. Kunz will travel to Tokyo to present the work he has done in this field. Learn more about him in this issue.
Good news: A doctoral degree program in pharmaceutical sciences at the Texas A&M Irma Lerma Rangel College of Pharmacy was approved on July 25 by a unanimous vote of the Texas Higher Education Coordinating Board. The first cohort in the Ph.D. program will start in spring 2020 at the Kingsville and Bryan, Texas locations, which operate under a "one program, two campuses" model. Students and faculty in both areas connect through video conferencing.
Applause! HCA-affiliated Rio Grande Regional Hospital, having just earned the highest level of recognition in stroke care from the American Heart Association, opened a new neurology unit. The new unit is dedicated exclusively to treating patients of stroke, seizures, and other neurological disorders.
For the fourth consecutive year, Valley Baptist Medical Center-Harlingen is nationally recognized for its efforts to help bring the gifts of life and sight to the community it serves.
Enjoy!