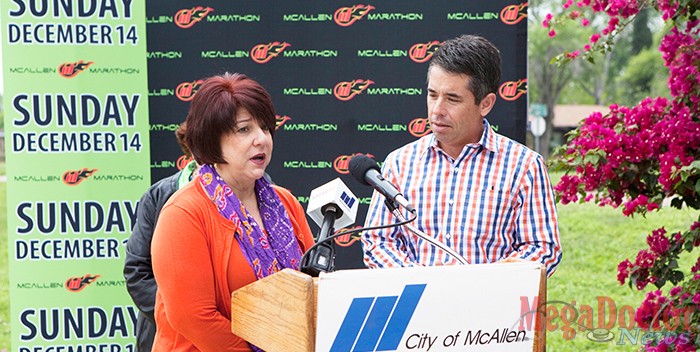 Mega Doctor News
Registration is now open for the much anticipated McAllen Marathon set for Sunday, December 14, 2014. Participants can register online at www.mcallenmarathon.com. The City of McAllen Parks & Recreation Department hosted a press conference March 25, 2014 to reveal details about the second annual marathon.
"We want to grow this event because last year's marathon was so much fun," City Commissioner Scott C. Crane said. "Our goal is to increase registration this year. Last year, we had 1,100 runners and we'd like to get 2,000 participants so we are setting out early to achieve that goal."
The McAllen Marathon will include a 13.1 half marathon, 26.2 mile full marathon and a 5-person relay marathon adventure through the streets of McAllen. Scheduled for Sunday, December 14th the races will start and finish at the De Leon Soccer Complex at Buddy Owens and 34th street.
"We got so much positive feedback from our inaugural marathon. The course was great and hopefully we can inspire even more people to join this year," Commissioner Veronica Vela Whitacre said. "We will have plenty of water stations and plenty of support along the way and that makes a big difference for our runners. This marathon is great for our city and it's also important for a healthy lifestyle."
The day before the marathon, December 13, 2014 the Boys & Girls Club of McAllen will also host a "Hot Tamale" Kids Fun Run. The race is one mile long and will also be held at the De Leon Soccer Complex.
"We want to introduce a healthier lifestyle for our kids so the school district, the Boys & Girls Club and the City of McAllen are really pushing the Hot Tamale Run to kick off our Tamale Fest that is also happening that weekend in December," said Vela Whitacre. "We encourage our children to join. Get your kids out running and let's start being healthy."
The McAllen Marathon has been made possible by support from our title sponsor, Texas Gastroenterology Institute (TGI) and with help from the McAllen Boys & Girls Club and organizers of the Tamale Fest. The McAllen Marathon is a USATF-certified marathon, and is a qualifier for the Boston Marathon.