Mega Doctor NEWS
McAllen ISD is in its second week of distance learning with more than 22,000 students in pre-kinder through 12th grade. As a service to our parents and community, we have produced a webinar on mental health. Specifically, it is on Coping with Stress and Anxiety at Home.
A panel of experts was assembled to share advice on dealing with education in a shelter-at-home environment.
Some of the topics addressed include:
Ways for parents to help decrease stress and anxiety for their children during this time.
Should parents set a schedule for their students?
Are there resources for working parents?
It was recorded and released Wednesday. So far, it has reached more than 9,900 people on Facebook.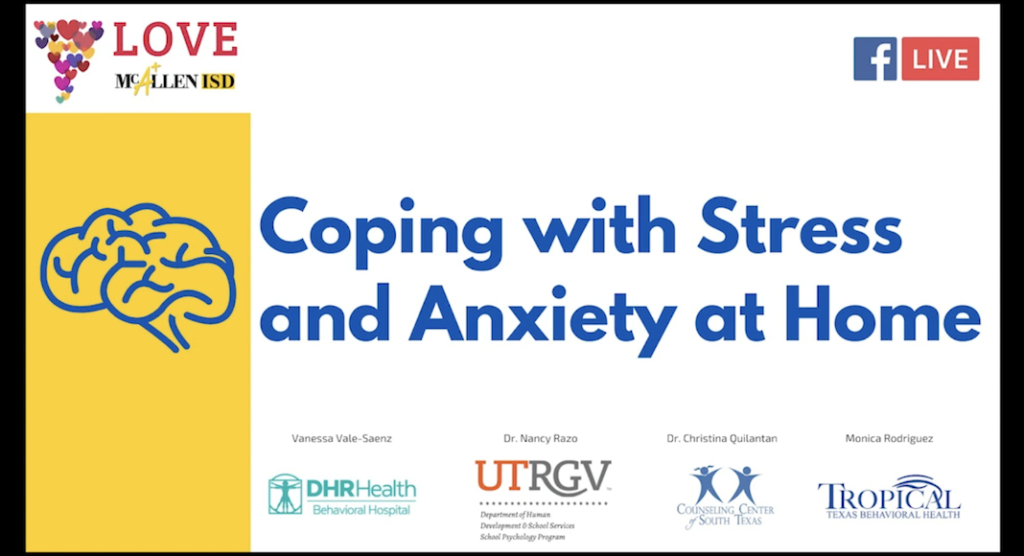 Here are the panelists that appear in the webinar:
Dr. Rosalba De Hoyos, DPC-LPC, McAllen ISD College/Career/Counseling Director (begins speaking at 5:30 on the timeline)
Dr. Nancy Razo, Ph.D., LSSP, School Psychology Program Coordinator, UTRGV College of Education & P-16 Integration, Dept. of Human Development and School Services. (begins speaking at 8:05)
Dr. Christina Quilantan, LPC, Counseling Center of South Texas (begins at 14:17)
Monica Rodriguez, MPA, Program Manager, Tropical Texas Behavioral Health Children Services (begins at 21:33)
Vanessa Vale-Saenz, M.A., LPC-S, Vice President, Behavioral Health Services at Doctors Hospital at Renaissance (begins at 29:00)

The host was Mr. Adrian Garza, Family Treatment Program Manager for McAllen ISD.
McAllen ISD Superintendent Dr. J.A. Gonzalez gave the welcome. (1:03 and again at 41:10)