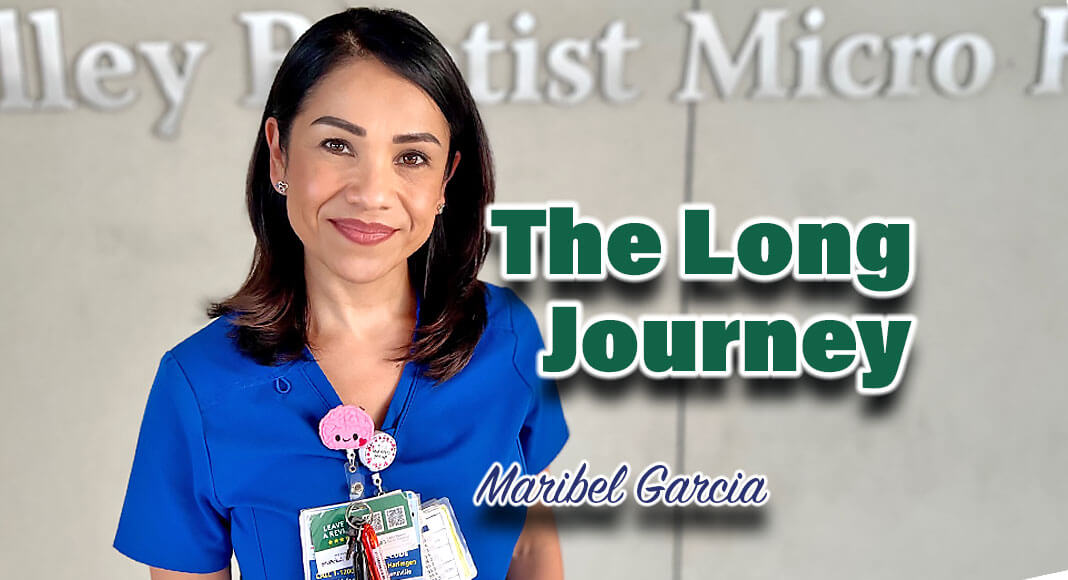 Mega Doctor News
- Advertisement -

By Amanda Sotelo
At a young age, South Texas College alumna Maribel Garcia was forced to learn the ins and outs of health care; while it was a sad and lonely road, it also shaped who she would become.
The now 43-year-old is a registered nurse at the Valley Baptist Micro Hospital emergency room in Weslaco where she is known as one of the nurses with the highest patient ratings for her empathy, compassion and commitment to patient care and education.
Yet, she said, reflecting on her past, she never thought she would get here.
"I was bullied…a lot, even chased after school by the 'Mean Girls.' So much so that I dropped out of high school. I couldn't take it anymore," said the San Juan native. "And at the same time, I felt helpless."
In addition to being bullied, Garcia was also facing loss at home. She was only 10 years old when she lost her father to heart disease and later in life, she would lose her mother to health complications brought on by hypertension, diabetes and renal failure.
"I was my parents' caretaker, I helped a lot," she said. "At a young age I would give my dad his medicines in a little cup and ensure he took everything he needed. I always wished that I had been better informed and educated about my parents' illnesses…I think I would have been able to help them better and keep them around longer."
- Advertisement -

With the passion for helping and desire for educating a community, the now mother of seven received her General Education Development (GED) diploma in 2007 to start her journey as a nurse.
But after the minor setback of not passing her second semester of Vocational Nursing, she switched gears and graduated as a paramedic instead in 2014 from STC's Emergency Medical Services (EMS) program.
Eventually working with STC's EMS program for two years, helping with event coordination and recruitment.
"I worked for a year as a paramedic, then with STC, but I wasn't ready to give up on my dream of becoming a nurse," said Garcia.
With determination and one goal in mind: to become a nurse, she eventually graduated from the Vocational Nursing program in 2018 and earned her associate degree from STC's Registered Nursing program in 2020, making all those days and nights of studying in her walk-in closet worth it.
"All of it was such a whirlwind. I was a dance mom, cheer mom and wife; I juggled it all, studying everywhere and anywhere. I never missed a day of school. My family was very supportive," she said. "But what kept me going and kept me coming back to STC, were my instructors and all the resources available to students like me. There was no excuse for me not to succeed."
Valley Baptist Micro Hospital-Weslaco Hospital Administrator Ronda Lewis said Garcia is known to meet and exceed patients' expectations during their visits.
"We like to treat people as if they are family, and Maribel has a way of doing just this by delivering compassionate care while always understanding the patient's needs. She often receives many five-star Google reviews," said Lewis.
Many of those reviews state: "So nice and patient with my son. Answered all my questions and gave me all the information I needed to have peace of mind!" and "Maribel Garcia was a great nurse. She helped us with all our questions and had great customer service. We appreciate all her help, thank you for everything."
Grateful to STC for changing her life and giving her hope for a future, Garcia has returned to the college to donate textbooks and uniforms to, as she said, bless them, the way she was blessed.
"I wore hand-me down uniforms, I borrowed books where I could. Nursing school is expensive, and I still had a family to support, so I would find any way to save money," said Garcia. "Now it's my turn to help where I can. And as I continue to grow, I plan on helping even more students."
Now, as an advocate for her patients, she takes the time to educate them on important health issues, preventative methods and treatments, in hopes that no one feels the way she did when she was caring for her parents.
And she plans to continue her education at STC to one day get a bachelor's degree in Nursing.
"I'm where I want to be…it was hard, but it was doable," she said. "STC has changed not only my life, but my family's, even my husband is an STC Fire Academy alumnus. I'm where I am today because of my family and STC. Thank you STC, for being a positive experience, for your resources and most importantly, genuine care for your students."
For more information on STC's nursing programs and other allied health programs, visit nah.southtexascollege.edu.