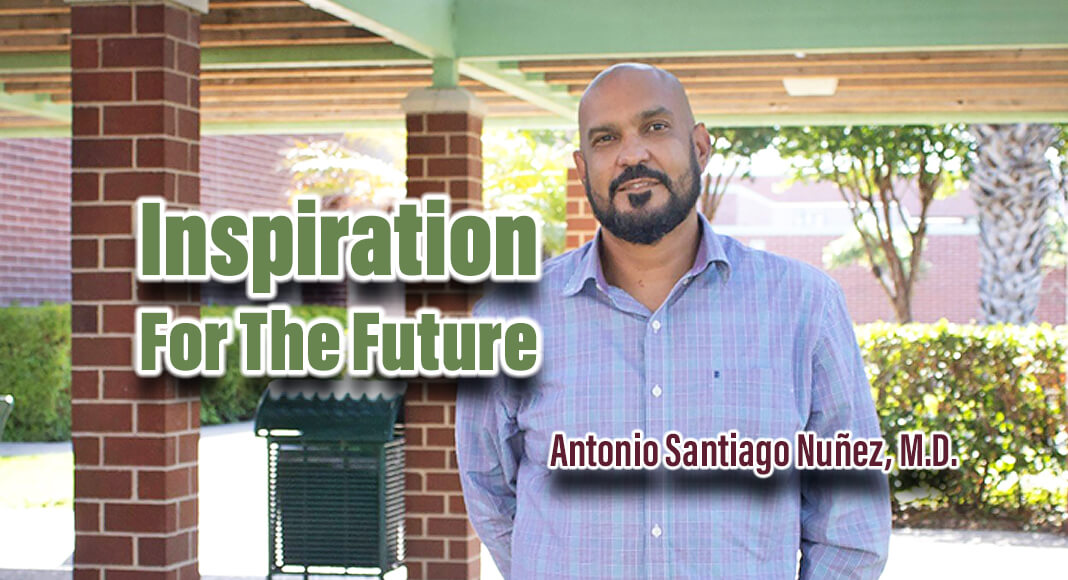 Mega Doctor News
- Advertisement -

By Selene Rodriguez
South Texas College Instructor Antonio Santiago Nuñez, M.D., takes pride in his unique position advising incoming students on how to adjust to Nursing and Allied Health classes and careers, and hopes to lead them to success by sharing his life experience overcoming various challenges in the pursuit of the "American Dream."
Nuñez, 47, has been teaching the College Success for Health Care course for almost 10 years, an introductory class that helps students in developmental, or remedial classes, build important studying skills and career exploration.
"I relate to them because I also was a developmental student while growing up," said Nuñez. "Growing up with English as a second language forced me to work harder to achieve a medical degree. I don't consider myself a success story, but I feel that it is important to share my experience so my students can make educated decisions."
Born in Puerto Rico, Nuñez chose to move to Tampico, Mexico to be able to study a medical profession without a language barrier.
"As a student you want to do things as fast as you can, the shortcut for me was to go to Tampico. While I enjoyed my time there and even met my wife, I still wanted to move to the United States and revalidate my education, the Rio Grande Valley was a perfect fit."
At STC, Nuñez has found a sense of belonging and a home that not only allowed him to continue to develop the English language, but also combine both his passion for teaching and health care.
- Advertisement -

"I worked as a teacher back in Puerto Rico and tutored in college. Here in the Valley, STC gave me the opportunity to teach while working to overcome the language barrier," he said. "This is how I relate with my students; I was lacking a skill that I just needed to put into practice. These students have all the potential and knowledge, they just need an extra push and encouragement."
Nuñez said the College Success for Health Care class was born out of a necessity to prepare students on the rigorous journey that health care careers take Nursing and Allied Health programs have different, higher expectations, even in the grading system.
"We try to prepare students the way the programs prepare them for their career. I like to describe my class as a 'reality check,' where students get a preview of what to expect in the program they decide to apply to," he said.
As a requirement for all first-time health care students who are not TSI (Texas Success Initiative Assessment) complete or with grade-point averages below 2.0., this course teaches key reading, studying and time-management skills that will help them be prepared for what's to come.
Students who successfully complete the 16-week course can earn one or two points towards one of the selective entry programs, like Associate Degree in Nursing and Physical Therapist Assistant, and are required to wear scrubs and proper attire as a way for them to start getting used to a career in the medical field.
"Career exploration is a huge part of this class," Nunez said. "Most students come with nursing in mind, but it's important for them to know what else is out there and ensure that they are not only looking for a job with financial stability, but also a purpose to help others."
Students also get to observe Nursing and Allied Health classes and get acquainted with all the resources available to them, such as the clinical simulation hospital, and they're also encouraged to network with other students about their academic experience and struggles and school-work balance.
"Most of the time students just want to be listened to and I'm here for them," Nuñez said. "I take pride in belonging to the Nursing and Allied Health Division of STC because of how devoted we are to our students to reach their potential and be excellent health care providers. Undoubtedly, I am where I was always meant to be."
For more information on the College Success for Health Care course or other programs offered at STC visit nah.southtexascollege.edu/csfh/ or call 956-872-3023.
Registration for fall 2023 is also underway. Classes begin August 28.