IBC Bank Will Match All Donations Dollar for Dollar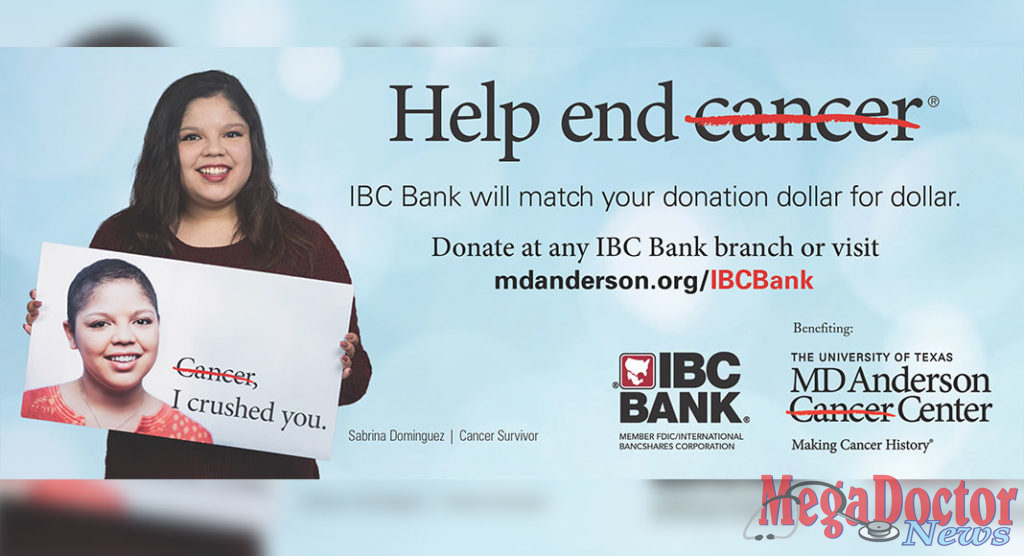 Mega Doctor News
- Advertisement -

LAREDO, Texas – IBC Bank and The University of Texas MD Anderson Cancer Center are teaming up once again for the bank's 2019 "Give Cancer the Boot" campaign. The fundraising campaign will run from May 10 through September 27, 2019 and aims to raise $1 million through donations from the community, friends, neighbors and those who know the plight of cancer. Most importantly, every dollar raised will be matched by IBC Bank in order to reach at least $2 million.
"IBC Bank has been a proud supporter of MD Anderson for many years and encourages the communities we serve to become an MD Anderson supporter as well," said Dennis E. Nixon, IBC Bank Chairman of the Board and a senior member of the
MD Anderson Cancer Center Board of Visitors. "As an additional commitment to this cause, IBC Bank will match all customer donations, dollar for dollar. Together, we can make a difference in the lives of those touched by this disease. For all of us, this is about ending Cancer and saving lives, so that is why we are "doing more" by sponsoring this campaign."
MD Anderson's mission to eliminate cancer in Texas, the nation, and the world reached international audiences last fall when Jim Allison, Ph.D., chair of Immunology at MD Anderson, was awarded the 2018 Nobel Prize in Physiology or Medicine. The institution is ranked No. 1 for cancer care by U.S. News and World Report's "Best Hospitals" survey. MD Anderson has ranked as one of the nation's top two hospitals for cancer care since the survey began in 1990 and has ranked first 14 times in the last 17 years.
Cancer survivor Sabrina Dominguez will once again serve as IBC Bank's campaign ambassador. Now 21, Dominguez was diagnosed with medulloblastoma, a type of brain cancer, at the age of 16. "Cancer, I crushed you," Sabrina said.A senior at Texas A&M University at College Station, Dominguez will grace the 2019 campaign collateral as a testament to the innovative research and treatment available at MD Anderson for patients like her and for those around the world.
            The community is encouraged to give generously starting May 10 at any of the 189 bank branches throughout Texas and Oklahoma or online at www.mdanderson/ibcbank.org. IBC Bank will match your donation dollar-for-dollar. For every donation made at an IBC Bank branch, customers will be able to write a tribute to a loved one and display at the branch.
"We are extremely grateful for the continued commitment of IBC Bank and the countless south Texans and Oklahomans who have supported our efforts to end cancer," said Peter WT Pisters, M.D., president of MD Anderson. "Every donation, no matter how small, brings us closer to a future free from cancer. Together, we are truly Making Cancer History."
MD Anderson is the world's most impactful cancer center and treats more than 140,000 patients from over 120 countries each year. The center oversees the largest clinical trials program in the nation, with more than 10,100 patients enrolled. Since 1944, more than 1.4 million patients have turned to MD Anderson for cancer care.