- Advertisement -

Mega Doctor News
By Roberto Hugo Gonzalez
Dr. Ashley Bose, affectionately known as "Dr. Ashley", was born in Dayton, Ohio. As a young girl, she came with her parents to the Rio Grande Valley. "I have lived in the Valley my entire life," she told Mega Doctor News. "I did elementary, middle, high school, and college here."
Dr. Ashley completed her Bachelor of Science in Chemistry and minors in Biology, Business, and Psychology from the University of Texas Rio Grande Valley (UTRGV). She left the Valley to obtain her medical degree at the Baylor College of Medicine in Houston, TX. She stayed in Houston to complete her residency at the Memorial Family Medicine Residency Program, graduating as a Board-Certified Family Medicine physician. She, then, worked at the Michael E. DeBakey Veterans Affairs Medical Center in the primary care clinic. The hospital is affiliated with and operated by the United States Department of Veterans Affairs (VA) in the Texas Medical Center in Houston, Texas.
It is one of the department's largest hospitals, serving Harris County, Texas, and 27 surrounding counties. "I was taking care of the men and women that served our country. This was a great opportunity to take care of that patient population. I was honored to serve them," she said. "I worked at the VA for about a year and a half before I moved back to the Valley to continue my mother's legacy."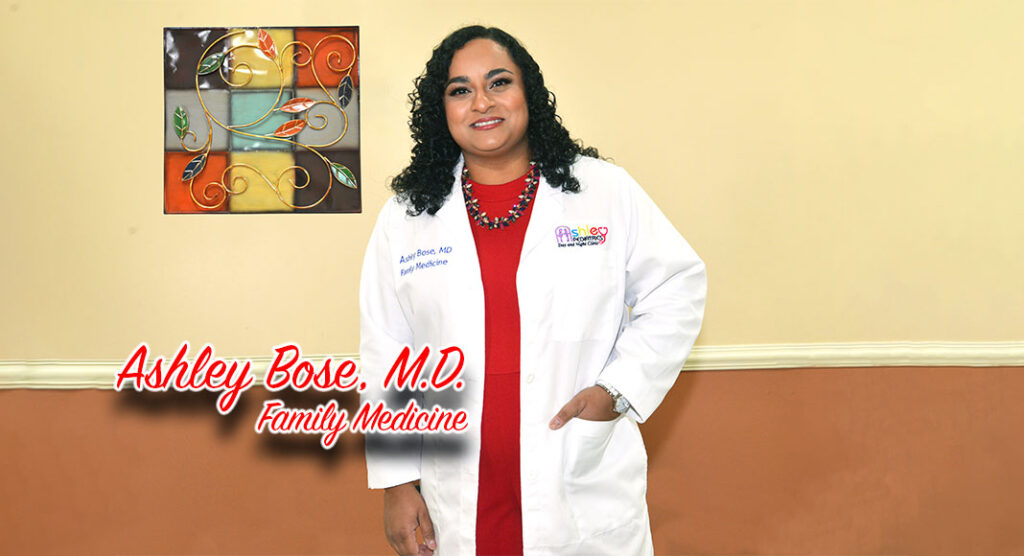 Dr. Ashley spent nine years in Houston before moving back. Once here, she began working as the Medical Director of Ashley Pediatrics which has been caring for the children of the Valley since 2003 and Industrial Health Works family medicine clinic which cares for adults with chronic and acute conditions as well as work related injuries and physicals.
Mega Doctor News heard for the first time about Dr. Ashley in 2010. She was not yet a physician, and when her mother, Dr. Sarojini Bose, became the feature story for this newspaper, her mom spoke eloquently and with much love about Ashley. Since then, Dr. Sarojini Bose has slowed down her clinical duties after more than 20 years of practicing medicine – and now, 12 years later, we are talking with Dr. Ashley, the feature story of the same newspaper!
For Dr. Ashley, being a physician in the Rio Grande Valley is a joy. It is close to her heart since she spent most of her childhood living and going to school here. She has great memories of growing up while attending Gonzalez Elementary and Cathey Middle School. "I did a hybrid of Memorial High School and Lamar Academy for the International Baccalaureate (IB) program, which has grown a lot since I attended – I was part of the Epsilon class which was the fifth class graduating from the program," she said.
- Advertisement -

Dr. Ashley's field is unlike other specialties limited to a particular disease. Family medicine physicians are trained to treat most ailments and provide comprehensive health care for people of all ages — from newborns to seniors. "I went into family medicine because of the continuity and relationships you build with patients over time. You become part of their families as they go through different milestones in their lives."
Who inspired you to follow a career in medicine?
"Without a doubt, my mom," Dr. Ashley answered. "My mom started and completed medical school later in life. It was her second career after her PhD. She went into medicine because of me, but she's also inspired me in the same way." Dr. Ashley's parents are professionals, down to earth, with big hearts. They have dedicated much of their time to giving back to the Rio Grande Valley communities. Dr. Ashley is now following in her mom's footsteps. It's a natural transition since she inherited the passion for continuing the work her parents started.
"My father, Dr. Subhash Bose, has two PhDs, and my mother, Dr. Sarojini Bose, has both a PhD and an MD. Education is something that nobody can ever take away from you," Dr. Ashley said. "It's been instilled in me from a young age that you should always pursue a higher degree of education. My parents' passion is to motivate the people of our community to strive for bigger and better things and to help them get there. They opened the Dr. Bose Community Center in September 2021 to honor my mom and to help people who want to get their G.E.D., take different classes like phlebotomy, clinical skill development to become a medical assistant, EKG, balloon arrangements, and cake decorating to better themselves and maybe open their own businesses. The first location is in Alton and a second location opened recently in Donna."
The Dr. Bose Community Centers serve over 300 adults and were recognized by the UTRGV Office of Community Engagement & Enhancement Service for their contribution to the community. "We also do an annual back to school event – this year being the fifth year we've had it. We provide backpacks and school supplies too over a thousand families each year," she said. Later this month, the Edinburg Chamber of Commerce will be recognizing Ashley Pediatrics as its member of the month for their work with the community.
Now that Dr. Ashley is in charge of the clinics, we asked her how she deals with stress.
"I think one of my strengths has always been that I'm very organized; I've always had a planner or to-do list. They help me stay on track and not forget." She added, "In terms of stress, I spend time with family and friends. I adopted a puppy last August and now, I suddenly find myself with three. They are a wonderful distraction and shake you out of that stressful mindset, helping you to reset. They are truly the embodiment of unconditional love and make you realize how it's really the simple things that matter. In some ways, we all get into our own heads, forgetting what matters most. Work and life can get overwhelming but then they come over and demand a good belly rub and you can see how happy they are. They value companionship the most and honestly, it's what we should value most too – our loved ones."
Can you tell me the names of the dogs?
"I'm a big Harry Potter fan. So, my first is Voldie (short for Voldemort since he was teething when I got him). He was my first pet ever. I've always wanted a dog but never had time for one (honestly, there's never a good time). So finally, I got him, and then he needed a friend. So, I adopted Ali, a senior dog. And then, I adopted Sirius since Ali is older in age."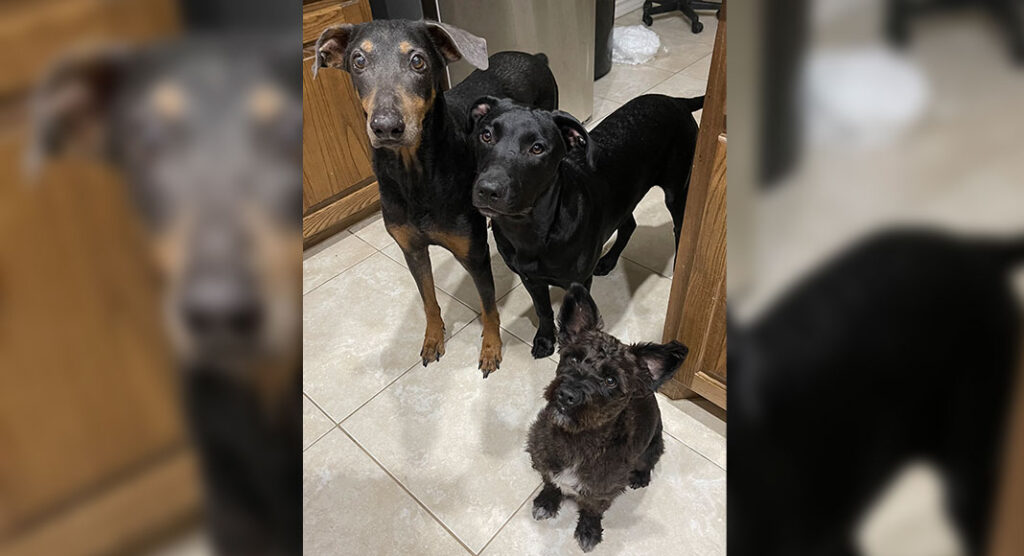 "These three keep me busy when I get home. They're only focusing on me in this picture because I'm holding a treat. Otherwise, this picture would have been much more chaotic" she says.
Industrial Health Works
Currently, Dr. Ashley is in charge of 13, soon-to-be 14, pediatric clinics. "We have two family medicine clinics called Industrial Health Works, with two locations (McAllen and Pharr), soon-to-be three. We're constantly growing because the demand is high. Our goal is to take care of patients from newborns to the elderly and to make it a seamless process transitioning them from Ashley Pediatrics to Industrial Health Works."
What are the most common conditions you treat your patients for today?
"On the pediatric side, cough, colds, runny nose, strep throat, flu, and COVID-19. Those are probably the most common things." She pointed out that diabetes, high blood pressure, and cholesterol are on the adult side. "They are the usual culprits, unfortunately, and are the common things we see."
Dr. Ashley is focused on preventive medicine. She promotes preventive health care to improve a patient's well-being. Her goal is to prevent disease, disability, and death, ultimately.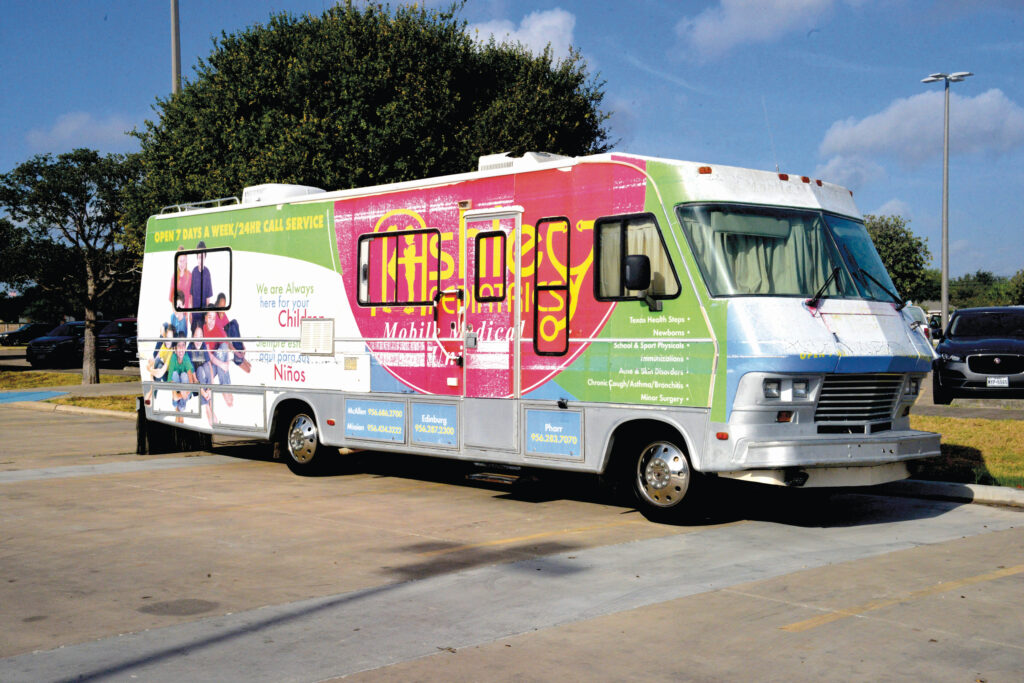 Having moved to the Valley in March 2020, precisely when the pandemic picked up, she said that it has been challenging. "We had to constantly adapt to different guidelines by the Centers for Disease Control (CDC), changing our clinic protocols frequently, to keep our patients and staff safe. We were at the forefront of COVID-19 testing and were doing upwards of 600 tests a day at one point! We continue to COVID test and administer COVID vaccines for children and adults and continue to provide COVID care for our symptomatic patients."
Dr. Ashley has four mobile clinics to ensure patients have access to medical care if they are uncomfortable visiting their doctors. "If patients cannot come to us, we go out to them, removing the barrier of transportation. We've gone near the border and to colonias to make a difference." One of the other challenges was when the COVID vaccines first came out. "You didn't want to waste a single dose. In the first place, they were very hard to come by." She said, "For example, the Moderna vaccine has ten doses in a vial. So, once you open the vial, you have limited time to administer all the doses."
Sometimes, when they had one or two doses left, they would call and call to find families willing to take the vaccine; otherwise, after a few hours, the vaccine would go bad. They have also partnered with supermarkets in low-income areas. They would take the mobile clinics to offer medical services and be accessible to the families.
Through her Industrial Health Works family medicine clinics, she treats adult patients. "We also take care of truck drivers for their Department of Transportation (DOT) physicals, any work-related injuries, workers compensation, in-house x-rays, mask fits, TB testing, drug screens, etc. We also take our mobile clinics on-site to companies who are wanting to COVID test or vaccinate their employees."
Her plan for the following five years is to grow the clinics. "We currently use paper charts, and I would like to move toward an electronic medical record which will be a big task."
Having now met Dr. Ashley, we know she is a family medicine practitioner, down to earth, and completely dedicated to her work as a physician. She is proud to be a family medicine doctor and, in the position, to give back to her community to carry on her parents' legacy. In conclusion, she said, "I'm a product of the Valley and I'm glad to come back and serve the community I grew up in."
Written by Roberto Hugo Gonzalez, The 2009 SBA Journalist of the Year Award Winner & The 2009 and 2012 Paul Harris Award recipient.