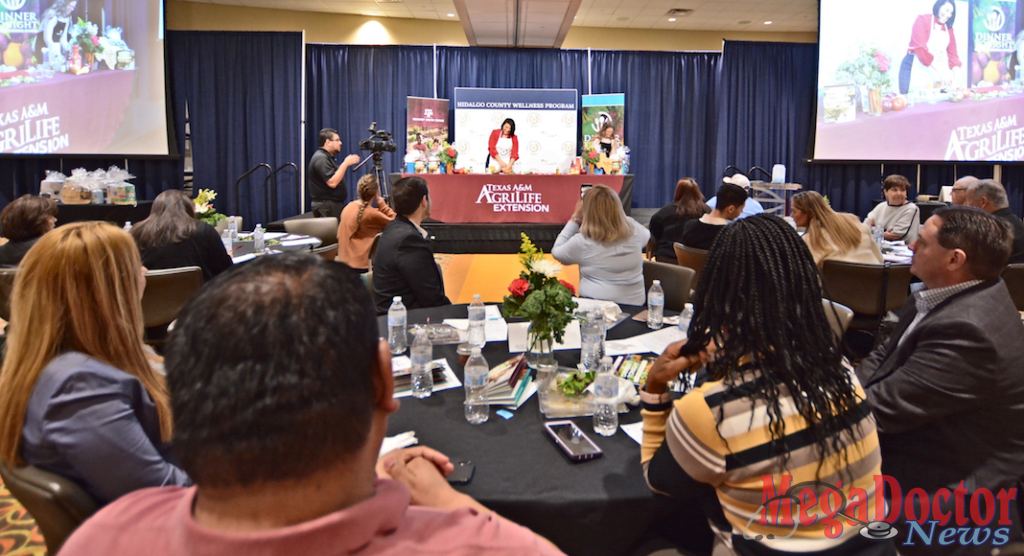 Mega Doctor NEWS
EDINBURG – In an effort to promote health and wellness among county employees, Texas A&M Agrilife Extension Service and the Hidalgo County Wellness Program hosted a Dinner Tonight healthy cooking event on January 23 at the Edinburg Conference Center at Renaissance.
County employees were treated to three cooking demonstrations by guest chefs County Judge Richard F. Cortez, Pct. 2 Commissioner Eduardo "Eddie" Cantu, and Dr. Melany Castillo from DHR Health. Joining the guest chefs were Wellness Program Coordinator Diana Huallpa and Agrilife County Extension Agent Andrea Valdez, with Pct. 4 Commissioner Ellie Torres serving as the Mistress of Ceremonies during the dinner.
The menu included a three-course meal of Ruby Red Salad for an appetizer, Panhandle Cowboy Steak Salad with Cauliflower-Parsnip Mash for dinner, and Fruit-Topped Angel Food Cake for dessert. As the meals were prepared in front of the audience, the chefs provided nutritional facts and anecdotes about the ingredients being used. Employees were able to sample all of the food being prepared and took home goodie bags that included recipes, cooking utensils, and measuring cups.
In between the cooking demonstrations, attendees played a food trivia game and heard powerful testimonials from their fellow county employees. Three employees shared their wellness journey and the obstacles they overcame to achieve their health goals.
The event was sponsored by Texas A&M Agrilife Extension Service, the Hidalgo County Wellness Program, and DHR Health, which provided the venue and door prizes.