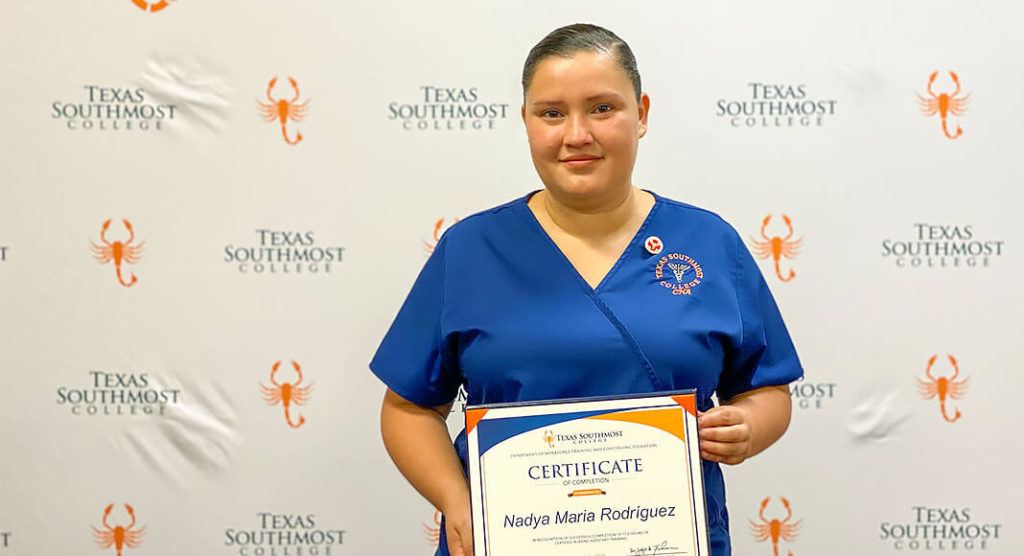 Mega Doctor News
BROWNSVILLE, TX – Nadya Rodriguez never thought she would see the day that she would complete her General Education Diploma (GED), much less graduate as a certified nursing assistant.
But the day finally came for the 28-year-old, who was one of nine graduates recently honored during a pinning ceremony hosted by the Texas Southmost College Certified Nursing Assistant (CNA) program.
"I cannot believe it finally happened. I'm making my dreams come true," said Rodriguez. "It still feels so surreal, yet so liberating because there's no stopping me now."
Rodriguez, also a student in the Brownsville Independent School District Adult Education program, said it has been quite the journey getting to where she is today.
"In 2002, my father was deported to Mexico, so my family followed him, leaving me without a high school to attend," she said. "I was reunited with family who were doctors in Mexico and the plan was to do that too, but it didn't work out the way I wanted it to."
With violence in Mexico increasing exponentially during that time, the Donna native returned to the U.S. at 18 years old and as a freshman in high school.
"I was behind in my studies. I completed my freshman and sophomore year at the same time," she said. "And I was going to do the same with my junior and senior year, but I got married and started a family."
However, this entire time, Rodriguez felt like something was missing, and that something was a high school diploma and a college education.
So, with her children now 8, 7, 6, and 3 years old, she felt it was time to finish what she started for herself and for them.
"I was supposed to only study to get my GED, but when BISD told me about TSC's CNA program, I could not pass on the opportunity," said Rodriguez. "I've always wanted to pursue a career in the medical field, and nurse assistant was my foot in the door."
Rodriguez said she shed many tears throughout her journey to completing both her GED and TSC's CNA program.
"Juggling school, a family, a business and taking care of my father in Mexico, who was recently diagnosed with heart problems, was a lot to handle," she said. "But my husband and my kids are what kept me going. They were excited to see me pursue something I love and to see me finish. I couldn't let them down."
Rodriguez, who is now preparing to take her licensure exam at the end of the month, is applying for jobs as a certified nurse assistant and planning to return to TSC to pursue a certificate as a vocational nurse.
"If this experience has taught me anything, it's that I can do whatever I set my mind to," she said. "I have proved to myself that I am capable, and I can persevere through tiredness, stress or whatever else comes my way."
She added that every day she is thankful for the opportunities that BISD and TSC presented to her, because they were life changing.
"One dream down, many more to go," said Rodriguez. "I am proud of myself, and I'm going to keep pushing myself until I become the registered nurse I aspire to be. The growth and the opportunities I have seen so far are only the beginning."
For more information on TSC's Certified Nursing Assistant program, visit tsc.edu.
Summer and fall registration is ongoing, visit tsc.edu/register.