6 Physicians at UTRGV / Knapp program are "trail-blazers" for graduate medical education in Mid-Valley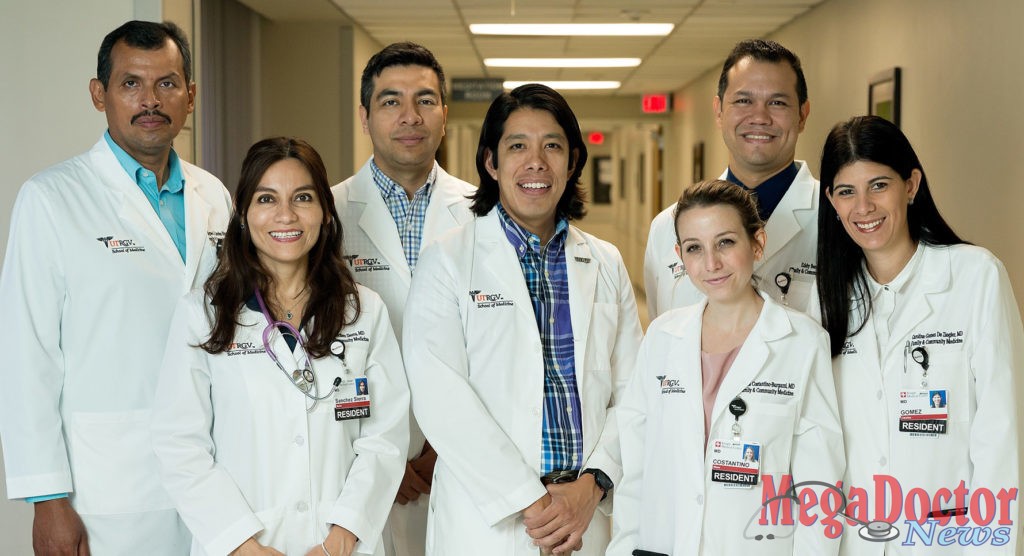 Mega Doctor News
Mercedes – Six "trail-blazing" doctors became the very first class to ever graduate from a graduate medical education program in the Mid-Valley this month.
The physician residents graduated June 25 from the UTRGV / Knapp Family Practice Residency Program. The programincludes a spacious clinic in Mercedes and hospital rotations at Knapp Medical Center in Weslaco.
These physicians have made a mark in the Mid-Valley as a caring and dedicated group during the past three years of their residency program.
The historic program for the Mid-Valley opened in 2017. The facility is in a new 13,800 square foot clinic on the western edge of Mercedes at the northwest corner of Expressway 83 and N. Mile 2 W Road. The clinic address is 2810 W. Expressway 83, across the street from "Med High" and Science Academy.
In addition to participating in the Mid-Valley's first graduate medical education program, the residents saw patients at the clinic under the direction of faculty members led by Dr. Miguel Tello, Program Director for the UT Health RGV / Knapp Family Health Center.
The residency program – which represents the first expansion of medical education into the Mid-Valley — was established through a partnership between the UTRGV School of Medicine, Knapp Medical Center, the City of Mercedes, and the Knapp Community Care Foundation.
Dr. Tello recalls the first group of residents as being an experienced group of physicians, many of whom had already served patients in various settings – ranging from colonias in the Valley to remote jungles and other challenging environments in South America and elsewhere.
- Advertisement -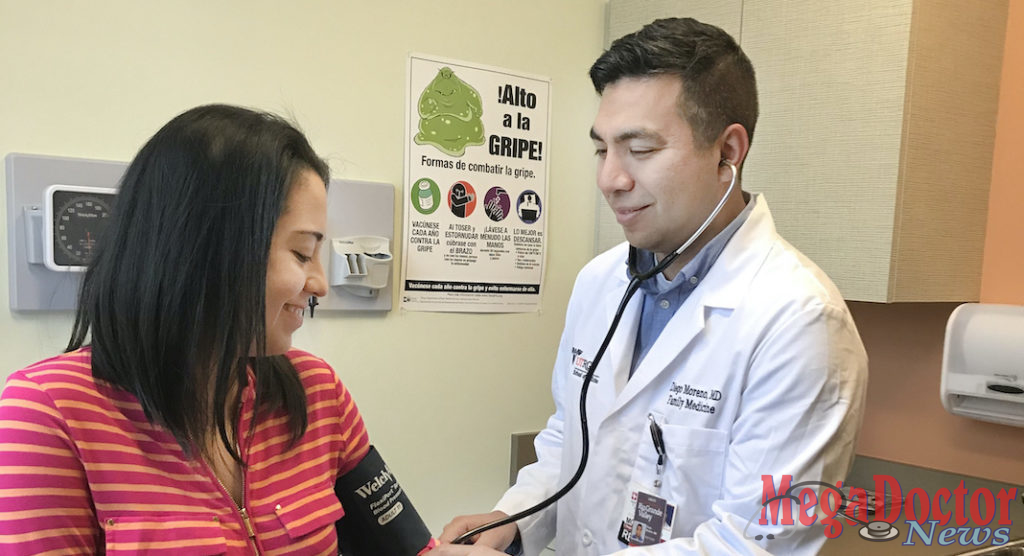 "We needed a seasoned group of physicians who would be able to handle the stress of being a first-year class," Dr. Tello added. "Their varied experiences and backgrounds really added a unique dimension to this class."
One of the residents, Dr. Eddy Berges, practiced medicine in the Dominican Republic and Puerto Rico before coming to the Valley. He noted that family medicine physicians provide a wide range of services — including preventive health — to people of all ages, ranging from children to senior adults.
Upon graduation, Dr. Berges will continue to see patients in the Mid-Valley, as he will join Rio Grande Medicine in Weslaco and Harlingen, in practice with Dr. Julio Saviñon.
Dr. Carolina Gomez de Ziegler practiced medicine in Venezuela before coming to the Valley. She noted that family medicine is "a very complete specialty where you can take care of everything for a person, for her environment, and her family."
The Chief Resident at the program, Dr. Eliana Costantino Burgazzi, is also originally from Venezuela, while Dr. Diego Moreno is from Austin. Dr. Miguel A. Sanchez Rivas is from Escarcega, Campeche in Mexico, and Dr. Marita del Pilar Sanchez Sierra Marino is from Peru.
While the six graduates will soon be leaving the UTRGV / Knapp Family Practice Residency Program, six new physician residents will be joining the program. The program boasts a total of 18 residents (six first-year residents, six second-year residents, and six third-year residents.)
Physicians at the clinic see all ages of patients for a wide variety of conditions. In fact, over the past three years, the UT Health RGV / Knapp Family Health Center has significantly increased its services. In addition to being staffed by several board-certified family medicine physicians, the center also now includes a sports medicine specialist, Dr. Evan Perez; several surgeons, a urologist, Dr. James Sander; and a doctoral-level licensed professional counselor, JenniferOrtega, DPC, LPC, CPC, CCATP.