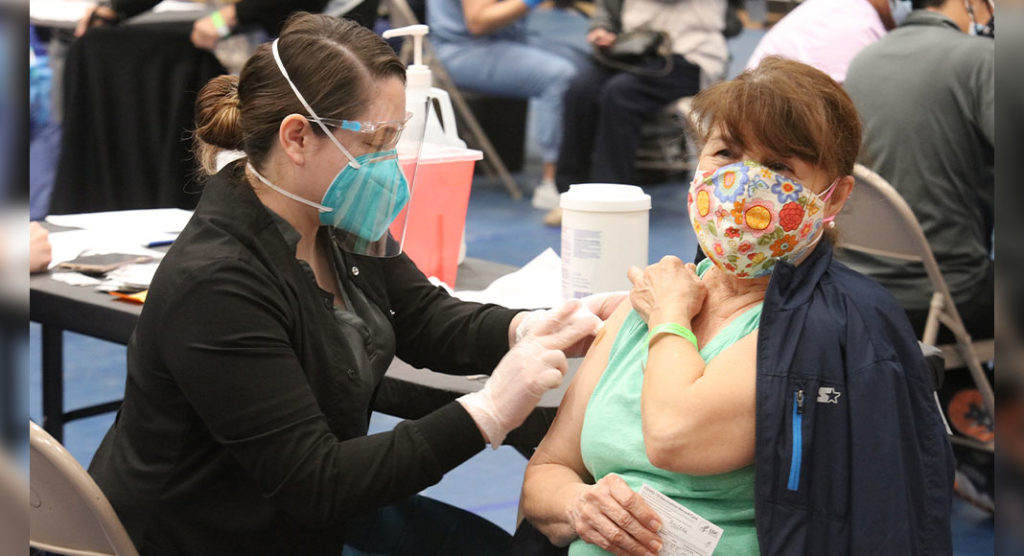 Mega Doctor NEWS
EDINBURG – The Edinburg Consolidated Independent School District hosted its first-ever COVID-19 community vaccine clinic on Jan. 27 at Vela High School, administering 1,000 Moderna vaccinations.
"This is a community partnership effort, where we have teamed up with the City of Edinburg and the Hidalgo County Health Department," said ECISD Assistant Superintendent for Student Services Dr. Mario Salinas. "We want to keep our community safe by expanding the availability of the COVID-19 vaccines."
Staff from all three entities helped to distribute the wristbands to those who qualified for the vaccine the day before at the Richard R. Flores Stadium. Registered nurses from Edinburg CISD and Hidalgo County administered the vaccines at the high school.
"I can't even explain how wonderful it feels to be able to help the people that live here in this county," ECISD Health Services Director Diana Davila said. "We are doing tremendous work. My nurses are out there. They all volunteered to come out and give these vaccinations."
According to Hidalgo County Health and Human Services Chief Administrative Officer Eduardo Olivarez, the community vaccine clinic was one of the most successful hosted to date, with approximately 250 people receiving the vaccinations per hour.
"Thank you to our Health Services Department, Police Department, and other staff members for this well organized and executed event," said ECISD Interim Superintendent Gilbert Garza Jr. "This is what teamwork is all about, and I am very proud of everyone's hard work and dedication to the project."