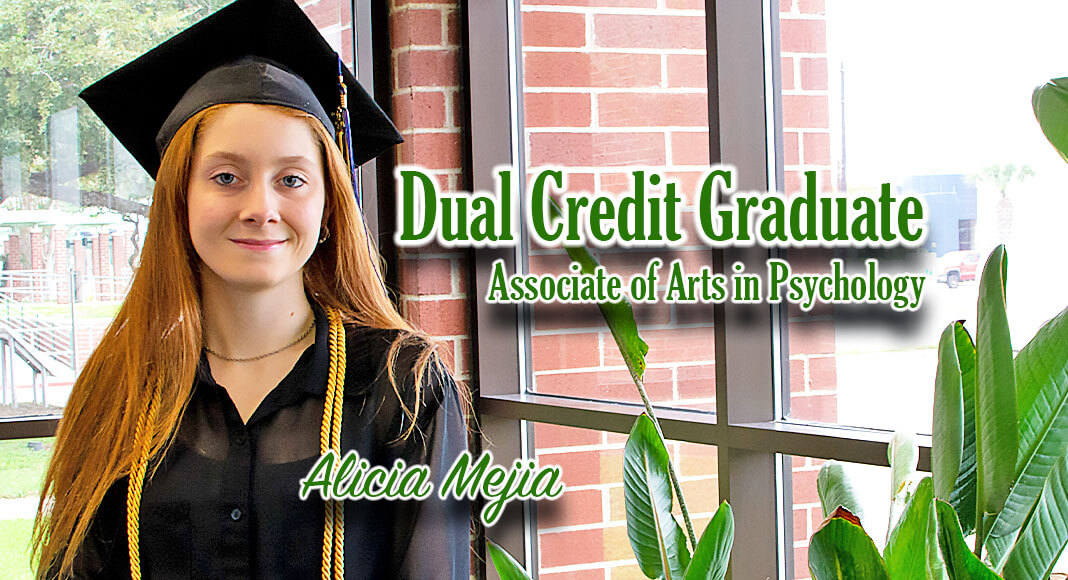 Mega Doctor News
McALLEN, Texas – Alicia Mejia has her sights set high for her academic future, and credits South Texas College for helping her develop the self-discipline to lead her way.
The 17-year-old Dual Credit Program student graduated from STC this Saturday with an Associate of Arts in Psychology, five months before her high school graduation.
"This was my first graduation experience since it was before I even got my high school diploma," Mejia said. "The first time walking across the stage and getting my diploma and shaking somebody's hand."
Mejia was among the 171 dual credit graduates receiving their associate degrees this semester. STC conferred a total of 2,147 degrees in three ceremonies at the Bert Ogden Arena in Edinburg.
Mejia graduated from STC with a 3.8 GPA (Grade Point Average) and is currently ranked sixth in her class at Achieve Early College High School in McAllen. She said one challenge she faced as a dual credit student was juggling schoolwork with sports and extracurricular activities like her high school's National Honor Society, University Interscholastic League (UIL) Social Studies team, varsity soccer and track.
"And then, of course, I was also working to meet the high school English and math requirements," Mejia said. "I had to study for those along with the associate requirements – which are completely different."
But, earning her degree made the process all worth it, Mejia said.
"You have to be sure that this is something you want to do," Mejia said about dual enrollment. "It's something you're going to work on and be committed to. I learned how to be self-disciplined by organizing my time through the years. I had to be responsible and stay on top of everything myself because no one was going to do it for me anymore."
Mejia now has her eyes set on pursuing a Bachelor of Science in Psychology. She has been accepted to several universities including Texas A&M University-San Antonio, Texas A&M University-Kingsville, Texas A&M University-Corpus Christi, and is eagerly waiting to hear from the University of Texas at Austin.
"I want to get my medical degree and actually become a doctor," Mejia said. "I want to go into psychiatry. I've always been interested in looking at what people do and why they do it. Plus, my dad works and does things in psychology, so it's like I'm following in his footsteps, a little bit."
And, Mejia said the classroom experience at STC provided her with a strong educational foundation that she can carry with her to her next university.
"My last psychology class, Social Psychology, is one of my favorite classes ever," Mejia said. "I just love the professor, Dr. (Jennifer) Reid. She's super amazing. The way she teaches and makes her class feel more like a conversation than as if she's talking at you, has increased my interest in the area."
Psychological Science Instructor Jennifer Reid said she's happy to know the classes have made a difference in the lives of STC students.
"Being a dual enrollment student, I know that Alicia works hard to complete both her high school and college requirements among her extracurricular activities and part-time job," Reid said. "Plus, she does all of them well. I hope that all STC Psychological Science graduates will continue their education to earn a master's degree or doctorate. I look forward to one day calling them colleagues."
Graduation was slightly bittersweet for Mejia since she will no longer be sharing the college experience with her high school classmates.
"I've always had classes here with a lot of friends who are also graduating," Mejia said. "I've taken all these classes with them, and I know that it'll now be a little harder to see them."
But, Mejia said she will remember STC as a place where she grew stronger as a student and an individual.
"I think STC is a place where people are able to further their education at a school that's affordable and comfortable," Mejia said. "Everybody's super inviting and there's a variety of clubs for people to join. There is something for everybody here."