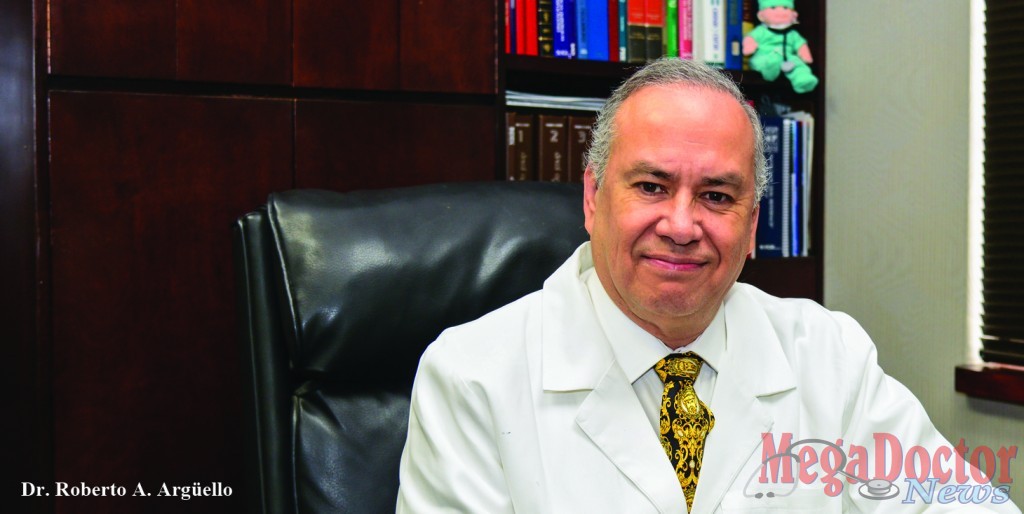 - Advertisement -

By Roberto Hugo Gonzalez
As originally published by Mega Doctor News newsprint Edition
Imagine your life without sight, without being able to admire the beauty of nature around you, and not being able to perform the simplest tasks.
Mega Doctor News spoke to a very unique physician, Dr. Roberto A. Argüello, M.D., F.A.C.S., P.A. He is a Diplomate of The American Board of Ophthalmology with a specialty in General Ophthalmology and a subspecialty in Corneal and External Diseases.
In a way, I can say that Dr. Argüello is a godsend to South Texas; he is the only one in this area that can perform a cornea transplant, which in many a case is the only procedure to give back a person's sight.
Dr. Argüello told Mega Doctor News that the sense of sight is our most important sense; giving humans 80 % of the information about our outside world at the same time it completes the other senses; touch, taste, hearing, and smell.
According to statistics, due to the generous donors who give their organs for transplanting and medical research, some 46,000 people have cornea transplants each year. This is a sight-saving surgery, but it also requires patients and ophthalmologists to work closely together to insure the success of the surgery.
In order to understand the transplant process, Dr. Argüello explains what a cornea is. "Your cornea is a clear tissue that covers the front of each eye."
- Advertisement -

He pointed out that it is about the size of a dime and the thickness of a credit card. The cornea is kept moist and nourished by a thin layer of tears. It is kept smooth by the blinking of the eyelids. If the cornea becomes distorted in shape, scarred, or hazy (opaque) from disease or injury, the light rays passing through it are distorted and the vision is reduced. In some cases, a corneal transplant may be necessary to replace the diseased or injured cornea with a healthy, clear cornea to restore good vision.
Dr. Argüello uses the latest technology available in order to transplant a cornea called DSEK.  He emphasized that you may need a cornea transplant if your cornea no longer lets light enter your eye properly because of scarring or disease. In addition, during a cornea transplant, an eye surgeon removes a portion of your cornea and replaces it with a new section of cornea from a donor. The procedure is also called a corneal transplant or a keratoplasty.
"There are some patients in which only part of the entire cornea is diseased, only the inner most layer so the surgeon just replaces that." He said that in order to get to that layer a small incision is made and the diseased tissue is removed. The same tissue of your donor cornea is then harvested and pushed in. "That is one of the most evolving techniques in my field," he said.
Dr. Argüello graduated from medical school in 1976 from Asuncion Medical School in Paraguay. His specialty, Ophthalmology that takes care of diseases and surgery of the eye and his subspecialty is Corneal Disease and Surgery. He is a seasoned and experienced doctor with 31 years in this field.
He did his Internship at St. Francis General Hospital in Pittsburgh Pennsylvania from July 1978 thru June 1979. He did his Residency in Ophthalmology at Bascom Palmer Eye Institute in Miami, Florida from July 1979 thru June 1982.
Dr. Argüello is proud to talk about his two Fellowships, the first, in the Corneal And External Diseases Subspecialty at Duke University in Durham, North Carolina in July thru October 1982, and the second, at Bascom Palmer Eye Institute from November 1982 thru June 1983. He was board certified by The American Board Of Ophthalmology in May 08,1983.
What values did your parents instill in you while you were growing up? "I was born in Asuncion Paraguay and my parents are Marcos and Ester Argüello. They taught me the value of honesty and integrity; my father disciplined me without being tough. On the other hand, my mother gave me a lot of advice on how to be around people, to respect the elderly and be nice to people." He thanks his parents for being his mentors in his life, "My parents and that is my base, my foundation." He feels that the most important thing for him is happiness, "whichever way you can get it."
Dr. Argüello came to the United States when he was 17 years of age. "I came to this country thanks to a scholarship provided by the American Field Service office from New York and I stayed," he said.  "After graduating, a former student and friend Dr. Ruben Salinas who also graduated from there invited me to come and join him in McAllen." Dr. Argüello said that Dr. Salinas, who is already retired, is a good friend.
"I married my beautiful wife, Cecilia, and we have four great children; Diego, Patricia, Marcos and Daniel." Are any of them following in your footsteps? "No, all of them are in business and we are very proud of them."
Dr. Argüello has given back to this community in the past, by serving as a member of the McAllen Airport Advisory board and on the executive committee of McAllen Medical Center. He says that to get rid of stress he likes to listen to music and plays soccer, which is his passion. "I also play volleyball and I like to run," he said.
What inspired you to become a medical professional? "It came from within, ever since I was a little boy I wanted to be a doctor." Dr. Argüello intends to practice in his field as long as he can. "Health permitting I will continue working because I enjoy what I do."
When one of your patients visits with you and tells you that he can see because of your intervention what kind of a feeling is that? "It's a great feeling of satisfaction and hard to describe, especially with people that have cornea transplants, they appreciate whatever vision they get," he said.
What is the longest that a patient has been blind and had his vision restored with a cornea transplant? "The longest I can remember is five years." Both eyes? "No, one eye.
During his 31 years in this field he says that he has seen more than 10,000 patients. What worries you about your patients? "I worry when they don't keep up with their follow up visits and don't take their medications."
What brings you the most satisfaction of your profession?  "Even though is sounds like an old cliché, my satisfaction is helping my patients get better."
The uniqueness about Dr. Argüello is his talent, and he is the only medical doctor that provides cornea transplants in South Texas. He said that the closest physicians that perform cornea transplants are in San Antonio and Houston.
To finalize this conversation with Dr. Argüello, MDN asked how he would like to be remembered. "As a good doctor," he said with a smile on his face.
This publication selected Roberto A. Argüello, M.D., F.A.C.S., P.A. as Mega Doctor of February 2014 because of the uniqueness of his specialties and the fact that he is the only one in south Texas providing cornea transplant.
You can get in touch with him by calling 956-687-8575 to set up an appointment at his office located at 1910 South 1st Street #100 in McAllen Texas. MDN
More About Dr. Roberto A. Argüello
Medical Licenses
Florida
Texas
Papers Published  
The Uveomeningitis, Presented at The Pan American Congress of Ophthalmology, February 1979 Miami, Florida
The Histopathology of Uveal Melanomas Postcobalt Therapy Presented at the Arvo Meeting Sarasota, Florida April 1981
Memberships
American Medical Association
American Academy Of Ophthalmology
American College Of Surgeons
Education & Training 
Medical School 1976
National University Of Asuncion / Faculty Of  Medical Sciences Internship Hospital
Residency & Fellowship 
Bascom Palmer Eye Institute-Anne Bates Leach Eye Hospital
Modern History of Endothelial Transplant
In 1998, Dutch ophthalmologist Gerrit Melles, MD described a technique in which the inside layers of the cornea were manually dissected and selectively replaced (Melles et al, 1998). In 2001, Mark Terry, MD described a modified technique in which the dissection was performed with viscoelastic and termed his technique deep lamellar endothelial keratoplasty, or DLEK (Terry & Ousley 2001). The manual dissection is tedious and involves a steep learning curve. Dr. Melles has since developed a technique that involves stripping of Descemet's membrane instead of a lamellar dissection, which has been termed Descemet's stripping endothelial keratoplasty, or DSEK (Melles et al, 2004).