Mega Doctor News
By Roberto Hugo Gonzalez
Since he arrived in the Rio Grande Valley, Dr. Pedro Mego, FSCAI has known that his specialty would greatly benefit South Texans. His passion has been serving his patients and has had great outcomes in peripheral disease treatments.
Dr. Mego is an Interventional Cardiologist and Endovascular Diplomate of the American Board of Vascular Medicine. He has dedicated his professional life to treating coronary artery disease, peripheral artery disease (PAD), and chronic venous disease (CVD).
"I am a fully trained board-certified interventional cardiologist. I have practiced cardiology and interventional cardiology for the last 16 years. For the last fourteen years, I have been focusing my professional expertise on the management and treatment options of peripheral artery disease and chronic venous disease," he told Mega Doctor News.
When he finished his training in 2005, he did his own research and discovered that South Texas was and still is very high in diabetes, obesity, and metabolic syndrome. "Because of my findings, I anticipated the population could be affected with coronary artery disease and strokes," he said.
In 2005, Dr. Mego arrived in South Texas and joined Valley Heart Consultants, a group of excellent interventional cardiologists. He saw the high incidence of heart attacks and strokes, but he did not anticipate the very high incidence of amputations. Amputation is the consequence of severe peripheral artery disease.
During his first years in practice, 95% of his time was dedicated to heart procedures and only 5% to treating the legs. Being the only doctor trained to treat peripheral artery disease with minimally invasive procedures, he rapidly gained the respect to manage this terrible disease in South Texas. Progressively he increased the percentage of treatments by 2019 to approximately 70% in treatment to the legs and only 30% to treating the heart.
Such a significant change made him stop and rethink how he could best serve the communities of South Texas.
In January 2020, Dr. Mego decided to dedicate 100% of his practice to treating and managing peripheral artery disease and chronic venous diseases. He opened a new practice by the name of Mission Vascular and Vein Institute located in Mission, Texas. By now, Dr. Mego has performed thousands of procedures on the heart and legs. He is among the best in this region.
He says that PAD, peripheral artery disease, is part of a systemic disease. "This systemic disease is also called atherosclerosis, it's caused by the formation of a plaque, a combination of fat, sugar, and inflammatory markers that deposit in the arteries reducing the lumen and blocking the arteries."
Dr. Mego explained that the blockages in the heart are called coronary artery disease and increase the risk of heart attacks. If the blockage happens in the neck or the brain, it's called carotid or cerebrovascular disease, and increases the risk for stroke. "If it occurs in the legs, it's called peripheral artery disease and increases the risk for amputation. It's the same disease in different locations of the human body."
Dr. Mego mentioned that the risk factors are the same for the heart and the legs. "Those factors are diabetes, high cholesterol, high blood pressure, kidney disease, and smoking." He continued, "Family risk also enters into this equation. If the family member has a problem with poor circulation in the legs, the son or daughter will have a high risk for that." "The sad part of all of this is that, unfortunately, more than half of the patients who have blockages in the legs don't know it, neither do their doctors."
The reason, as he says, is because approximately 30% of patients who already have blockages are asymptomatic. He said, "Approximately 25% or so have mild symptoms or atypical symptoms. Some of them have cramps, burning, itching, cold feet, and discomfort more than typical claudication."
According to Dr. Mego, the typical symptom of peripheral artery disease is called claudication, which means pain in the calf muscle while doing physical activities.
"Imagine that somebody walks one or two blocks, and they have calf pain, that is typical claudication. But the majority have asymptomatic or have atypical symptoms."
He explains that cramps in the legs are not a specific symptom of peripheral artery disease. But it could happen for several reasons, electrolyte disbalance, muscle fatigue after a day of exercise, but it also can occur in peripheral artery disease.
"It would be very concerning if he or she experiences cramps and cold feet at bedtime." Dr. Mego considers that is a sign of severe peripheral artery disease.
Why does it happen at bedtime? "In the daytime, when we are sitting down or standing up, because of gravity, more blood flows into the legs and the feet. But at night when they are in the bed, there is no gravity in our favor and patients complain of cold feet, cramps, and pain while they lie flat and are sleeping in bed." He said that is a symptom that signals advanced peripheral artery disease.
If a reader of this publication feels those symptoms, can they just come and see you for treatment? "That depends on the patient's insurance. Some insurances don't require primary care for the referral. Others do." He continued, "In general, I would advise patients to talk to their primary doctor. Their doctor should be the one referring them to us. That's the general rule."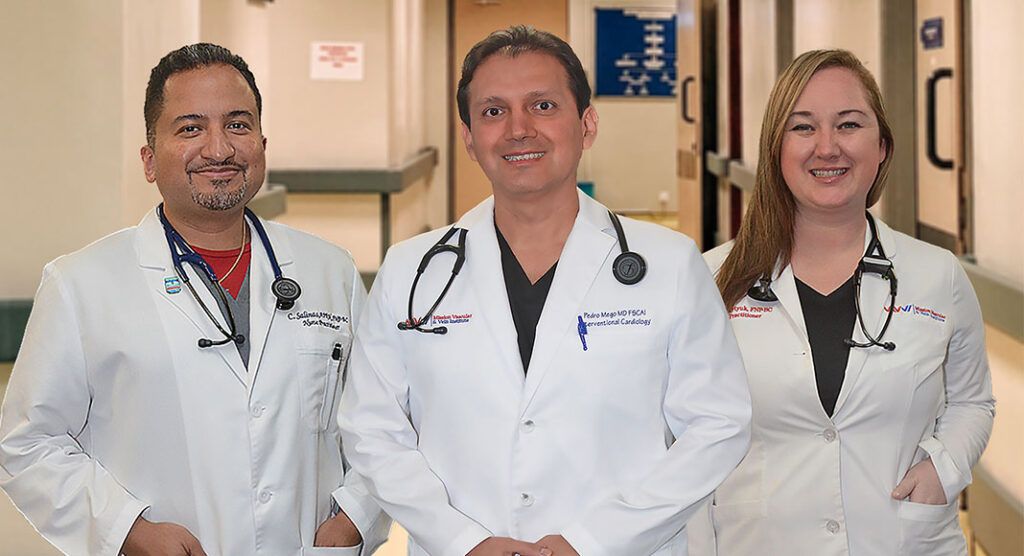 As the conversation continued, Dr. Mego pointed out that the most advanced stage of peripheral artery disease is called critical limb ischemia. Critical limb ischemia happens when the body does not receive enough blood even at rest, and usually, the patient suffers pain at rest, nonhealing ulcers or gangrene tissue usually in the toes and feet.
We learned from Dr. Mego that the importance of critical limb ischemia is recognized and known more today than in the past. This group of patients, have a high risk of mortality, even worse than many cancers. He said, "A lot of the times, we are very concerned about prostate or breast cancer, but having a non-healing ulcer in the toes or having pain at rest, is a much worse prognosis than those cancers." He noted that even some of the medical community and society are not aware of these facts.
For readers that feel they might be in a situation like this, Dr. Mego recommends being evaluated by their primary care doctor. He said they could do a simple test, like an extremity arterial doppler or an ankle brachial index.
He also recommends lifestyle modifications like doing more physical activities, daily walking. "Also, taking antiplatelet therapy, such as aspirin, or something stronger. It is also highly recommended to take steps to manage diabetes, hypertension, high cholesterol. In general, that is the rule," he said.
Dr. Mego said that this problem used to be treated traditionally by a vascular surgeon. A vascular surgeon is the one who uses a knife and cuts in the groin or the ankles to perform a bypass.
He said that technology has advanced, the medical techniques have improved significantly, and what a vascular surgeon used to do in the hospital, can now be done by an endovascular specialist like Dr. Mego without cutting, using only needles and catheters on an outpatient basis. "Most of these procedures do not require a hospital stay," he said.
The techniques that Dr. Mego uses have been progressively improved over the last ten years. He is a pioneer in treating peripheral artery disease by using different methods in the Rio Grande Valley. That is why he is also recognized among his peers as a cardiovascular expert.
Dr. Mego said, "For example, I frequently use pedal access. Most doctors put the access in the groin to clean the arteries. We can put it in the groin, or we can put it around the ankle, in the foot, or the back of the ankle, and we can get access from there. If the patient needs it, that is something we do routinely."
Pedal, popliteal access, and other accesses have become indispensable for endovascular therapy of complex lower extremity peripheral vascular disease. He uses ultrasound to guide in one hundred percent of his accesses and uses CO2 in patients with renal disease to reduce the risk of damage to the kidneys. Dr. Mego is willing to take any patient for a second opinion especially if the patient has symptomatic peripheral artery disease with a non-healing ulcer, pain at rest, or risk for amputation. Dr. Mego has put together a professional team, which he is very proud of, from the receptionist that greets visitors and patients to the two board certified nurse practitioners, Carlos A. Salinas, MSN, APRN, FNP-BC, and Iryna Mykytyuk, MSN, APRN, FNP-BC.
They practice at Mission Vascular & Vein Institute, located at 1317 St. Claire Blvd. Suite A-5 in Mission, Texas. You can contact them at 956-997-6000 or visit their website: www.missionvascularinstitute.com.