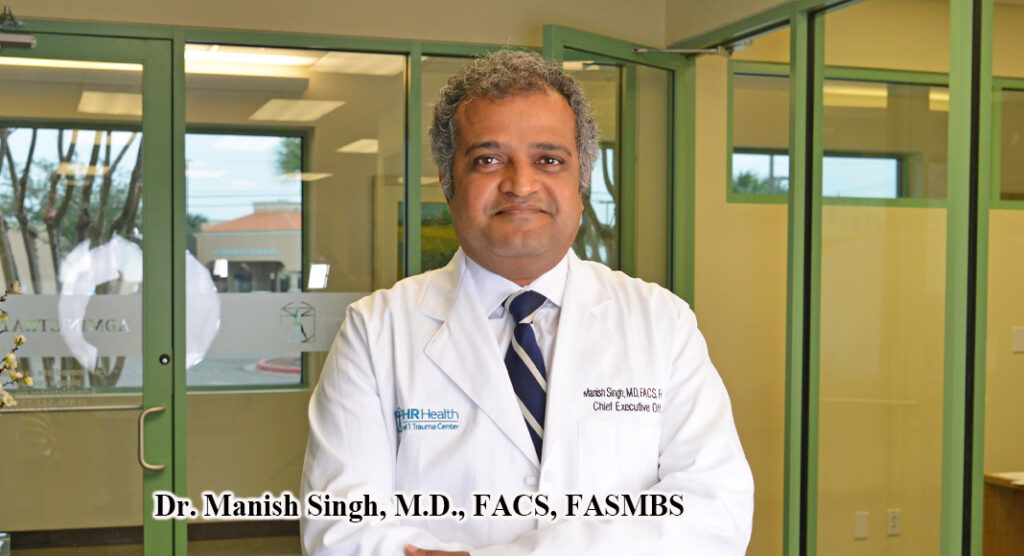 Mega Doctor News
After ten years since he got here for the first time, Dr. Singh continues to enjoy the region. With a much better understanding of the South Texas culture, he reaffirms his commitment to serving the area.
During all these years, Dr. Singh has experienced first-hand events that have impacted the communities of the Rio Grande Valley. Some have had a positive evolution; others are still spinning right where he found them when he first arrived.
He has witnessed how involved DHR Health is and other medical institutions in providing education to the residents to adopt a healthier diet combined with physical activity. He said that simple changes make a big difference in people's life. Dr. Singh added that medical professionals like him and others must do more and more regarding education.
In this issue, please get to know more about Dr. Manish Singh, who is now the Chief Executive Officer with DHR Health.
On another note, UT Health RGV neurologist Dr. Francisco P. Gomez is bringing awareness on Multiple Sclerosis and what is being done to provide services for these patients in the Valley.
Over 2.3 million, mostly young people, are diagnosed with this debilitating disease throughout the world. Read the rest of the story inside.
In this issue, we bring you the story of Gerardo (Gerry) Muyshondt, the new Senior Director of Marketing and Community Relations for Driscoll Children's Hospital, who has experienced a parent's worst nightmare. Gerry and his wife, Patricia, lost their seven-year-old son Felipe ("Pipe") to brain cancer in 2020.
- Advertisement -

He understands firsthand what Driscoll parents go through as they fight to get the best healthcare possible for their sick child.
Gerry described the opportunity to work at Driscoll as "Kismet." Read the rest of the story inside.
Congratulations to Laura Disque, MSN, RN has been named Chief Operating Officer at Rio Grande Regional Hospital. She has a strong background in healthcare operations and business development. She previously served as Assistant Chief Nursing Officer at Rio Grande Regional Hospital. There is more inside.
Great new addition to DHR Health Behavioral Hospital as Dr. Delisa E. Guadarrama. She is the only board-certified child and adolescent psychiatrist in the region for inpatient care. Guadarrama brings an extensive background in mental health care to the DHR Health Behavioral Hospital. The rest of the story inside.
More good news for the Valley, as Dr. Gladys Maestre's is going to be conducting research on the brain and the Hispanic population's elders and their memory loss.
Maestre said, "Elders are the keepers of the family memories­, the efforts of those who tried to improve the family's situation." She is the director of the UTRGV School of Medicine's Alzheimer's Disease Resource Center for Minority Aging Research. More inside.
April is National Organ Donor Month. Each year in April, Donate Life America (DLA) leads National Donate Life Month (NDLM), an observance to focus national attention on the need for and importance of organ, eye and tissue donation. National Donate Life Month is about the importance of registering your decision to be a donor and honoring deceased and living donors — recognizing that the generosity of donors makes saving lives through transplantation possible.
More than 100,000 people across the country are currently waiting for a life-saving organ transplant and almost 10,000 of them are in Texas. Learn more on organ donation inside.
Enjoy!