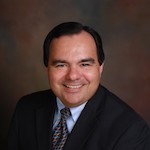 Mega Doctor News
- Advertisement -

Houston, TEXAS – Jose A. Perez Jr., M.D., has joined Hospital Corporation of America Healthcare's Gulf Coast Division as vice president of graduate medical education, focusing on strategy and development. His first day was March 12.
Dr. Perez comes to the Gulf Coast Division from Houston Methodist Hospital, where he was vice chair of education and internal medicine residency director for the programs associated with Weill Cornell Medicine. He has more than 25 years of experience in medical education in addition to his time in clinical practice as an internist.
The Gulf Coast Division has partnered with the University of Houston, which is establishing a medical school focused on preparing primary care physicians to practice in underserved urban and rural communities in Houston and across Texas. The UH College of Medicine will admit its first class in 2020. The Gulf Coast Division, in turn, is establishing a graduate medical education consortium for new residency and fellowship programs based at its family of hospitals. These new programs will bring 103 first-year resident positions to the Houston area by 2020 and expand to 309 total resident positions by 2024.
Dr. Perez graduated from the Universidad de Monterrey medical school in Mexico before completing additional clinical training at New York Medical College and a residency in Internal Medicine at Waterbury Hospital, affiliated with Yale University School of Medicine, and at Kern Medical Center in Bakersfield, California where he also served as chief resident. He holds a master's degree in medical education from the University of Southern California and a professional MBA degree from the University of Massachusetts, Amherst. 
Dr. Perez is a fellow of the American College of Physicians and the American Board of Quality Assurance and Utilization Review Physicians. He is also a diplomate of the American Association for Physician Leadership and the former president of the Texas chapter of the American College of Physicians and the Hispanic American Medical Association of Houston.
"Dr. Perez will lead strategy and development for our newly-established and existing residency and fellowship programs and serve as a partner to corporate, division, and facility leaders in further establishing HCA as the nation's largest provider of patient-centered, high-quality medical education," said HCA Healthcare's Gulf Coast Division President Troy Villarreal. "We look forward to working alongside Dr. Perez as we lead our teaching facilities into becoming world-class residency and fellowship destinations."