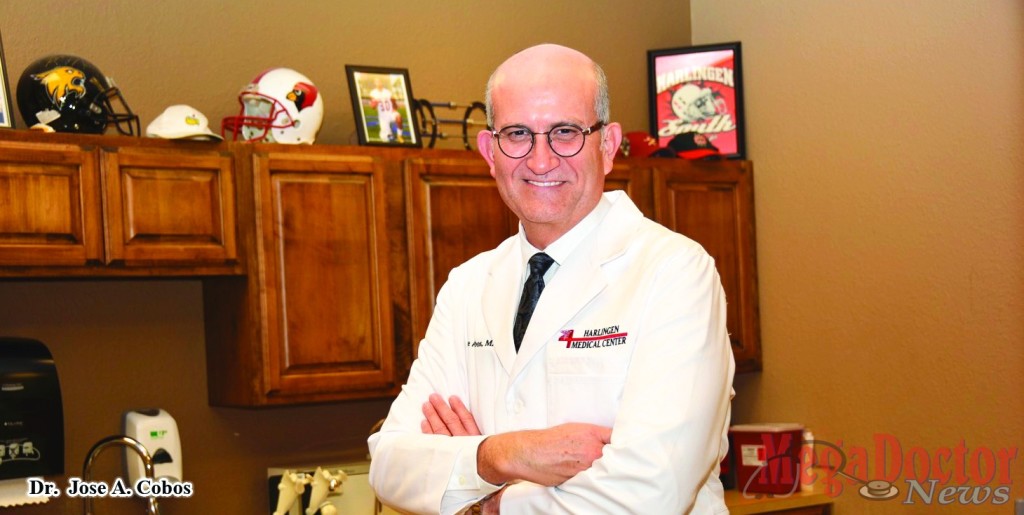 - Advertisement -

Mega Doctor News – 
By Roberto Hugo Gonzalez,
Orthopedic surgeons are a special breed of physicians that perform very delicate surgeries. Their ability is unique and precise. They perform with detailed plans to obtain the best outcome for the patient. This is the case for Dr. Jose A. Cobos, an experienced physician with more than fifteen years of specialized training in orthopedics. His focus is ample and includes the following human body anatomical parts: the arm, elbow, foot and ankle, hand and wrist, hip, knee, and shoulder. He practices in Harlingen from OrthoCare located at 2114 Hale Drive in Harlingen, Texas 78550.
Dr. Cobos has the training and skills to treat his patients, however he believes that one asset makes the difference and that is that he listens to his patients when they share with him what they need. He said, "This in turn helps in presenting treatment options to the patient for a better outcome."
Dr. Cobos treats arthritis of the knee, hip and shoulder as well as injuries associated with sports and work. He also treats patients suffering from trauma fractures.
Dr. Cobos pointed out that he has optimized OrthoCare with a state-of-the-art digital X-Ray system, an Extremity MRI and Ultrasound equipment, which he says is vital to precisely pinpoint and diagnose each patient's situation and to treat their condition," he said.
He told Mega Doctor News that OrthoCare is a professional practice which focuses in a specialty that deals with bone and joint disorders. It also includes muscle disorders, degenerative changes, accidents or injuries also known as trauma, and any other injury associated with activities such as work or sports.
- Advertisement -

From an early age in life, Dr. Cobos decided he wanted to be a doctor. The idea and inspiration came to him when he was in his 2nd year of high school. Since then it became a very important plan in his life. When he finished high school in Mexico, he applied to medical school and attended the university in Mexico City. "I did my medical school studies, followed by my year of social services which was with the Mexican Navy in a ship," he said. Dr. Cobos was the doctor there. After this great experience, he presented his exam in medicine successfully and did his first year of training in Mexico.
When the time to move came about, he and his family decided to move to the United States settling in Texas. He recalls that not many opportunities were available for young foreign medical students; however, he managed to get into orthopedics by what he calls, 'getting in through the back door'.
"I first applied for a Research Assistant position at the University of Texas, Medical branch in Galveston, Texas where I worked, first as a Research Assistant and then as the Research Associate," he said. He ended up in orthopedics where he worked four years mostly focused on research projects related to bone infections. Dr. Cobos' ability and dedication enabled him to handle multiple types of research including chart reviews, clinical studies with patients, and animal studies as well. He also worked testing different types of antibiotics used as therapies for infections. At the same time, he was part of a team called Osteomyelitis Clinic known by infectious diseases and orthopedics at that time. Osteomyelitis is a bone infection that is usually caused by bacteria; it can be either acute or chronic.
After investing four years in Galveston and having been associated with others as co-author of multiple publications, he was given the opportunity to start in orthopedic training. He said, "Fortunately, they accepted me in the same place and I finished my five-year training in Galveston."
Once he finished his five-year training there, he was about to start his specialty training when he was offered a fellowship in surgical infectious diseases. This new opportunity took one year to complete, and the fellowship consisted of managing patients with bone and joint infections that were chronic or acute. As part of the infectious diseases department, he also treated patients with hyperbaric medicine which was used commonly for osteomyelitis. When he came to this country, he faced challenges, but Dr. Cobos always begins with good faith, and the results are always blessings.
Finally, Dr. Cobos started his specialization in Orthopedics and finished successfully after five arduous years. From there he moved on to Baylor College of Medicine in Houston to complete two more years of fellowships, one on Orthopedic trauma and one in Spine surgery.
The trauma fellowship was mentored by Dr. Ronald Lindsey, now the chairman at the University of Texas – Galveston. At the time, when Dr. Cobos met him, Dr. Lindsey was a professor in trauma. With him, Dr. Cobos spent a year treating mostly complex fractures including pelvic fractures, periprosthetic fractures which are fractures around the joints that have replacement surgery.
In addition, Dr. Cobos also did a significant number of spine fracture procedures. Later on, he went and did his spine fellowship working mostly with adult degenerative spine surgery. Once he finished in Houston, he moved to the Rio Grande Valley, settling in McAllen Texas.
"I worked at McAllen Bone and Joint Clinic with Dr. Salvador Mendez and Dr. Miguel Hernandez and practiced with them for four years." He said, "I was mostly doing spine general trauma and complex trauma."
After four years he was offered the opportunity to work at Valley Baptist Hospital (VBH) and to be in charge of the trauma and orthopedic services. He took the offer and also became more involved in joint replacement surgeries. "I worked with Dr. Rick W. Bassett for seven years." During that time, he was called to duty in the army and he answered the call to serve. "I never made it to the combat theater, we were stuck in Fort Dix, New Jersey."
He said that the excessive number of U.S. soldiers made it impossible for many not to be able to leave to the Middle East. After four months in Fort Dix, he was sent back home. He resumed his practice and continued working for several years until it was time for him to move on and start his own practice.
Dr. Cobos opened OrthoCare, he built a very efficient facility to take care of his patients. His practice is a general practice with the exception of spine treatment. Today, it is mostly on joint replacement surgery knees, hips, shoulders, and occasionally the elbows. "I do sports medicine. I take care of knee injuries and shoulder injuries, as well as shoulder reconstruction, and including trauma," he said. While in Galveston, he trained in hand trauma, including tendon repairs. He noted that his practice now is focused in general orthopedics but he points out that his main interest at this point is pain management especially in joint replacements.
Dr. Cobos speaks very highly of his wife, Wendy. "She is a professional educator, a speech therapist, and she has a master's degree in educational administration." When they got married, Wendy left her job and began to help Dr. Cobos in his practice. He recalls that when he started his practice, they experienced hard times; however, he felt good because Wendy was there with him.
Dr. Cobos remembers that they started in a small office located a couple of blocks from where he is now. Wendy and her mom, Brenda Kirman, were managing the office. "Wendy runs all the services here. There is no doubt that without her I would not be where I am right now." He said, "She is the one that makes all the rational decisions. I'm the doctor that goes by instinct and I function by doing things right now!" He credits Wendy for doing an amazing job. He said, "But the most important thing is that she was the person that introduced me to my faith, and my love for God."
Have you ever felt God moving thru your hands while you are doing a procedure?
"So many times." he said. "I love when patients ask for prayers before the surgery. I love when they ask me to pray for them for the surgery." Regardless, Dr. Cobos said that he always prays before his surgeries.
Dr. Cobos was born in Tampico, Tamaulipas; however, he grew up in Reynosa during the ages of 7-12 years of age. His father was relocated from Tampico to Reynosa to work in the oil industry. He said that there was nothing that he loved more than to visit McAllen every weekend with his mom and dad to buy groceries. "I used to run all over the stores; all of them with air conditioning." He said, "I always wanted to live in McAllen, in Harlingen or Brownsville."
When Dr. Cobos finished his training, he received job offers in academics at the Cleveland Clinic, Baylor and Galveston. But his choice was always to come back to South Texas. "I was destined to be in the Valley," he said.
According to Dr. Cobos, he is one of few orthopedic surgeons in the country that are doing new procedures in this field. He is using a very effective technique for pain management which is ahead of many in the Valley and the country. "I am very happy with the results that we have obtained in surgeries and I am always striving to make it better."
He said, "My goal is to hopefully one day have a pain free or almost pain free knee or hip surgery so that people can cope with it better." He is excited when he talks about this technique because he has seen many happy faces and grateful patients after the procedure. He admits, "It is not a perfect science. It's a science and at the same time, it's an art; and sometimes you do have a patient that does not respond as well as you would want. But in general, we have amazing success and patients are happy."
Dr. Cobos is trying to make this region a recognized place where the best orthopedic procedures are practiced. Currently, he is attempting to present many of his successful results in professional conferences. Recently participated in a seminar at the recent Hip and Knee society meeting in Dallas and he was recently informed that one of his papers submitted was accepted for publication in an orthopedic journal. He also pointed out that at the Harlingen Medical Center, which is the hospital where he performs most of his procedures, the medical staff are very supportive about doing research and always look for ways to provide the best care for patients. Dr. Cobos has his practice called OrthoCare in Harlingen. You can call (956) 365-4106 to set up an appointment and visit OrthoCare clinic located at 2114 Hale Drive in Harlingen, Texas.
"I take a personal approach to caring for my patients. I firmly believe that the most important aspect to providing quality care is to listen to the needs of patients," he finalized.
Dr. Cobos has been selected as the Mega Doctor for the month of December 2015 for his selfless dedication to diminishing the pain of his patients and improving the quality of their lives.  MDN
Written by Roberto Hugo Gonzalez, the 2009 SBA Journalist of the Year award winner and the 2009 and 2012 Paul Harris Fellow award recipient.