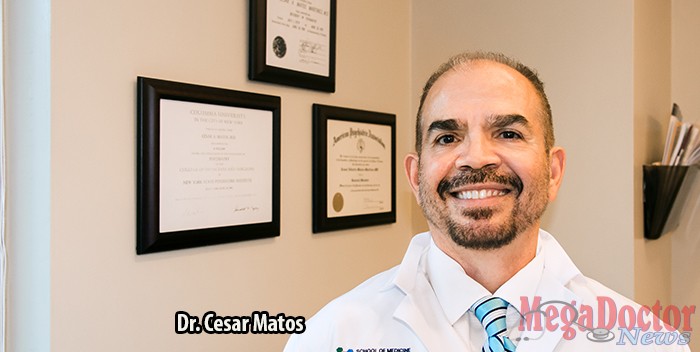 The psychiatric profession is not an easy one.  It comes with a big responsibility and requires that you hear heart-wrenching stories from people without getting emotional. In a few words, aside from spending several years in medical universities and fellowships you have to be emotionally strong to be able to handle this profession.
Our Mega Doctor of January 2014 is Dr. Cesar A. Matos, a medical doctor with a specialty in psychiatry. In this New Year, he will be celebrating 33 years in practice in this profession.
He has acquired vast experience with no parallel in this field. He treats patients suffering with anxiety and mood disorders, as well as panic disorder, social anxiety, symptoms of post-traumatic stress disorder including major depression, and bipolar disorder and more.
But aside from his professional life, learn about the private man and his family and how a well-prepared color brochure awoke his interest for the Rio Grande Valley.
In this issue you will also meet Dr. Luikham, the story is about someone that is extraordinary as a professional and as a human being.  He is a person that can teach anyone new levels of perseverance.
Mega Doctor News had the opportunity to meet with George Luikham, a doctor in dental surgery that has made the Rio Grande Valley his home.
Another story that we have is about Dr. Alexander Sudarshan who became an ophthalmologist because a stroke of luck. This is a man that spent a month visiting with ophthalmologist to let what they do.  He told Mega Doctor News, "I had never seen any doctors who were so happy.  They came to work happy, they were happy all day and they left going home happy."  Read more inside.
You will also learn about Dr. Madhavan Pisharodi from Brownsville he is a neurosurgeon and a successful inventor for the medical field.
He holds more than two-dozen copies of the patents that he has obtained from the United States patent office for numerous surgical devices.
In this issue we are welcoming Dr. Ricardo Baltodano who recently joined Dr. Andrew Levine of Kidney Innovations, a group that specializes in kidney disorders and treatment. Kidney Innovations operates four locations in the Rio Grande Valley.  Dr. Baltodano is an internal medicine physician with specialization in nephrology; he is originally from Nicaragua in Central America.
Dr. Baltodano's story is quite unique. He says that ever since he was a small child, he had already decided to be a doctor, read more inside.
On another very interpreting story you will learn that breast cancer stem cells exist in two different states and each state plays a role in how cancer spreads, according to an international collaboration of researchers. Their finding sheds new light on the process that makes cancer a deadly disease.
"The lethal part of cancer is its metastasis so understanding how metastasis occurs is critical," says senior study author Max S. Wicha, M.D., Distinguished Professor of Oncology and director of the University of Michigan Comprehensive Cancer Center. "We have evidence that cancer stem cells are responsible for metastasis – they are the seeds that mediate cancer's spread. Now we've discovered how the stem cells do this."
You will enjoy this issue!