Mega Doctor News
By Roberto Hugo González
In the heart of Hidalgo County, Texas, an extraordinary event unfolded on September 15 and 16, 2023. The Bert Ogden Arena in Edinburg became a haven for oral health, offering free dental services to the region's underserved population. This remarkable endeavor was made possible by the visionary leadership of Dr. Carlos Cruz, a local oral and maxillofacial surgeon passionate about giving back to his community.
Dr. Cruz's journey to spearhead the Texas Mission of Mercy (TMOM) event in Hidalgo County was filled with challenges, collaboration, and a firm commitment to public welfare. In this article, we dug into the intricacies of this incredible initiative, from its inception to its successful execution.
The TMOM event in Hidalgo County was an example of the power of collaboration and the determination of Dr. Carlos Cruz to make a difference in his community. In this initial phase, we explore how Dr. Cruz's vision took shape and the crucial moments that led to the event's realization.
The Genesis of a Vision
Dr. Carlos Cruz's involvement with TMOM began approximately a year and a half before the event's launch. During his senior board tenure at the Texas Dental Association (TDA) in Austin, he had a chance encounter with Dr. Barry J. Currey, then-president of TMOM. Dr. Currey's description of TMOM, a mobile unit equipped with 40 dental chairs that traveled the state four times a year to provide dental services to underserved communities, deeply resonated with Dr. Cruz. Little did he know that this encounter would set the stage for a transformative initiative.
With Dr. Currey's encouragement, Dr. Cruz applied to bring TMOM to Hidalgo County. After careful consideration, he chose September 15 and 16, 2023, as the event dates. The decision was strategic, as September offered favorable conditions with businesses slowing down and the weather in South Texas being more conducive to patient care.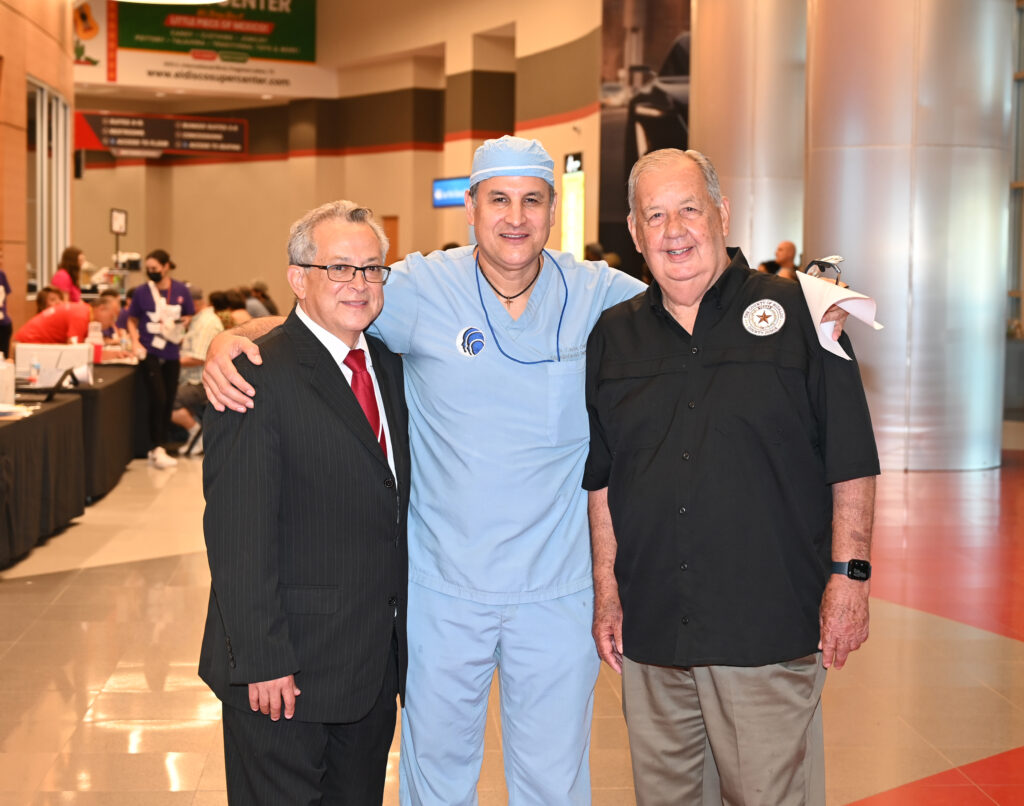 Building a Dedicated Team
Dr. Cruz's commitment to the TMOM event in Hidalgo County was huge, and he knew he couldn't achieve it alone. He assembled a talented and dedicated committee comprised of local doctors and professionals who shared his vision. Some key members included Dr. Domingo Valadez, Dr. Michael Adame, Dr. Joey Casarez, Dr. Lorena Rojas, Dr. Walter Lopez, Dr. Melissa Uriegas, Dr. Kemia Wendfeldt, and others.
One of the central moments in the event's inception was Dr. Cruz's meeting with Mr. David Deanda, the president of Lone Star National Bank. Dr. Cruz explained his vision for bringing TMOM to the Rio Grande Valley, and Mr. Deanda was receptive and went above and beyond. He offered the use of the Bert Ogden Arena, a world-class facility, to host the event. This generous gesture provided a crucial venue for the TMOM event. Lone Star National Bank, DHR Health, and Alonzo Cantu made the availability of the Bert Ogden Arena a reality.
Securing Funds for Logistics
With the venue secured, the next challenge was raising the necessary logistics funds, totaling $65,000. Dr. Cruz and his committee brainstormed various ideas, including hosting shows and golf tournaments. However, Dr. Cruz's reluctance to ask for money presented a unique challenge.
Hidalgo County Judge Richard Cortez, who, after a dinner meeting prompted by Dr. Cruz, recognized the importance of the event for the community. He connected Dr. Cruz with Jaime Longoria, Executive Director of the Hidalgo County Community Service Agency (CSA). Mr. Longoria and his staff embraced the project and secured federal funds to cover logistics expenses. The approval came within days, leaving Dr. Cruz astounded by the support he received.
The Hidalgo County Community Service Agency was a crucial financial supporter of this mission, contributing $65,000 from the Community Service Block Grant funds to help offset numerous administrative and logistical expenses. These funds were allocated directly to the Texas Mission of Mercy organization, demonstrating a solid collaborative effort among stakeholders to bring this event to fruition.
This part of the story covered the inception and collaborative efforts that paved the way for the TMOM event in Hidalgo County. Dr. Carlos Cruz's vision, supported by a dedicated committee and community leaders, had already begun to take shape. In the next part of the story, I will go deeper into the planning and execution of this monumental event and its impact on the underserved population of Hidalgo County.
Pre-screening and Preparation
After laying the foundation for this monumental endeavor, Dr. Cruz and his dedicated team embarked on the crucial stages of pre-screening and preparation, ensuring that the event would serve the underserved population of Hidalgo County with efficiency and compassion.
Pre-Screening Clinics and Challenges
Hidalgo County was pivotal in the TMOM event by providing two pre-screening clinics in Mission, Texas, and another in San Juan, Texas. San Juan was the first pre-screening location, and its success set the stage for what was to come. Dr. Cruz's vision was to have at least 300 patients pre-screened to ensure a seamless event.
While the pre-screening event in San Juan went well in terms of processing patients, it did encounter some issues with information technology (IT). Unfortunately, the IT system could not take X-rays as planned, affecting the overall patient count. Despite this setback, the event saw approximately 260 patients, leaving over 30 to 40 patients to be accommodated in the subsequent TMOM event. Dr. Cruz's commitment to providing quality care was evident as he made it a priority to ensure the well-being of patients, even if it meant extending their wait time.
Preparing for the Main Event
For the next TMOM screening event, Dr. Cruz knew adjustments were needed to accommodate the growing demand for dental services. While he could not attend the first screening due to a personal commitment, he constantly communicated with his team and office manager to oversee the preparations meticulously.
Dr. Cruz's request was explicit: he needed to double the number of doctors and volunteers to increase the event's capacity. The second pre-screening event occurred in Mission, Texas, and Dr. Cruz was on-site at 5:30 a.m. to ensure everything ran smoothly. The rest of the team, including Stacy Hill from the Texas Dental Association (TDA), joined him later.
One of the critical aspects of preparation was ensuring that the IT infrastructure was robust enough to support the event. Dr. Cruz acknowledged the invaluable assistance of local IT personnel, led by Mr. Ray Mendoza and his team, who worked diligently to address technical glitches and ensure smooth operations. Despite challenges, the pre-screening event in Mission saw over 280 to 300 patients, significantly contributing to the event's overall patient count.
As the TMOM event's date approached, Dr. Cruz and his team recognized the importance of addressing patients who could not be accommodated during the pre-screening events. With guidance from the Texas Dental Association (TDA) and TMOM, they reached out to over 200 patients, orchestrating an additional day of care on Thursday, just before the main event.
The Bert Ogden Arena, the chosen venue, was dedicated exclusively to the TMOM event for five days. This included the time needed for assembling and disassembling the event setup. A team of volunteers, including pre-dental students, ensured that X-rays were taken for all patients.
The Grand Event
On September 15, 2023, the TMOM event in Hidalgo County officially started. Dr. Cruz saw an impressive turnout of colleagues and volunteers from various parts of the state, including Houston, San Antonio, Corpus Christi, Austin, and more. Many of these professionals needed to familiarize themselves with Dr. Cruz, highlighting the broad reach and collaborative nature of TMOM. Dr. Cruz said, "Thank you to all of them from the bottom of my heart!"
Before the main event, Dr. Lorena Rojas organized a VIP dinner at St. John's Episcopal Church in McAllen. Distinguished guests attended the event, all volunteers for the TMOM event, including Hidalgo County Judge Richard Cortez and the 20 predental students who had volunteered for the cause, and the evening featured captivating performances by female and male Mariachi groups, adding a cultural touch to the gathering.
Event's execution and the enduring legacy it leaves for future generations.
"Every single restaurant that I called stepped up and offered their help for the event, and it was heartwarming to see that no one hesitated to make a difference. It was a truly wonderful experience," he added. "I couldn't have been happier because it made my life much easier. Organizing an event of this magnitude comes with a great deal of responsibility, and as the event date approached, we realized just how crucial it was to be well-prepared. Thankfully, that's exactly what we did. We all worked as a unified team, carefully listening to each other's ideas and feedback. Our group was strong, and although we had our fair share of discussions, we always maintained an optimistic outlook."
Dr. Cruz said they made sure to adhere to all the requirements set by the board, meticulously organizing every aspect of the event to the best of their abilities. "We intentionally held off on any publicity for the event until about two and a half to three weeks before it was set to take place. The response was overwhelming, with a tremendous amount of interest from patients and their families who wanted to come and participate."
Another group that came forward to assist us during this critical time was in Las Peñitas Clinic with Sister Fatima. They held three pre-screening clinics, and thanks to their dedication, they identified and registered 108 patients who met all of TMOM's requirements. Additionally, Mr. Jaime Longoria, from Hidalgo County, sent his personnel to all the clinics to handle the necessary paperwork. "Mr. Longoria is incredibly talented and dedicated, deeply committed to his community. This collaboration helped us with the event and paved the way for future services and assistance to those in need in our community," Dr. Cruz stated.
Now, turning our attention back to the event itself, it took place on the 15th and 16th of September. Like any large-scale event, they encountered glitches during the initial hours. The day started with a press conference where various entities participated, and the press interviewed each doctor present at the event. "We were fortunate to have 98 doctors who had volunteered their time and expertise," he said.
The event started slightly slow, but by 7:15 AM, patients began filling the chairs. Patients continued to arrive throughout the day from 10 AM to 12 PM, 1 PM, 3 PM, and even as late as 5 PM. "Everyone was exhausted by day's end, but they were also incredibly grateful that we could provide them with much-needed care," Dr. Cruz stated.
Behind the scenes, there was meticulous organization and orchestration, ensuring that everything ran as smoothly as possible. The local team members and Hidalgo County support played a crucial role in this effort. Water, coffee, cookies, and crackers were provided to pamper the patients. "As I moved around the event, I could see and hear how thankful the patients were for the care they were receiving.
They were seated comfortably in an auditorium (Bert Ogden Arena) with many safety measures. We had the mayors of McAllen, Mission, Pharr, and Edinburg participating, and the facility's security, coupled with the additional security provided by the mayors' police departments, created a safe environment for everyone, inside and out."
"The event's second day was just as successful as the first. We had seen over 240 to 250 patients on the first day alone, and the second day proceeded without a hitch. By 6 p.m., we had taken care of all the patients. It was a surreal moment, with a few left reflecting on our accomplishments. The final numbers showed that we had served 743 patients over the two days, with an estimated production value of $750,000 worth of dental work provided to our community."
He continued, "We had 375 volunteers who came together to make this event a reality, and the impact was truly significant. It was a tremendous amount of work but also a gratifying experience. I believe that we have achieved more than enough to make a lasting impact on our community's health and well-being," Dr. Cruz finalized.