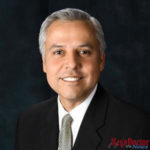 Mega Doctor News
HARLINGEN, TX – Dr. Arturo Cavazos, Superintendent for Harlingen's Independent School District joined the American Heart Association's Southwest Affiliate Board as the first superintendent in the board's history. The Board of Directors is made up of community leaders, medical professionals and executives that are committed to fighting the No. 1 killer, heart disease.
The priority of the Board of Directors is to provide strategic leadership across 6-states in revenue generation and mission impact. Dr. Cavazos is no stranger when it comes to advocating for children in the community. He was recently named the 2017 Regional Superintendent of the Year and will go on to represent the region in the statewide Superintendent of the Year program next month.
"It is an honor to be joining the American Heart Association Board of Directors," said Superintendent Dr. Arturo Cavazos. "Promoting health and wellness is one of our initiatives as part of our strategic plan and has become ingrained in HCISD culture to ensure that we are providing opportunities for our staff to stay fit. We realize the role of heart health when it comes to the overall wellness and happiness of our HCISD family. It's never too late to make changes to live healthier lives, and we thank the American Heart Association for all their efforts to illuminate the importance of staying fit."
"We are so thrilled to have Dr. Cavazos join our Board of Directors. Our Board of Directors strategically leads the American Heart Association towards achieving our 20/20 Impact Goal by improving the cardiovascular health of all Americans by 20% while reducing deaths from cardiovascular disease and stroke by 20%," says Brandi Nelson, Youth Market Manager of the American Heart Association.