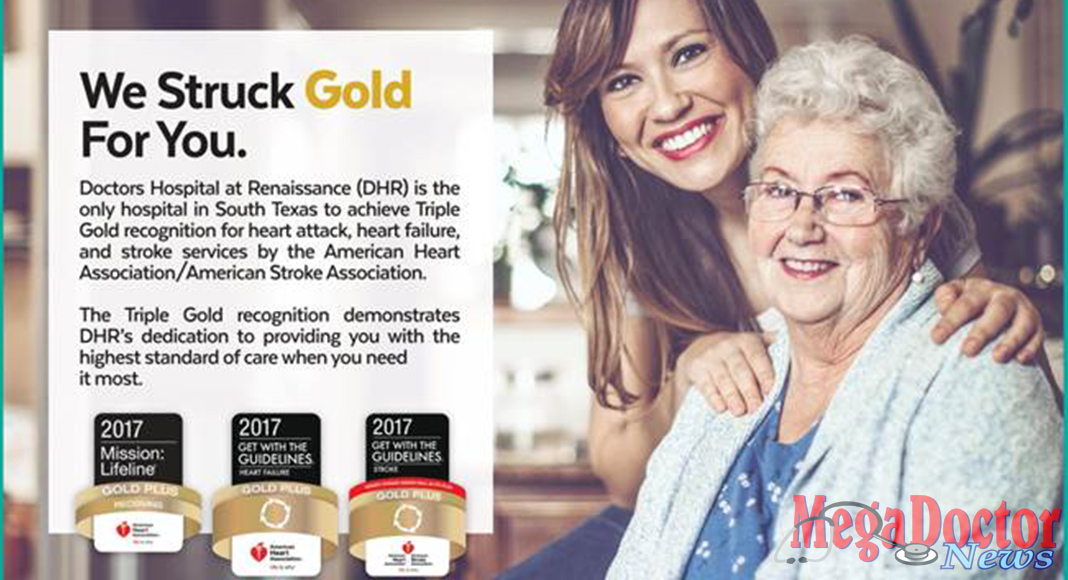 Mega Doctor News
- Advertisement -

EDINBURG, TX — Doctors Hospital at Renaissance Health System (DHR) is proud to announce that it is the only hospital in South Texas to achieve "Triple Gold" recognition for its heart attack, heart failure, and stroke patient care services. This year, DHR has received the Get With The Guidelines®-Heart Failure Gold Plus Quality Achievement Award, the Mission: Lifeline® Gold Quality Achievement Award and the Get With The Guidelines®-Stroke Gold Plus Quality Achievement Award with Target: StrokeSM Honor Roll Elite from the American Heart Association/ American Stroke Association.
Get With The Guidelines-Heart Failure is a quality improvement program that helps hospital teams follow the most up-to-date, research-based standards with the goal of speeding recovery and reducing hospital readmissions for heart failure patients. Launched in 2005, numerous published studies have demonstrated the program's success in achieving patient outcome improvements, including reductions in 30-day readmissions.
"These three accreditations demonstrate how DHR continues to be the innovative leader in South Texas when it comes to world-class quality healthcare," states Dr. Robert Martinez, Chief Medical Officer at Doctors Hospital at Renaissance.
The Mission: Lifeline® Gold Quality Achievement Award program's goal is to reduce system barriers to prompt treatment for heart attacks. DHR is recognized for having an 85% composite adherence and at least 24 consecutive months of 75% or higher compliance on all Mission Lifeline STEMI Receiving Center quality measures to improve the quality of care for STEMI patients.
"We are very proud of the DHR interdisciplinary team that has worked diligently over the past two years to provide evidence-based care that positively impacts patient outcomes," states Irene Lares, RN, MSN, Director of Clinical Certification at DHR. "Their dedication and passion towards excellence is key to achieving these awards."
Target: Stroke Honor Roll Elite hospitals must meet quality measures developed to reduce the time between the patient's arrival at the hospital and treatment with the clot-buster tissue plasminogen activator, or tPA, the only drug approved by the U.S. Food and Drug Administration to treat ischemic stroke. DHR earned the award by meeting specific quality achievement measures for the diagnosis and treatment of stroke patients at a set level for a designated period. In March 2017, DHR set a new hospital record for providing the fastest door-to-treatment time for stroke at only 12 minutes.
In addition to the "Triple Gold" recognition DHR achieved, the health system is an Accredited Chest Pain Center with Primary PCI and an Accredited Heart Failure program by the American College of Cardiology. DHR is designated as an Advanced Primary Stroke Center by the Joint Commission and is the only facility in South Texas to have CARF Accredited Inpatient Rehabilitation programs for Adults, Children and Adolescents. DHR is the only CARF accredited Stroke Specialty Inpatient Rehab program in the Rio Grande Valley.
- Advertisement -

For more information about the Doctors Hospital at Renaissance Health System "Triple Gold" achievement, call (956) 362-6297. 
About Get With The Guidelines®
Get With The Guidelines® is the American Heart Association/American Stroke Association's hospital-based quality improvement program that provides hospitals with tools and resources to increase adherence to the latest research-based guidelines. Developed with the goal of saving lives and hastening recovery, Get With The Guidelines has touched the lives of more than 6 million patients since 2001. For more information, visit heart.org.