DHR Health Transplant Institute works around the clock to give the gift of life to patients.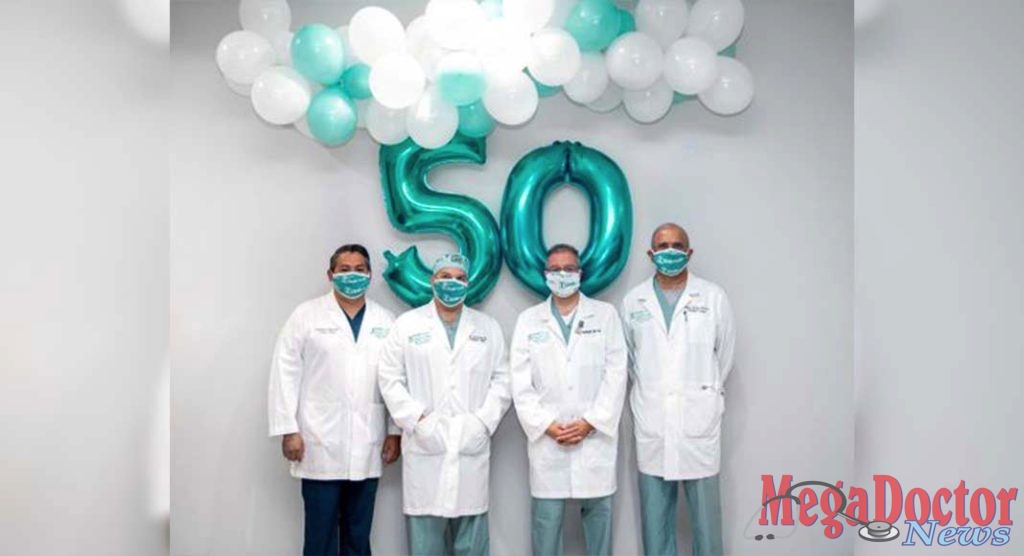 Mega Doctor NEWS
Edinburg, TX –– Friday, June 12th, was a triumphant day for surgeons, Philip Thomas, MD and Jose Almeda, MD, at DHR Health Transplant Institute. The surgeons successfully performed the institute's 50th kidney transplant surgery, reaching a milestone that had been anticipated by the DHR Health Transplant Institute since the program's inception in 2016.
"This transplant is monumental for several reasons, but mainly indicative of the enormous amount of effort and drive the team at DHR Health Transplant Institute has put forth to get to the 50th transplant," states Philip Thomas, MD, Transplant Surgeon at DHR Health Transplant Institute.
"This was a combination of an innovative use of a donor organ, along with major coordination efforts at finding a donor that could help save a life. We have an incredible team that worked relentlessly to ensure a successful outcome. It took over two days of all day, all night effort to ensure we could get the organ for the patient, as this organ offer had also been reviewed by multiple other centers," states Jose Almeda, MD, Transplant Surgeon at DHR Health Transplant Institute.
After 8 years on dialysis, Jose Palomo, 64, was given the gift of life by a selfless hero, a deceased organ donor. Mr. Palomo was the Transplant Institute's 50th transplanted patient, allowing physicians, surgeons and a highly skilled team to successfully reach the 50th kidney transplant milestone. Of the 50 transplants, 14 came from living donors and 36 came from deceased donors.
"Mr. Palomo received a kidney transplant after waiting 8 years on dialysis, and today's transplant surgery will allow him the chance to love longer and live better," states Mourad Alsabbagh, MD, Transplant Nephrologist at DHR Health Transplant Institute. "Reaching this milestone brings DHR to a new level of medical success. DHR Health will continue fighting against kidney disease and will continue to support the community in remaining healthy for themselves and their families."
As the only CMS and UNOS certified kidney transplant center in the Rio Grande Valley, the DHR Health Transplant Institute is the only facility in the Rio Grande Valley that currently offers kidney transplant services. Patients get a new chance at life and are able to receive state-of-the-art care right here in the RGV. The Transplant Instituteprovides patients with the comprehensive care they need. Patients no longer need to travel for a kidney transplant procedure and can receive all of their assessment and follow-up care close to home.
Providing life-saving organ transplants to men, women and children wouldn't be possible without the selfless decision of donors and donor families who say "yes" to donation while dealing with the unimaginable pain of the loss of their loved one. As it was beautifully articulated by UNOS, "Without the organ donor, there is no story, no hope, no transplant. But when there is an organ donor, life springs from death, sorrow turns to hope, and a terrible loss becomes a gift."
People typically get on the transplant list when their kidneys are below 20 percent of full functioning. Over 120,000 people in the United States are on the organ transplant waiting list, many of which will never receive the life-saving organs they need. A single donor can save as many as 8 lives through organ donation, as well as improve the quality of life for up to 75 people through tissue donation. Local registration for organ donation is available and can save the lives of thousands.