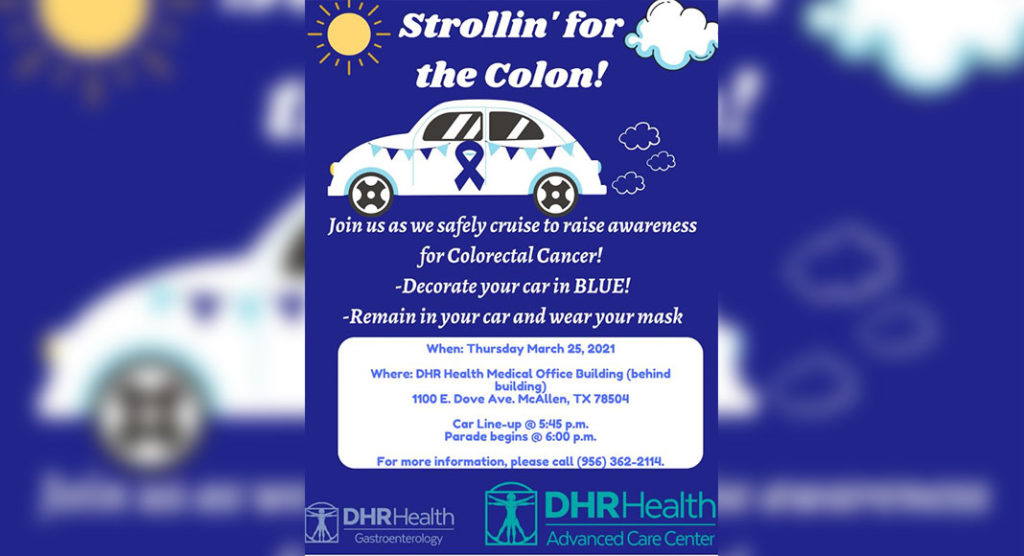 Mega Doctor NEWS
WHO:  DHR Health Gastroenterology & DHR Health Advanced Care Center 
WHAT:  Blue Car Parade "Strollin' for the Colon"
WHERE: DHR Health Medical Office Building  1100 E. Dove Ave., McAllen, TX 78504
WHEN: Thursday, March 25, 2021 / 6:00 PM / Car Line-up at 5:45 PM                                                     
Edinburg, Texas – As colorectal cancer continues to affect millions of men and women worldwide, DHR Health Gastroenterology Institute and DHR Health Advanced Care Center are dedicated to providing the highest quality of care while bringing awareness to the deadly disease that can be prevented.
According to the American Cancer Society, colorectal cancer is the third most common cancer diagnosed in both men and women and the second leading cause of cancer death in the United States.
In February 2000, March was officially dedicated as National Colorectal Cancer Awareness Month, since then advocates throughout the country join together to spread colorectal cancer awareness by wearing blue, educating, and talking to friends and family about the importance of a colonoscopy.
DHR Health Gastroenterology and DHR Health Advanced Care Center announce the "Strollin' for the Colon" car parade on Thursday, March 25, 2021. The "cruise" is scheduled to remind Rio Grande Valley residents that colonoscopies are the most effective way to reduce the risk of colorectal cancer while raising awareness about Colon Cancer.
The community is encouraged to attend the event in support of those who have been diagnosed, who are recovering, and those who have lost their battle. Attendees will safely join the cruise in their vehicle, while wearing a mask, and showing their support by wearing or decorating their vehicle in blue.
Cruise line-up begins at 5:45 PM behind the DHR Health Medical Office Building, located at 1100 E. Dove Avenue in McAllen, Texas and the parade will begin promptly at 6:00 PM.