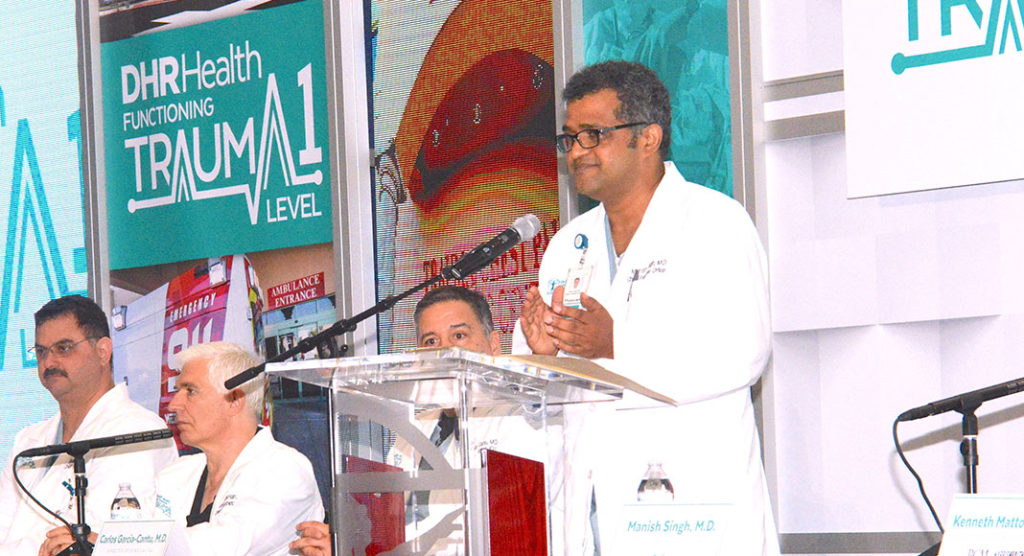 Mega Doctor News
Edinburg, TX – As of May 1, 2019, DHR Health is functioning as a Level 1 Trauma Center. Victims of trauma will no longer be required to travel outside of the Rio Grande Valley to receive highly specialized surgical care for serious injuries. Functioning as a Level 1 Trauma Center, DHR Health is capable of providing our community with complete and comprehensive care for every aspect of an injury – from prevention to rehabilitation.
Being a geographically isolated region has led to thousands of people from our community leaving the Rio Grande Valley for medical services, especially those related to traumatic injuries. Over the years, we have seen countless friends and family members transferred to trauma centers in larger cities either by helicopter or by ambulance, some as far as 230 miles away, to receive the life-saving care they critically need.
"The Rio Grande Valley is a rapidly expanding area in Texas and as healthcare providers it is our mission to meet the ever-expanding medical needs of our community," says. "Our goal is to grow with our community and bring the medical services that are lacking. Now functioning as a Level 1 Trauma Center means are patients will no longer need to leave to San Antonio or Houston, DHR Health will be the place to receive the best trauma care in South Texas."
Hospital trauma designations are determined according to state and national criteria. For a Level 1 Trauma Center, some of the key elements include 24/7 coverage by trauma surgeons and prompt availability of comprehensive specialists. In the State of Texas, the Texas Department of Health and Human Services provides the designation of trauma centers. These centers are verified by the American College of Surgeons (ACS) to ensure they meet essential criteria established by their Committee on Trauma. The American College of Surgeons verification provides confirmation that a trauma center is providing the highest quality of trauma care. DHR Health is in preparation for an ACS visit for verification as a Level 1 Trauma Center.
"DHR Health has been at the forefront of trauma care in the Rio Grande Valley for many years now. Functioning as a Level 1 Trauma Center has now raised the standard of trauma care," says Dr. Raul Barreda, Trauma Medical Director at DHR Health. "The coordination of care from our team allows us to provide the highest level of trauma care available at a moment's notice."
It's is DHR Health's commitment to constantly expand the medical services and specialties throughout the Rio Grande Valley. We have been working to advance our trauma services, since we first opened our trauma center in 2012 as a Level 4 Trauma Center. During that time, DHR Health has seen and treated about 10,000 trauma patients. As a functioning Level 1 Trauma Center, we have 24/7 in-house coverage by general/trauma surgeons, and on-site specialists in areas such as orthopedic surgery, neurosurgery, radiology, emergency medicine, internal medicine and critical care. DHR Health and their trauma team will also serve as a healthcare leader in prevention and public education to surrounding communities.
DHR Health's functioning as a Level 1 Trauma Center offers the community a specialized, comprehensive team to care for patients who suffer traumatic injuries from causes such as motor vehicle crashes, gunshot wounds, crush injuries and falls. The emergency department at DHR Health is the primary entry point for most patients, they are evaluated and stabilized in our designated trauma area before getting transferred to a different area of the hospital to receive additional medical care. DHR Health has received trauma patients from all across South Texas, including Brownsville, Rio Grande City and Falfurrias.
"From a broad regional perspective, the commitment to a Level One Trauma program and network, provides the infrastructure and network for an effective responsive disaster program," says Dr. Kenneth Mattox, Chief of Staff and Surgeon-in-Chief at Baylor College of Medicine. "Not only does the trauma program provide the foundation for this integrated response for disaster, but that same regional network positively affects the regional responses to stroke, acute heart attack, burns, high risk obstetrics, sepsis, acute mental health problems and many other acute medical challenges. It is the Level One trauma centers that are responsible for regional educational and preventative public programs and health services research. "
Recently, DHR Health received the Joint Commission's Gold Seal of Approval® as a Comprehensive Stroke Center—the only hospital south of San Antonio to achieve this certification from the Joint Commission—and the American Heart Association/American Stroke Association's Heart-Check mark for Advanced Certification for Comprehensive Stroke Center. This is the highest designation a hospital can achieve in stroke care. With these certifications, DHR Health joins an elite group of hospitals that can provide highly-specialized stroke care. There are less than 30 hospitals across the state of Texas currently designated as comprehensive stroke centers.
With the establishment of the University of Texas Rio Grande Valley (UTRGV) and the UTRGV School of Medicine, DHR Health has become the primary teaching site for their residency programs. DHR Health is home to nine residency and fellowship training programs, including general surgery. Functioning as a Level 1 Trauma Center provides these residents will the experience of working with severe trauma cases and prepare them to become future staff at all local trauma centers."The establishment of a Level I trauma center will expand options for trauma patients in the Valley, and allows our surgery residents valuable experience with the care of complex trauma patients", says Dr. John Krouse, Dean of the University of Texas Rio Grande Valley School of Medicine.