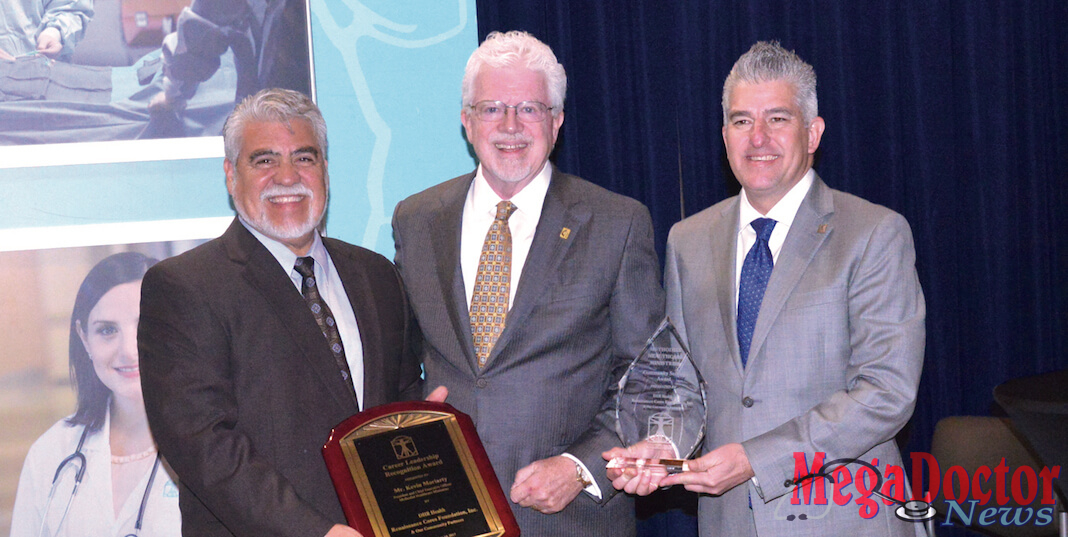 As Kevin C. Moriarty retires from Methodist Healthcare Ministries after two decades of service, was honored during a ceremony hosted by DHR Health and Renaissance Cares Foundation, Inc.
Mega Doctor News
Methodist Healthcare Ministries of South Texas, Inc. is a private, faith-based, not-for-profit organization dedicated to creating access to health care for uninsured and low-income families through direct services, community partnerships and strategic grant-making in 74 counties across South Texas.
Since he was selected to serve as the Methodist Healthcare Ministries' first-ever chief executive officer in 1996, Kevin C. Moriarty has been primarily responsible for the executive administration of the primary care medical and dental clinics owned and operated by Methodist Healthcare Ministries, sustaining the grants portfolio, and setting the research, advocacy and policy direction for the organization.
The number of nonprofit partners funded by Methodist Healthcare Ministries has grown significantly under Moriarty's leadership; from four grant-funded programs through three nonprofit agencies in 1996 for a total of $1.3 million to more than 120 grant-funded programs to more than 90 partners in 2017 for a total of $26.7 million.
DHR Health and the Renaissance Cares Foundation, Inc. honored Kevin Moriarty for his many efforts in the Rio Grande Valley, which includes launching and sustaining Methodist Healthcare Ministries' Wesley Nurse program and Community Counseling Services, as well as grant funding for multiple agencies including: El Milagro Clinic, Nuestra Clinica del Valle, Su Clinica Familiar, Boys & Girls Club of Pharr, Proyecto Juan Diego, Tropical Texas Behavioral Health, the University of Texas Rio Grande Valley, Proyecto Juan Diego, and the Hope Family Health Center.
DHR Health and the Renaissance Cares Foundation, Inc., honored Methodist Healthcare Ministries President & CEO Kevin C. Moriarty at the Edinburg Conference Center at Renaissance on Tuesday, November 14. 2017.