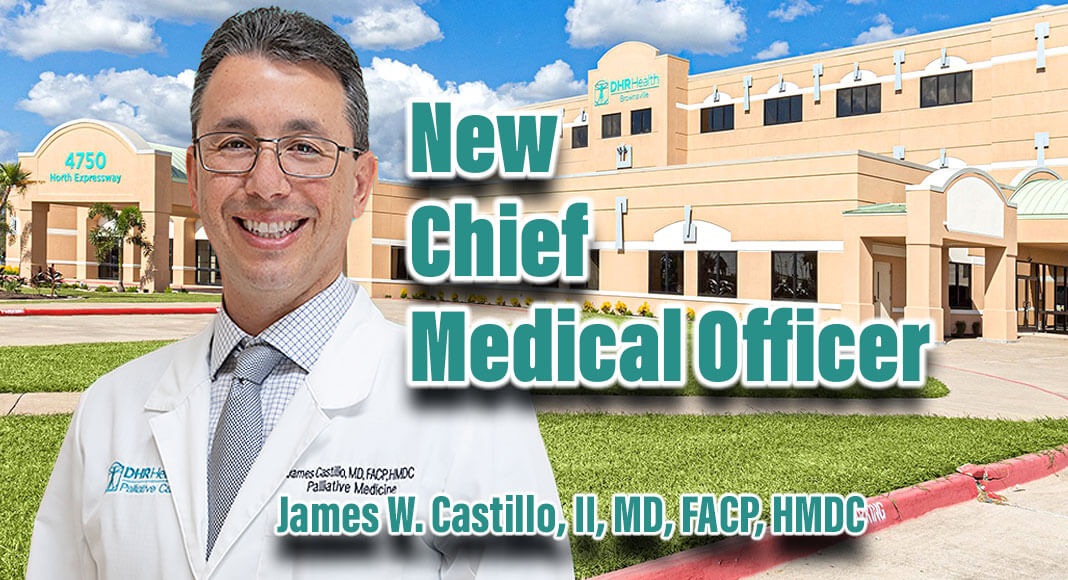 Mega Doctor News
- Advertisement -

BROWNSVILLE, Texas–DHR Health Brownsville is delighted to announce the appointment of James W. Castillo, II, MD, FACP, HMDC, as its new Chief Medical Officer. In his new role, Dr. Castillo will be responsible for leading the practice of medicine, while facilitating an interdisciplinary team approach to the delivery of care. Dr. Castillo currently serves as the Medical Director of DHR Health Hospice and Palliative Care in Edinburg and is the Health Authority for Cameron County. In his current practice, he cares for patients across the entire Rio Grande Valley.
"It is with great pride that we appoint Dr. Castillo to this position, especially given his familiarity with the community and surrounding areas," said Dr. Manish Singh, CEO of DHR Health. "His medical knowledge, expertise, and top-notch leadership skills make him a great fit for this position."
Dr. Castillo's roots run deep in the Rio Grande Valley. He attended elementary school as a young boy in Olmito, a suburb of Brownsville. After completing his medical studies at the University of Miami, School of Medicine, he returned to become part of the first class of residents in the Internal Medicine program at what is now the UTRGV Internal Medicine Residency at VBMC-Harlingen.
All of Dr. Castillo's medical experience has been geared towards serving the various health needs of our region. Practicing since 2002, Dr. Castillo has served in various roles including Medical Director at other health care organizations and served as clinical teaching faculty and Program Director for graduate medical education. Additionally, Dr. Castillo founded the first palliative care service in the Rio Grande Valley, while working at an area hospital.
"As a long time practicing physician in the RGV, I understand the unique challenges that we face and will do my best to foster outstanding health care in our community. I will use all of my talents and experience as a physician and physician leader to further DHR Health's mission to improve the well-being of those we serve with a commitment to excellence: every patient, every encounter, every time," said Dr. Castillo.
The brand-new DHR Health Brownsville facility, which officially opened in March 2023, is a three story, state-of-art hospital with 60 beds, a 24/7emergency room, intensive care unit, and six operating rooms. The hospital is also committed to providing more specialty medical services and high quality health care to the area with innovative and groundbreaking technology for patients. Inpatient and outpatient imaging as well as state-of-the-art laboratory services are currently offered. The facility is located on the frontage road of Expressway 77 between Morrison Road and Alton Gloor Boulevard in Brownsville.