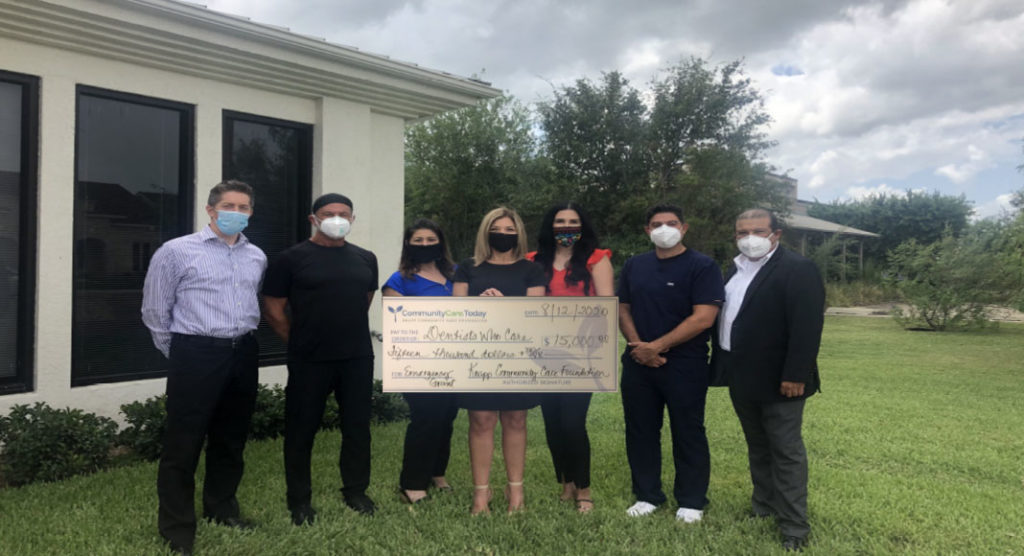 Mega Doctor News
Emergency Funding Enhances SMILE Voucher Program
Weslaco, TX – Dentists Who Care (DWC) Executive Director Jacqueline Flores announces that KNAPP Community Care Foundation contributes $15,000 to Dentists Who Care SMILE Voucher Program to continue free dental care for children and families in need in the Mid-Valley Rio Grande Valley Deep South Texas during the COVID-19 pandemic. 
"It has always been Dentists Who Care's mission to improve and enhance the quality of life for low-income families who have no dental insurance through access to oral health care," said Flores. "We are able to do this thanks to over 200 dentists who donate their services on the Dentists Who Care mobile dental unit and their dental offices. Due to the COVID-19 pandemic, we have not been able to treat patients on our mobile dental unit, but with this gift, we will be able to redirect patients to a volunteer dentist who will see our patients at his/her office. And it is all done at no cost to the families, thanks to the support of our community leaders like KNAPP Community Care Foundation." 
About Dentists Who Care
Dentists Who Care is a non-profit charitable organization created in 1996 to help solve the problem of poor oral health among children in the Rio Grande Valley. Dentists Who Care has provided over $11 million dollars in charitable care to over 30,000 children (and adults). For Volunteer information or to learn more about Dentists Who Care visit us at www.dentistswhocare.us or you may contact Jacqueline Flores at dentistswhocare.jackie@gmail.com or by calling 956-318-3383. Follow us on social media: Facebook www.facebook.com/dentists.whocare, Instagram @dentists-who-care-inc, and LinkedIn www.linkedin.com/company/dentists-who-care-inc. 
About Knapp Community Care Foundation
The Knapp Community Care Foundation (KCCF) was created in late 2012 with a mission to improve the health of Mid-Valley families in the Rio Grande Valley-Deep South Texas. In order to receive funding from KCCF, an organization must offer unique, innovative, or enhancement of programs and/or services, preventable health and health education access within the service delivery area. For additional information, or questions you may contact Ms. Mel Escamilla, Director of Grants and Program at mel@knappccf.com or by calling 956-854-4534.