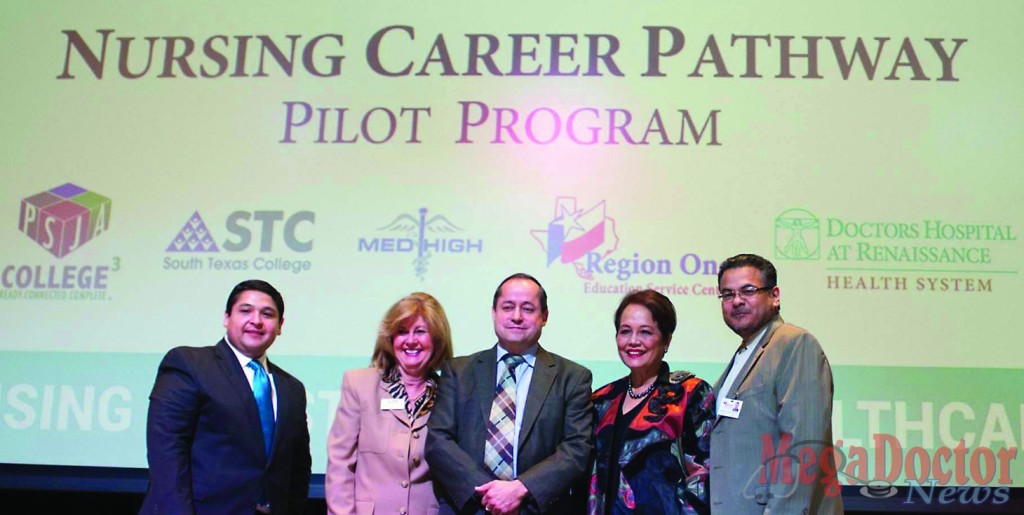 Dual Enrollment Nursing Education Program Launched in South Texas
- Advertisement -

By Roberto Hugo Gonzalez
For years, Mega Doctor News staff has heard about the shortage of nurses in the medical industry. On one occasion, as the president of the Texas Medical Association (TMA) was visiting Doctors Hospital at Renaissance (DHR) I had the opportunity to ask him about the shortage of nurses. At that time he said that a new multilevel hospital was going to open in one of the large cities of Texas, and that hospital administration had decided to open only a few levels of the hospital due to the shortage of nurses. That has been the case since then. Nurses are so valuable; a precious human commodity and they are hard to find.
On January 15, 2015, DHR announced what can be called a homegrown solution, developed by this medical group and a distinguished group of South Texas educators.
The solution is a dual enrollment program, which allows eligible high school students to enroll in college courses while attending high school. They are able to complete high school and college-level courses concurrently, amassing college credits at the same time. Through the dual enrollment-nursing program, high school students will be able to take college courses that can be applied to their associate degree in nursing upon high school graduation.
Yes, you read correctly, upon high school graduation.
DHR CEO Israel Rocha said, "I'm very excited to be here and before we get started I want to thank our partners who helped to make today possible."
Over a year ago, he was meeting with his staff discussing the shortage of nurses, how they were going to staff their system, and how quickly they could hire them.
- Advertisement -

One of the important topics that were also discussed was about the generation of nurses that would be retiring. "These would be nurses who have credentials on how to treat certain patients in our intensive care units, our critical care and neonatal unit, emergency room nurses, and nurses that have specialized training. We started looking at how are we are going to meet the nursing staff needs of the future, and how do we get people trained, and how do we do it faster," Rocha explained.
"The solution was to create the Associate Degree in Nursing Dual Enrollment Pilot Program, which was formed in collaboration with Pharr-San Juan-Alamo Independent School District (PSJA ISD), South Texas College, Region One Education Service Center (Region One), and Schools for South Texas Independent School District (South Texas ISD). This collaborative pilot program will provide students a pathway into health professions in an unprecedented way."
He continued, "The leading group and team of DHR, has established itself as a group of innovation and leadership in developing opportunities for education, training, and advancement of health career professionals. They are innovative and eager to advance healthcare, educational opportunities and high wage career paths in the Rio Grande Valley."
Rocha pointed out, "Today we are starting a new page in history of how nurses can be trained in the United States. I'm sure this is being done for the first time in the country."
"The partnership between PSJA, South Texas ISD, South Texas College and DHR will no doubt become one of the most beneficial collaborations in the Rio Grande Valley," said Congressman Rubén Hinojosa (D-TX-15), Ranking Member of the Subcommittee on Higher Education and Workforce Training. "This innovative Dual Enrollment Pilot Program will create career opportunities for many of our high school students in the field of nursing. Our medical community and our residents will benefit from the advanced education, training and experience that await our students. This program will also address the need for nurses in our medical community while offering solid career paths."
"This new program is a shining example of the bright future of medical education in the Rio Grande Valley," asserts Marla M. Guerra, Ed.D, Superintendent of South Texas ISD. "We are honored to be a part of this initiative, as it will provide additional opportunities for our students to advance in their pursuit of a college degree and medical career while in high school, bringing them one step closer to realizing their dreams."
Dr. Cornelio Gonzalez, Region One Executive Director stated, "This type of partnership will benefit and impact our community and will help us toward the goal of increasing opportunities for our students in the Rio Grande Valley."
Dr. Daniel P. King, Superintendent of the PSJA I.S.D. said, "What we are doing today is a game changer. This semester we have over 3,000 of our high school students taking college courses while they are in high school. Last year over 130 of our high school students received their associate degree by the time they graduated from high school and another 300 received certificates in their fields."
He continued, "This is a great opportunity that builds on PSJA's district-wide scale up of early college models, and South Texas College's leadership in dual enrollment and early college programs."
Dr. Shirley Reed, President of South Texas College, affirmed, "Preparing students for high-wage, high-skill meaningful careers in nursing provides a pathway for social mobility and regional prosperity for South Texas families." She continued, "Innovative partnerships and collaborative initiatives with leaders like PSJA ISD and DHR make it possible for South Texas College to fulfill its commitment to improve the quality of life for all South Texans. Collaboration has proven to be the key to regional solutions and South Texas College is honored to be part of making this bold initiative a reality."
The dual enrollment program allows for expanded educational opportunities while also addressing the healthcare needs of our region by working to alleviate the nursing shortage that challenges local healthcare providers. MDN