As a Group of Nurses Finished a Twelve-Hour Shift, Another Boarded the Bus to Begin Their Shift
By Roberto Hugo Gonzalez
Sometimes we don't say Thank You enough, especially to people around us, which is not good. We hardly say Thank You to people who risk their lives to save others, like police officers, soldiers, firefighters, and, today, all the brave members of the medical community.
Everyone in the healthcare industry has played a critical role during the COVID-19 pandemic. The nurses that work twelve-hour shifts, the support personnel, and physicians.
Andrea Rodriguez is the director of sales and marketing at DoubleTree Suites by Hilton McAllen and has been for the last seventeen years. That being said, she thought that it was necessary to say Thank You to the nurses hosted by the hotels in the Rio Grande Valley.
Nurses came to help area hospitals simply because the number of COVID-19 patients outnumbered the available medical staff. These nurses are COVID-19 fighters.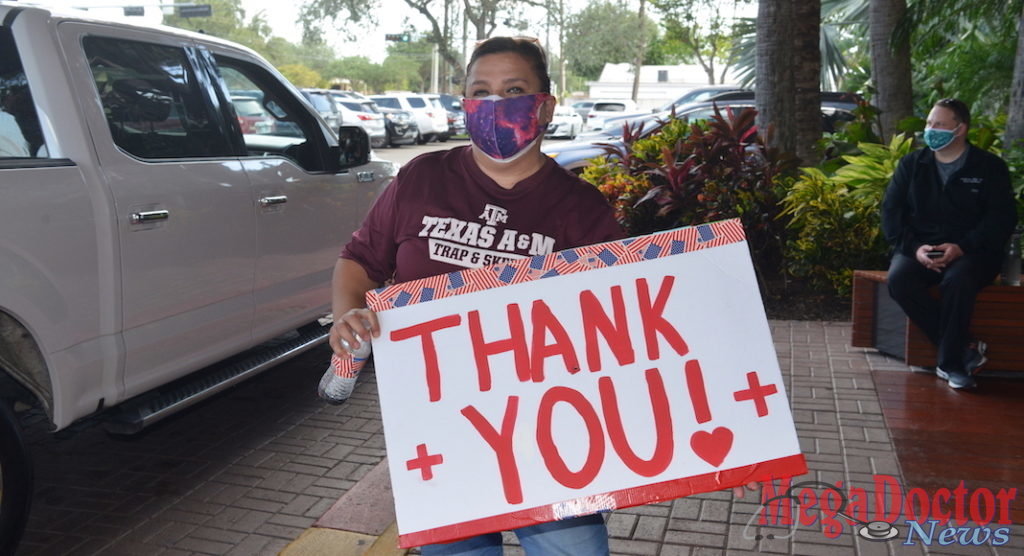 Andrea told Texas Border Business in Exclusivity that the nurses arrived on June 30, and they had up to 200 nurses at any given time. On August 6, 2020, when this reporter attended the Thank You event, 170 nurses were staying at the hotel. The celebration was to say Thank You to the nurses leaving the hotel to replace the nurses ending their twelve-hour shift.
"I wanted our community to have an opportunity to say Thank You to all these brave nurses," Andrea said. She went ahead and invited community members to write Thank You cards to create a wall of love and gratitude.
People started responding and saying, "What else can we do?" Andrea's answer was, "Bring snacks, drinks, and stuff." The community was very generous with donations that poured in and were given to nurses as they entered the hotel's lobby.
It was indeed like a big fiesta, during this very big fiesta during daring times. My father used to say, "al mal tiempo, buena cara" (in Spanish) which roughly translated means "in bad times, put on a good face". The majority opinion would be that these are bad times. So, the event for saying Thank You is the "good face" response.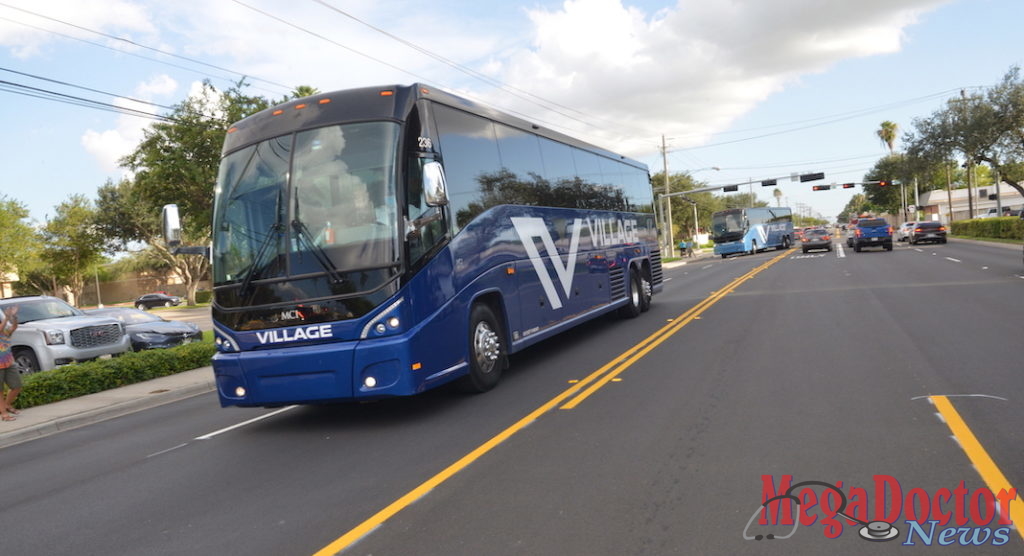 A very noticeable red carpet was placed for the nurses to step on as they deboarded the bus. Representatives of the McAllen Fire Department and McAllen Police Department were also present. People from the community parked at the Vantage Bank parking lot across the street from the hotel honking their horns and socially distancing themselves, showing their appreciation to the nurses. McAllen International Airport representatives were also present and graciously donated little mini desserts for all of the 170 nurses.
"The appreciation showed by our community brought big smiles from nurses. We could see it in their faces; that was priceless, and that's what it's all about," Andrea said. The nurses that came from all over the country and stayed in this hotel, they were working at DHR Health Medical Center.
Edward Lopez, the General Manager for DoubleTree by Hilton, deserves the credit; according to Andrea, he is very supportive. "The team members that were here from maintenance, front desk, and the restaurant felt very strongly about it and embraced the celebration." Andrea said, Courtyard Marriot, Radisson Hotel, and Fairfield Hotel also had nurses saying."
Chef Larry Delgado, who operates several restaurants in McAllen, also participated and sent thirty delicious meals for the nurses.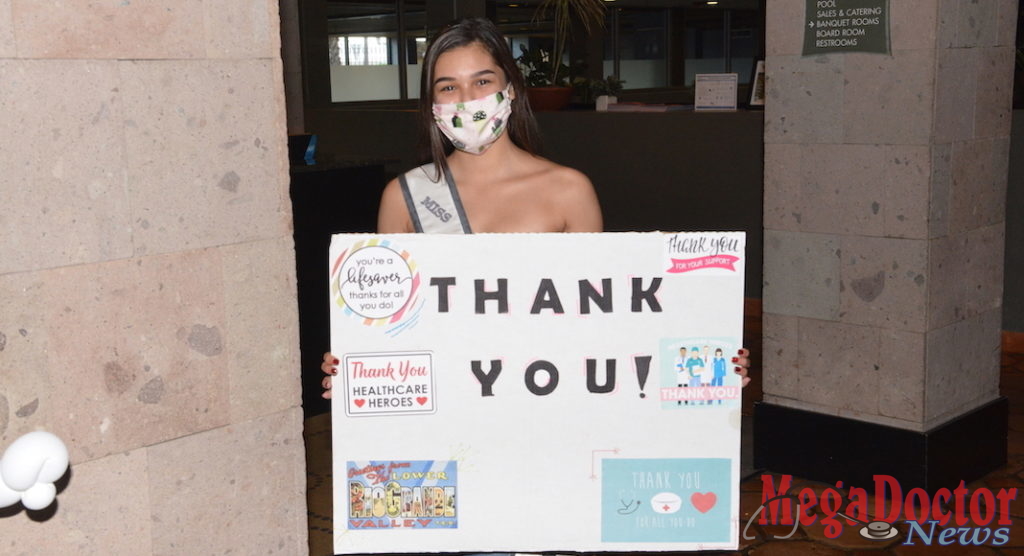 The RGV Toros were also part of the mix, and Miss Texas participated in this event of gratitude. Many other community members were participating; those are the citizens who make our community unique.
"Overall, I think it shows how solid this community is. It all started just by asking for Thank You cards. We had an outpouring of love and generous donations that have been the silver lining of this pandemic crisis we're in," Andrea finalized with tears in her eyes.
A HUGE Thank You to so many individuals who donated beverages and snacks at the DoubleTree Suites by Hilton McAllen for the 170 Nurses we are currently hosting.