- Advertisement -

Canceled blood drives, coronavirus fears severely impact blood supply
Mega Doctor News
The fear of coronavirus is severely impacting the U.S. blood supply as blood centers and hospitals across the country are struggling to maintain stable inventories and avoid a critical blood shortage. With school closures and business shutdowns, many anticipated blood collections disappeared—almost overnight. And that number continues to grow.
In an effort to help address the severe blood supply shortage in McAllen and the Rio Grande Valley, the City of McAllen has partnered with Vitalant to host a week-long blood drive, from August 3-7, 2020, at various City of McAllen facilities throughout the week (see attached schedule) so employees and the public alike can donate blood.
"I encourage everyone who is able to donate blood to do so at any of our McAllen facilities during our week-long blood drive," said City of McAllen Mayor Jim Darling. "Giving blood is always so critical, but especially now during this pandemic. Fortunately, giving blood is as safe now as it has always been."
To donate blood at these McAllen facilities, please schedule an appointment at www.vitalant.org. Walk-ins are welcome, but appointments are preferred.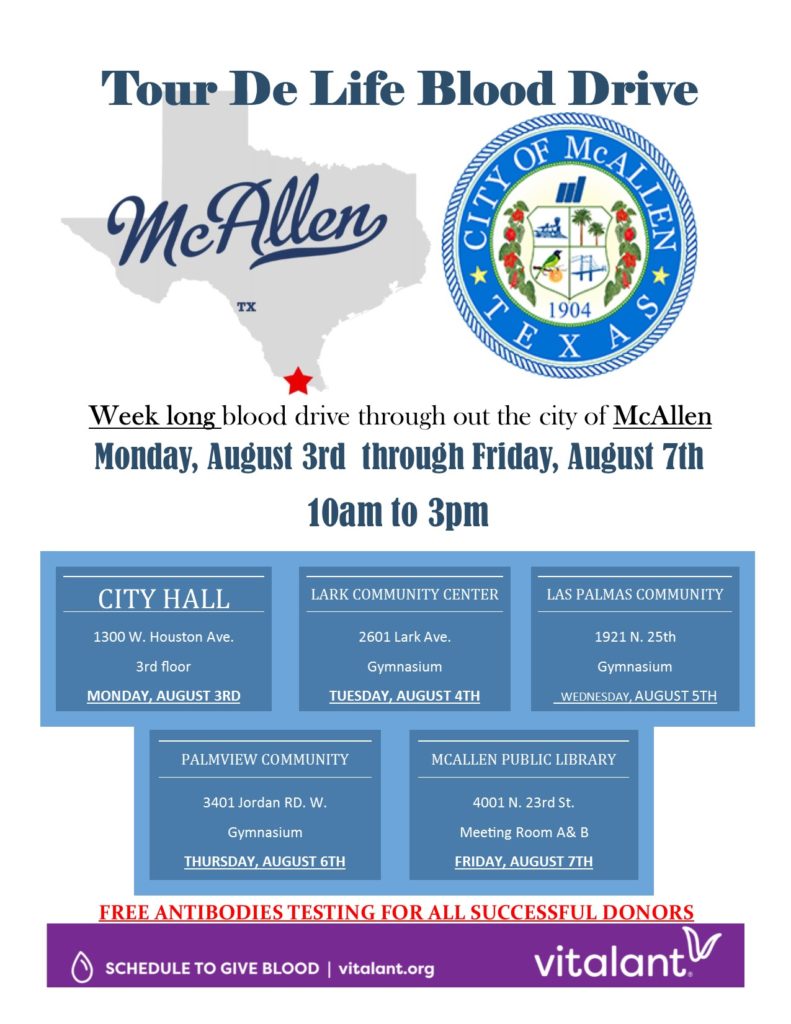 New guidance from government entities recommend that people avoid gatherings. But blood drives are not gatherings: they are blood donation operations that are an "essential health care activity." In fact, according to Admiral Brett P. Giroir, M.D., Assistant Secretary for Health at the U.S. Department of Health and Human Services, the U.S. government's leader on COVID-19 testing, "It is safe to donate blood. Healthy individuals should schedule an appointment to donate to ensure that blood is available for those patients who need it."
Sick people should not donate blood; blood centers do not test for the coronavirus. Blood centers have always required individuals to be in good health to donate, and the blood collection process follows policies established by the FDA to ensure the health and safety of donors and patients. Vitalant staff follow rigorous safety and disinfection protocols at its blood drives and donation centers. Giving blood has no impact on the donor's immune system.
Currently, all blood types and components are needed, with a critical need for platelets and type O blood donations. Platelets have a very short shelf life—only five days. Type O-negative blood is the universal blood type: ER doctors reach for it first to help stabilize patients before their blood type is known.
Vitalant continues to closely monitor the situation and will quickly implement any necessary changes as new information emerges from the Centers for Disease Control and Prevention (CDC) and FDA.
For more information, please call McAllen 3-1-1.
- Advertisement -