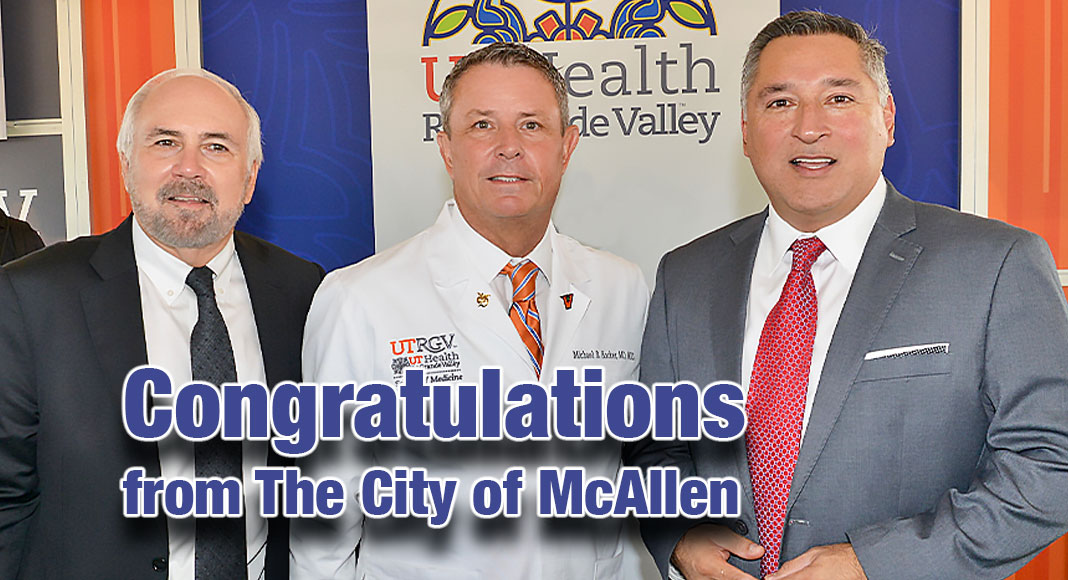 - Advertisement -

Mega Doctor News
Earlier today, Mayor Javier Villalobos joined UTRGV President Dr. Guy Bailey, Dean of the UT Health RGV Medical School Dr. Michael Hocker, Sen. Juan "Chuy" Hinojosa and others the community for the official groundbreaking ceremony for its Cancer and Surgery Center. The center is part of the phase one development of UTRGV's McAllen Academic Medical Campus on the newly acquired 38 acres, located on the south side of Pecan Boulevard between Jackson and McColl roads within the 495 Commerce Center development in McAllen.
"We are so proud to be a partner with UTRGV on this amazing project," said McAllen Mayor Javier Villalobos. "Once completed, the center will have a tremendous and positive impact on the health and well-being of the entire region, not only immediately, but for generations to come. We look forward to seeing the McAllen Academic Medical Campus become a pillar in our community, and the place where so many in this area can find treatment and most importantly, hope."
At today's ceremony, Villalobos stressed the importance of cooperation and working together, pledging to support the center whenever necessary to fulfil its mission of providing research, treatment and care of cancer patients.
The UTRGV Cancer and Surgery Center will offer oncology advisory services provided by The University of Texas MD Anderson Cancer Center — a world leader in cancer care and research.
City of McAllen Mayor Javier Villalobos and the McAllen City Commissioners recently approved a donation to the University of Texas-RGV for the development of the cancer research center in the region and has continued to contribute to the UTRGV School of Medicine.
"The City of McAllen was proud to make this donation for development of this cancer research center," stressed Mayor Villalobos.