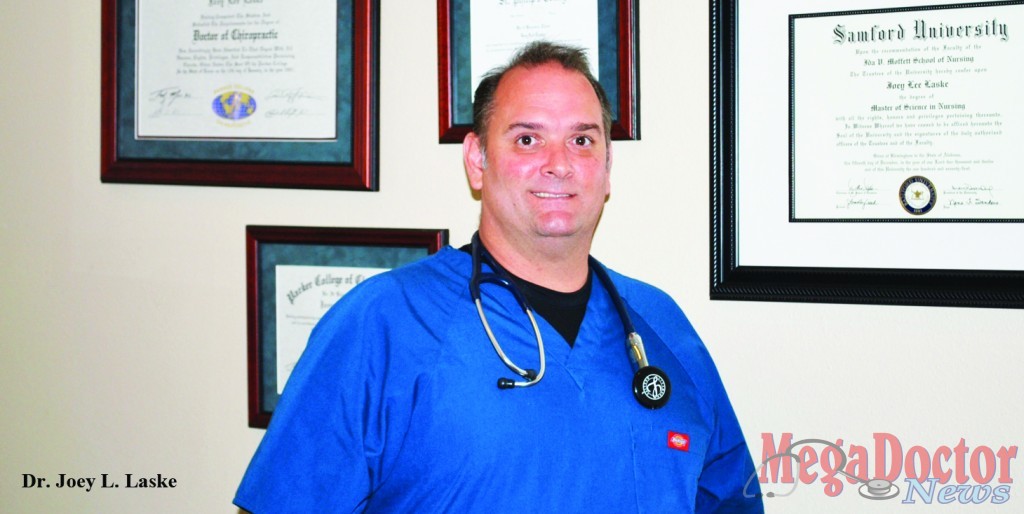 Mega Doctor News
By Roberto Hugo Gonzalez
It is comforting to know that South Padre Island has Dr. Joey L. Laske. He is a chiropractor, a registered nurse (RN) and acupuncturist serving the South Padre Island, ports and surrounding towns.
"I've been a chiropractor for 14 years here at South Padre Island and I've been a family nurse practitioner just over a year and a half plus my year of residency," he told Mega Doctor News.
Dr. Laske pointed out that he started by getting his associates in sciences from St. Philips College in San Antonio, and then he obtained his bachelors in anatomy from Parker College, which helped him get his doctor of chiropractic finishing in 2000. Since he has done nursing training earlier in his career to work his way through college he decided to go back and finish his Registered Nurse degree (RN) which now he uses as well to provide the necessary services.
According to him, when he moved to South Padre Island he realized that there weren't many providers for medical care. He had moved to SPI to take over the practice of Dr. Charlotte Romay that was retiring. She also had a combination of chiropractor and acupuncturist degrees. "I felt if I was going to take over her patient base I needed to have all the tools to take care of the patients."
Dr. Laske is also an acupuncturist graduated from the Dallas School of Oriental Medicine.
The reason he is very passionate about his profession is that all comes natural to him in this field. "There was just never any other field that I wanted to go into." He said, "My mom says that I always in school wanted to be a doctor."
He emphasized that he was always fascinated even when the dentist took his wisdom teeth out. He said, "I had to be awake and watching it. I had my appendix out in 8th grade and went through the surgery for that and I was just fascinated about the human body."
Dr. Laske uses state of the art technology to provide his services; he has a computerized spinal decompression table. This is high-end computer system manages a pulley system to pull the spine and actually extend the ligaments and pull herniated discs back into place over a series of treatments.
"There are about three computerized spinal decompression tables in the Rio Grande Valley that I know of, there may be more," he said
The challenges in his field are not medical but the insurance companies. "Insurance companies don't realize the value of chiropractic and they would rather pay for a surgery than the therapy," he said.
If you want to schedule a meeting with Dr. Joey L. Laske you can visit him at South Padre Island Chiropractic and Wellness Clinic. You can also visit with him at 3311 Padre Blvd., Ste. B
South Padre Island, TX 78597
or call him at (956) 761-6006. MDN
Roberto Hugo Gonzalez is the 2009 SBA Journalist of the Year Award Winner & The 2009 and 2012 Paul Harris Award recipient