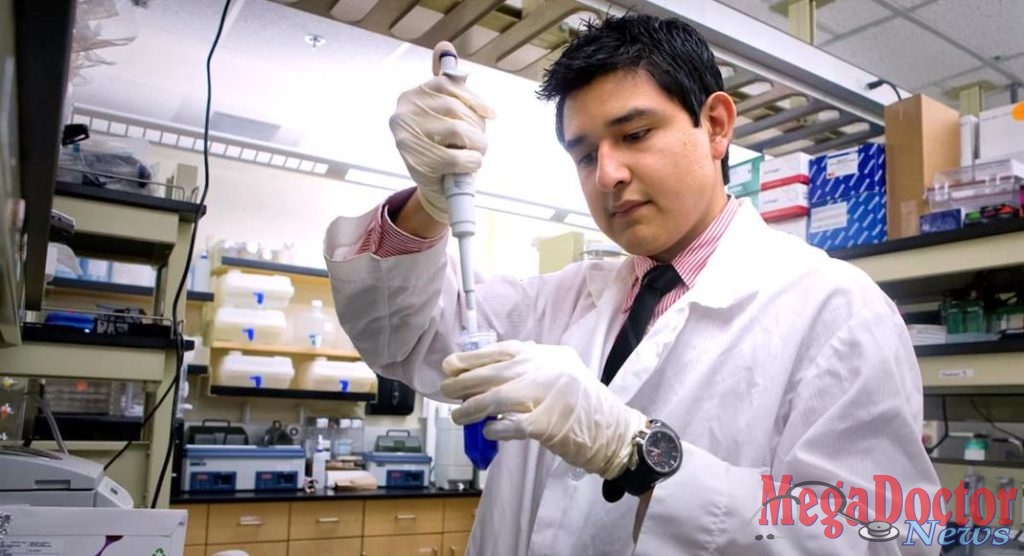 Mega Doctor News
By Letty Fernandez
BROWNSVILLE, TEXAS – As a young boy growing up in Brownsville, Ramiro Tovar knew early on that medicine was his future.
He saw his mother's unfulfilled passion to become a doctor, and he watched a doctor step in to save his beloved aunt, who was on her deathbed.
"She got another 16 years of life." Tovar said. "As a kid, you see this. I wanted to be like that doctor – and that is one of the things that pushed me toward medicine. That, and the drive my mom had for it."
Now 26, Tovar is about to make history as a graduate of the UTRGV School of Medicine's inaugural Class of 2020.
On Saturday, May 9, the School of Medicine will honor 39 graduating medical students in a special virtual ceremony that follows the rules for social distancing during the COVID-19 pandemic. They will participate from their homes across the country, and hear their names called to receive their degrees virtually.
"COVID-19 is really putting a wrench into life," Tovar said. "I was also getting married, planning a honeymoon, buying a home. Lots of stuff got postponed. But the way I see it, life happens. You just have to keep going."
Tovar has had that kind of drive since he was a child, when he focused on his dream to become the first doctor in his family.
After graduating from South Texas High School for Health Professions in 2012, Tovar was accepted into legacy institution UT Brownsville-TSC and BMED, a highly competitive program for undergraduates pursuing a career in the medical and health fields.
Three years later, in May 2015, he graduated with a degree in biomedical sciences from UTRGV.
"When I heard about the new medical school that would open in the Rio Grande Valley in 2016, I withdrew my other applications because I wanted to go to this new medical school," Tovar said. "It was a bit of a risk because I didn't know what I was going to do that year while I waited. And what If I didn't get into medical school?"
He admits he was worried, not sure he was making the right decision. But he took a leap of faith anyway.
During that gap year, Tovar worked as an instructional facilitator in the BMED program, the same program that helped him prepare for medical school. He also applied to medical schools, hoping he would get into the new UTRGV School of Medicine.
"It was important. I wanted to be near my home, to get my medical degree around the population I wanted to take care of," he said. "I thought it would give me some insight. And to be part of the first medical school class – it was exciting."
Tovar said he can never forget the day he got the phone call that he was going to be part of the UTRGV School of Medicine.
"It was a very happy moment for me!"
Looking back at the past four years, Tovar said, he has learned so much, and not only the medical and technical information, the skills and training he will need as a doctor. He also grew as a person, he said. During his third year of med school, he started his medical rotations while studying and taking exams. That was challenging; it tested him.
"It pushes you to the edge. I felt myself reach my limits, and I kept going further. Nothing frightens me anymore. I can keep going and know that I made it through something like that."
Dr. John H. Krouse, dean of the UTRGV School of Medicine and executive vice president for Health Affairs, said Tovar and the other medical students that make up the Class of 2020 are about to head into a world challenged by pandemic.
"We are certain every one of our graduates will be stellar representatives of the UTRGV School of Medicine," he said. "Whether they are staying in the Valley or moving outside of the area to complete their residency programs, we wish them all the best in their medical careers."
Tovar begins his residency in family medicine July 1, right here in the Valley, at DHR Health in Edinburg. It is exactly what he wanted.
For now, he is looking forward to graduation, even if it is virtual. He will watch the ceremony with his family and his fiancée. After, they plan to have a celebration dinner. A larger celebration will come later, when life returns to normal.
"I am happy about getting my medical degree," he said. "This has been my dream, and it has come true."
VIRTUAL COMMENCEMENT
The UTRGV School of Medicine will celebrate and honor its inaugural Class of 2020 during a virtual commencement ceremony. 10 a.m. Saturday, May 9. The public is invited to watch by logging in at UTRGV.edu/SOMGrad.