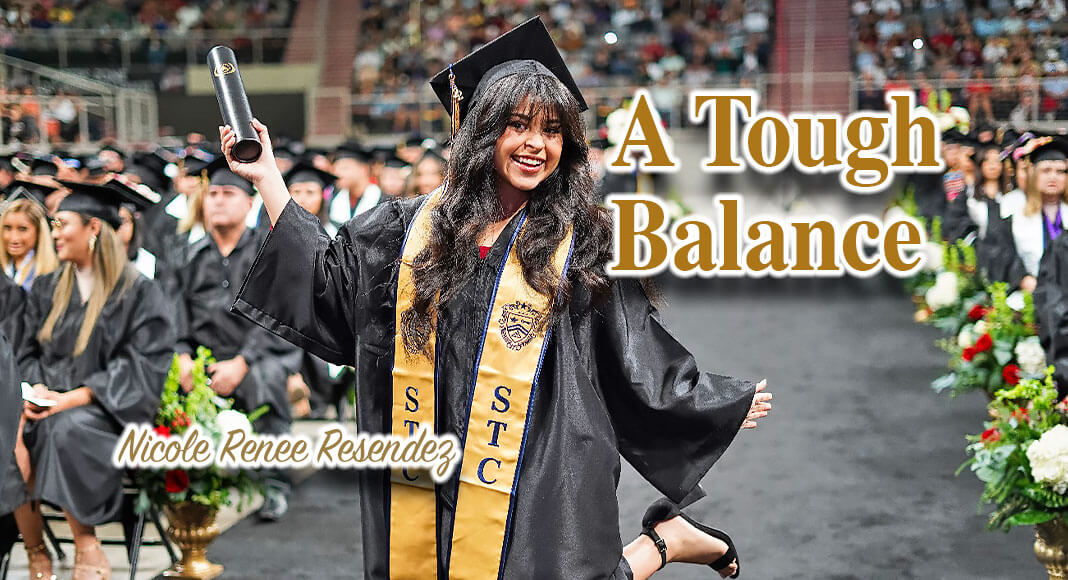 - Advertisement -

Mega Doctor News
Recent South Texas College graduate Nicole Renee Resendez spent the last year balancing a full-time job while earning her bachelor's degree.
Resendez, 22, was one of 13 students to earn a Bachelor of Science in Nursing this semester, joining over 2,400 other students who earned degrees and certifications in three ceremonies at the Bert Ogden Arena in Edinburg.
More than 300 bachelor's degree candidates were among the graduates, nearing STC's number of bachelor's degree graduates to 4,000.
Her journey to STC first began when she was a high school student at Pharr-San Juan-Alamo Memorial High School.
"I've been granted so many opportunities here at STC, I've lost count," Resendez said. "Even as a student in high school I was taking college courses at STC. It's been six years, nonstop."
Resendez said she became interested in the bachelor's program when she was close to completing her associate degree in Nursing last year.
"I figured that since I already had the ball rolling on my education, I might as well keep going and finish," Resendez said. "This past year in nursing school went by so fast."
- Advertisement -

The program is designed to respond to the increased demand for baccalaureate-level nurses in Hidalgo and Starr counties by providing increased access to the Bachelor of Science degree to applicants who possess a current, unencumbered Registered Nurse (RN) License or an Enhanced Nurse Licensure Compact RN License.
Resendez was enrolled in the one-year course sequence and worked full-time as a pediatric home health nurse during the program.
"I was coming to campus during the day and working night shifts," Resendez said. "It did have an effect on me in terms of my circadian rhythm and sleeping patterns. I also didn't have much time with family and friends, but it's safe to say that all those sacrifices I made were very much worth it in the end."
The call to health care and the nursing field has always been with Resendez.
"I've always had that drive in me to help others and be there in times of need," Resendez said. "There are moments in patients' lives that may be stressful, may be their lowest days. And, to be there to help make their day better in any way that I can makes me satisfied and complete. It feels like I'm fulfilling my duty as a person."
Among the sea of caps and gowns and cheering families, Resendez was excited to celebrate her achievements on graduation day with friends and family.
"I'm grateful to my mom and dad," Resendez said. "They're the ones who really encouraged me to keep pushing through and set an example for my younger sister. I wanted to earn my bachelor's to set that example for my little sister and help pave that path for her. I encourage her all the time to keep pushing in school and take college courses. I even sit down with her and say, 'If I can do it, you can do it.'"
Resendez is overjoyed to know she'll now have a bit of time to recuperate and enjoy herself post-graduation.
"I feel like I have really gone nonstop," Resendez said. "I think now's the time to just take a break and enjoy myself a little bit before I get back into school and go for my master's degree."
Resendez said she has ambitions of one day becoming a certified nurse aid (CNA) or family nurse practitioner.
"I think higher education leads to more job opportunities, of course. Especially in hospitals," Resendez said. "But it also gave me more in-depth knowledge regarding leadership and understanding diversity. It helped me learn how to take initiative and be a leader."
Resendez said she remains grateful for all she's learned at STC and hopes other nursing students consider enrolling in the bachelor's program.
"I would say take the leap of faith," Resendez said. "The jump is the scariest part. Once you complete your degree, the sacrifices you are currently making will pay off."