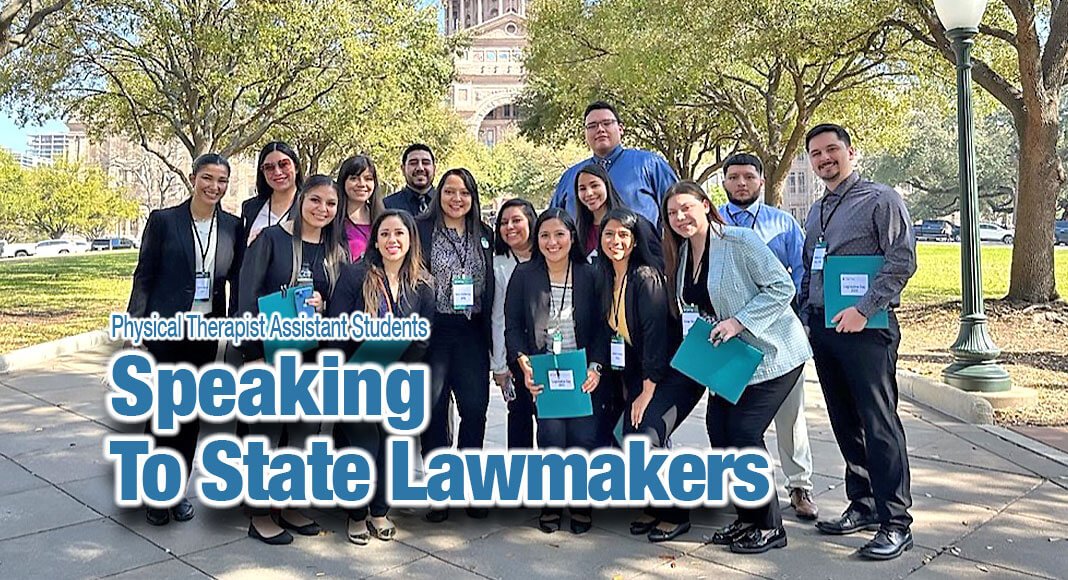 Mega Doctor News
- Advertisement -

Selene Rodriguez
South Texas College Physical Therapist Assistant students recently had the opportunity to speak to state lawmakers about legislation that promotes direct access and low-cost treatment for patients during the Texas Physical Therapy Association's Legislative Action Day in Austin, Texas.
A cohort of 15 students, joined by two STC instructors, traveled to the Texas Capitol in Austin as one of the few Physical Therapist Assistant programs from the Rio Grande Valley that participated in the assembly.
"We proudly represented the RGV and helped educate our elected officials on specific bills that are being offered with intention of facilitating treatment for our patients," said STC Physical Therapist Assistant Instructor Sayda Ruelas. "It was an excellent opportunity for our students to understand the importance of advocacy in this profession."
A couple of the bills discussed included affordable co-pay costs for patients to successfully complete their treatment, which can last from six to 12 weeks, without it being a financial burden. STC students also advocated for an expansion of direct access which would help patients get treatment for up to 30 days without additional referrals.
Angela Duarte, an STC Physical Therapist Assistant student who will graduate this semester, said she is thankful to the college for preparing her to be incredibly knowledgeable in the field.
"As part of our social responsibility project we took it upon ourselves to create a legislative team that would travel to Austin to have this professional experience before we graduate," she said. "This program has truly prepared us to feel comfortable presenting and taught us how to educate, which is an essential skill to have as a therapist."
- Advertisement -

Ruelas commented that the program's curriculum includes a presentation assignment to allow for students to practice their public speaking abilities since, in the profession, educating patients is crucial for them to follow instructions and have a successful treatment.
Student Jessica Ragusin, who also participated in advocating in Austin, said she returned with a wider perspective on what a physical therapist assistant does and how all it comes down to the patient's wellness.
"For me, one of the biggest takeaways from this experience was seeing, that at a state-level, this profession really does prioritize patients; it's always about what's better for them," she said. "We're happy to join the cause and raise awareness; we learned that if we don't advocate for our patients and ourselves, nobody will."
She said STC opened her eyes to the opportunities this profession offers and the different pathways a physical therapist assistant can take.
"When I was young, I wanted to work in something related to sports, but it wasn't until I started the program that I realized the extent of our profession," she said. "Therapy really makes a difference for all ages."
Physical therapy assistants help in the medical treatment used to restore functional movements, such as standing, walking and moving different body parts.
STC continues to bring awareness through the "Physical Therapy Moves Me" campaign by the American Physical Therapy Association, a movement that intends to teach future generations about the profession and its opportunities, with several students and instructors from the college serving as ambassadors.
"What we want is for students, from a young age, to know about this profession; children can instantly identify doctors, firefighters or engineers, and we want the same for therapists and therapist assistants," Ruelas explained. "The advocating we do is going to raise awareness on our profession, who we are and what we do."
For more information on the South Texas College Physical Therapist Assistant program, visit nah.southtexascollege.edu or call 956-872-3100.