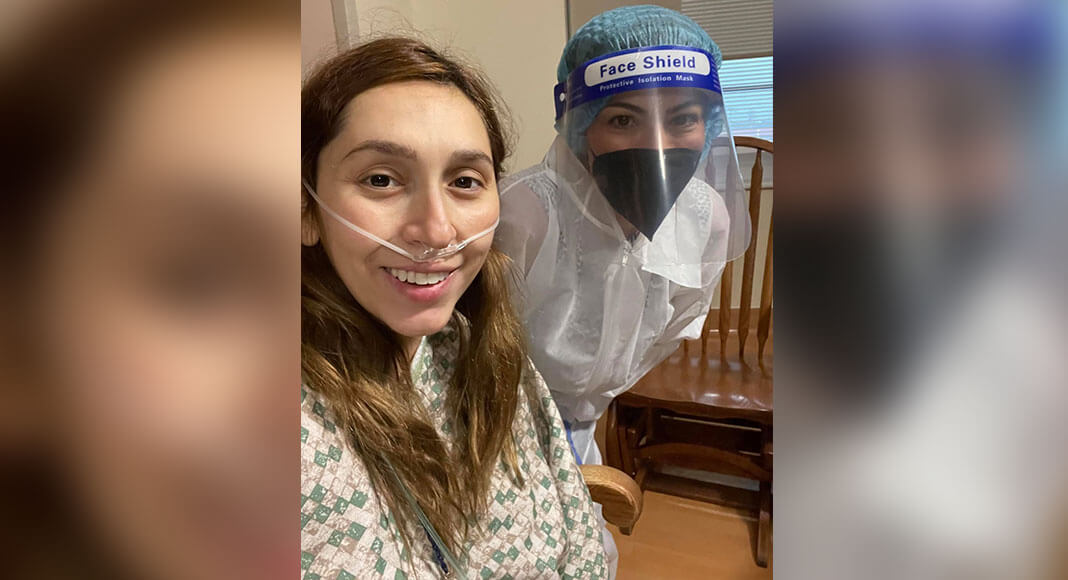 Mega Doctor News
By Norma Guevara
As I sit and write this post, I reflect on the occurrences of the last week. My daughter, Nicole Degollado Gonzalez, who is 35 weeks pregnant with her 3rd baby boy got Covid. Her entire little family got Covid. As her family got better, she got worse. Last Sunday, my son-in-law called me and said, "Mom, she isn't getting better." I instinctively tell him, "Bring my baby girl home!" They came home and we drove her straight to Rio Grande Regional Hospital. We weren't allowed to stay with her, so after we knew she's been taken up to the 3rd floor, Labor and Delivery, we returned home. They discharged her at 3 am.
Tuesday, we a got another phone call, "Mom, she can't breathe." I called her amazing PA from her OB-GYN, Kareena Gonzales, and they did a direct admit. So started our worst nightmare with Covid. My baby girl had Covid pneumonia and was put on 10 Liters of oxygen. This is the most they can put you on before intubation.
Her OB-GYN talked about inducing her delivery. We knew she couldn't go through a natural delivery, and we didn't know if she could sustain a C-Section. We prayed and decided the best thing was to wait and pray she would improve. The baby was strong and healthy.
We called the nurses station to get a report every shift, check what she was saturating, and what her oxygen level was. On Wednesday, we were told she could have one visitor a day for 15 minutes. I walked into her room to hear her gasping to breathe, even with the oxygen. I'll never forget that sound. I walked up to her, in full PPE. She thought I was one of the doctors until she heard me say, "Princess, I'm here." She opened her eyes and sat up, "Mom!!"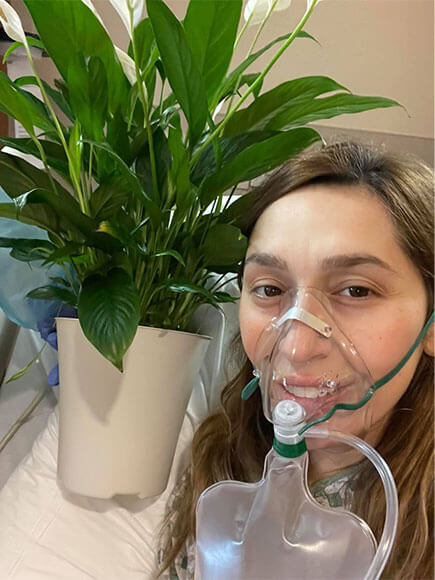 I got to see my baby girl. I combed her hair. I gave her an update on her babies, and I kept telling her she would be ok. I left heartbroken and praying to my Almighty God asking Him to have mercy on her and us, and to please heal her. Weall need her.
Sunday morning, the Lord's Day, she Face-Timed her Papi and me. She was smiling and talking, which she couldn't do when she was admitted. I knew that she had turned the corner, my baby girl was going to be ok. I have gone to see her every day. I have sat for hours with her dad and her other mother, Cecilia Medina, in the waiting room until we literally got escorted out by security.
Cissie, thank you for the support you gave me through this horrible ordeal and thank you for the love and the care you gave to our daughter and to the entire family. I could not have endured this without you. It takes a village to raise children, and our children are extremely fortunate to have "Leona's" in their corner. My daughter will come home soon, and we will be grateful for the rest of her life that God has given her a second chance. Thank you to my friends that prayed for her and for us. Thank you for those that knew and checked up daily. I am eternally grateful to every one of you.
Covid is real. It hurts our home and it hit one of my most precious possessions, my baby girl. No matter how old she is, she will always be my baby girl. I love you with all my heart my princess. We did not believe in the vaccine and had not been vaccinated. Well, this has changed our mind. We don't know what is in store with all these variants. Maybethis was God telling us we need the vaccine. Hearing the nurses and doctors yesterday tell my daughter she was very critical, and they didn't know if she would make it, who are we to question God who has given us a Miracle. Omar, Diego, and I will get vaccinated today. I cannot endure this again and I refuse to lose anyone I love. Any one of you that hasn't been vaccinated, please get your vaccine. You don't want to feel what we have felt and had to endure.