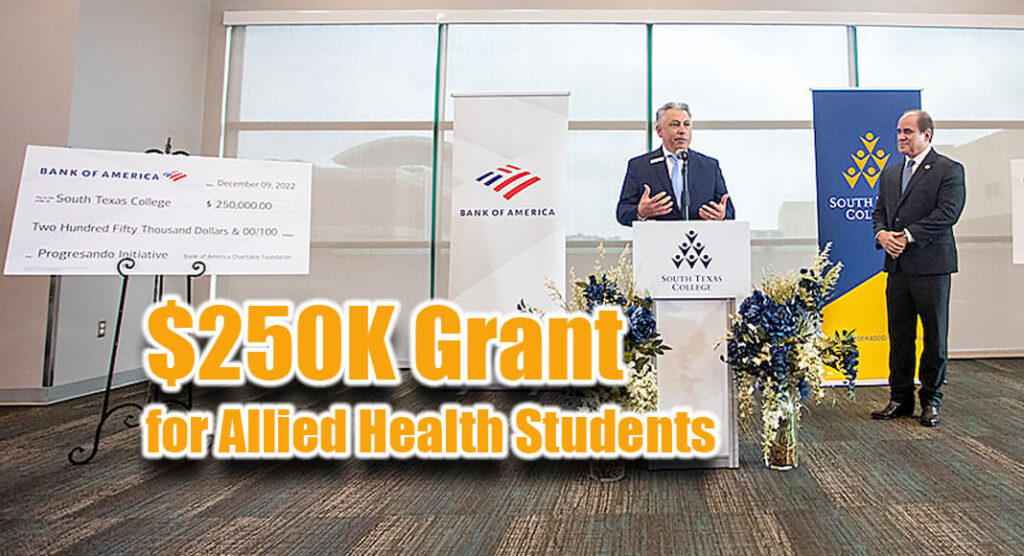 - Advertisement -

Mega Doctor News
By Amanda Sotelo
With the goal of increasing the Hispanic-Latino representation in health care careers, South Texas College (STC) and the University of Texas Rio Grande Valley were recently awarded Bank of America Progresando Grants to support enrollment efforts and expand the colleges' capacity to meet workforce demands.
Each institution was presented with a $250,000 grant during a recent joint press conference at STC's Student Union. The initiative is projected to help nearly 4,500 Hispanic-Latino local students commit to health care related careers, doubling the current student rate.
Progresando is a national Bank of America initiative to create job opportunities for Hispanic-Latinos, while also helping to address the shortage of culturally sensitive Spanish-speaking health providers. Over the next two years, Bank of America will work with 12 colleges and universities in six cities across the country.
The goal of the grant at STC is to help students pay for state licensure exams and license fees and to support non-credit health care pathway programs. The grants aligned to the Progresandoinitiative will save students nearly $300 in Texas Board of Nursing Application and National Council for Licensure Exam (NCLEX) fees.
STC Dean for Nursing and Allied Health Jayson Valerio, Ph.D., said many of STC's students, as Hispanic and Latinos, are underrepresented in the health care field, and colleges like STC and grants like the ones awarded by Bank of America play a pivotal role in achieving health care workforce diversity.
"A lot of our students come from disadvantaged backgrounds, and this Progresandogrant will help them fulfill their dreams of pursuing careers in the health field," said Valerio. "This is going to provide deserving students, in need, with financial aid to pay for their state licensure exams and get them into the workforce."
- Advertisement -

Bank of America President Ventura Perez, who hails from the Rio Grande Valley, said he's proud to partner with Hispanic-Serving Institutions like STC.
"My time in the Valley taught me that this community has unmatched determination to overcome the many obstacles the area faces, including poverty, hunger and lack of access to education programs that lead to economic mobility," he said. "Bank of America has a long history of driving economic mobility in the communities where we live and work, including supporting our Hispanic-Latino teammates, clients and communities, and the Progresando initiative builds upon these efforts. We're honored to do our part to help South Texas College and the University of Texas Rio Grande Valley thrive and strengthen the local economy."
STC Associate Degree in Nursing student Betsabe Berumen said she is grateful for the help she will receive thanks to Bank of America. The 40-year-old, single mother of three, said it's been a lifelong dream to become an oncology nurse, but because finances are tight, paying for licensure exams and fees can be challenging, but now she can breathe a sigh of relief.
"This is a blessing," she said. "This is going to get me one step closer to becoming the nurse I've always wanted to be. This is big for me and my family. It gives me-us-peace of mind. It will make my dreams come true."
She added that for students who are struggling, like her, this is a game changer.
"Thank you STC and Dr. Valerio for always fighting and pushing for your students; for genuinely caring about our success. This is proof that students are No. 1," she said. "And thank you Bank of America, for contributing to your community. We appreciate it more than you know."
A portion of the grant awarded to STC will also be used by the college's Foundation to provide scholarships and help for students completing courses through the college's Department of Continuing, Professional and Workforce Education to hire a Health Care Instructor and two Student Success Specialists to support students in General Education Diploma (GED) and non-credit health care pathway programs such as phlebotomy.
"This grant is going to help build our capacity for non-credit pathways," said STC President Ricardo J. Solis, Ph.D. "We'll be able to increase the number of industry-recognized credentials we offer that will lead to employment in high-skilled, high-wage jobs."
Solis added that there are more than 100,000 people in the region that do not have a high school diploma or GED, and grants like Bank of America's will help lift people out of poverty and open doors to opportunities.
STC's Vice President of Institutional Advancement and Economic Development Rodney Rodriguez, Ph.D., said the grant is establishing a relationship between STC and Bank of America and the collaboration is integral to the college, the STC Foundation and the resources STC offers its students.
"The collaboration between STC and Bank of America to make this grant possible is increasing our services, so we can eliminate the barriers towards a post-secondary credential that many of our students face daily," said Rodriguez.
To learn more about STC's Allied Health programs or non-credit health care pathways, visit southtexascollege.edu.
Registration for spring 2023 is underway. Classes begin January 17, 2023.