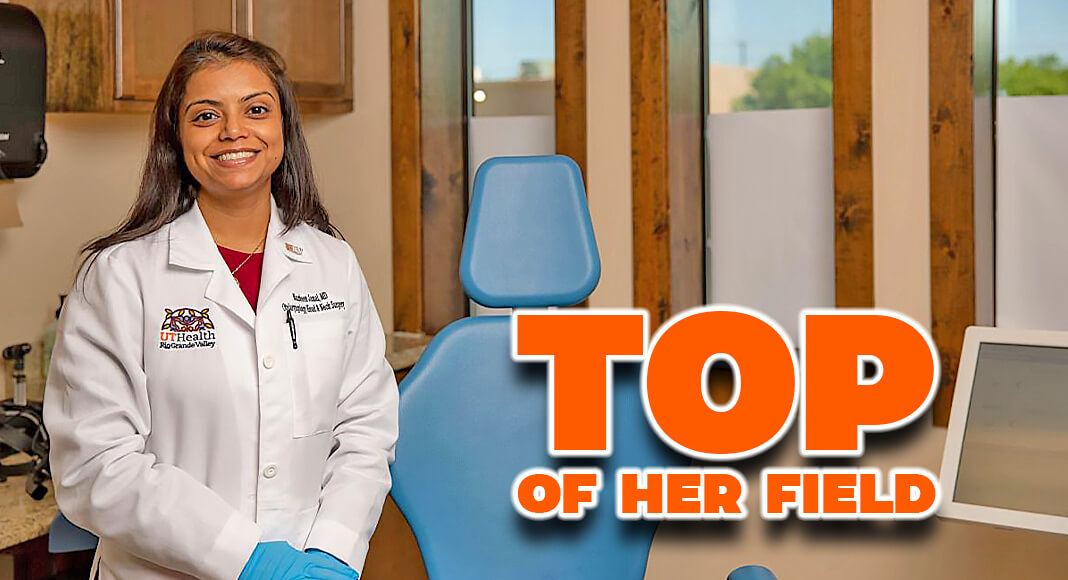 Mega Doctor News
- Advertisement -

By Karen Villarreal
RIO GRANDE VALLEY, Texas – Dr. Nausheen Jamal, chair of the UTRGV School of Medicine's department of Otolaryngology-Head and Neck Surgery, admits she wasn't always a leader.
"I'm the daughter of immigrants from Bangladesh. I came to the United States at a young age. I didn't speak English when we arrived, and we didn't have a lot of financial means when I was growing up," she said. "We were on WIC for groceries."
Today is an entirely different story for Jamal, now an associate professor in the School of Medicine and a practicing ear-nose-and-throat (ENT) surgeon. The fluctuating economic situation when she was growing up didn't always lead to dreams of leading people.
"If you told me when I was younger that I was going to be a chair of surgery, I would've said, 'You don't know who I am,'" she said, laughing. "But I didn't really know who I was yet. You learn a lot about yourself when you're placed in various situations.
"I definitely understand that it can be a struggle for people to visualize themselves in 'big picture' careers," she said.
As Feb. 3 marks National Women Physicians Day today, Jamal stands as an example of perseverance and empowerment for girls and young women everywhere. Still, the numbers bear out the need for a special day to stand as a reminder that women leading is more than a possibility:
- Advertisement -

Even now, just 30 percent of practicing ENT surgeons are women.
Jamal, appointed chair of UTRGV's ENT department in 2021, today is one of only seven women physicians in the country to reach that level in the ENT specialty.
INSPIRATION
Her father was instrumental in her eventual commitment to a higher education, she said, and she recognizes that her career grew with the support of mentors who believed in her and helped her find opportunities to break the cycle of poverty.
For Jamal, that meant taking out loans to pay for her undergraduate degree – loans she is still paying off today, she notes – and then attending medical school on full scholarship.
"It is important to find ways to advance yourself," she said. "I had great mentors who helped me develop into the physician and academician I am today. I hope I can inspire others, too."
The encouraging news is that, in the UTRGV School of Medicine's sixth and current cohort, almost half of the enrollment is women.
MENTAL HEALTH LEADERSHIP
Jamal's leadership role now extends beyond UTRGV's ENT department with her participation in a nationwide project to help improve the emotional wellbeing of her peers: Physicians suffer from high burnout rates – especially women – according to recent studies.
She was among one of 34 grantees recently awarded funding from the federal Health Resources & Services Administration (HRSA) to address the rampant problem of burnout among healthcare practitioners.
"My grant co-PI, Dr. Deepu George, and his team deserve most of the credit for the grant application's success," she said.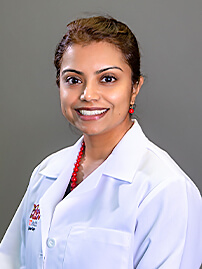 According to a 2020 study, more than one-third of physicians nationwide suffer from "burnout."
Symptoms like emotional exhaustion and cynicism may affect how efficient a healthcare worker is, and how good the patient care will be, Jamal said. It also can damage their personal wellbeing.
"The intended goal is to boost the resiliency of healthcare students, residents, professionals and trainees in rural and underserved communities in the Rio Grande Valley," Jamal said.
Studies that compare physicians' experiences by gender increasingly are finding that the prevalence of burnout may be as much as 20 to 60 percent higher among women physicians than among their male counterparts.
Jamal said the stats highlight why women need to be better represented in medicine – not only to contribute to a more diverse operating room or board room, but to share their experiences, both academically and in practice.
"Women's experiences in medicine are often dismissed," she said, "but they are so valuable."
Jamal said she will utilize the almost $1.76 million grant to develop and implement training activities using evidence-based strategies. The ultimate goal is to address and reduce burnout, suicide, mental health conditions and substance use disorders among healthcare workers.
Jamal said taking a joyful approach to work is one way she keeps herself motivated and engaged, and studies have shown that employees doing the "work they find most meaningful" are at dramatically lower risk for burnout.
"It was at a professional conference that I learned that, if you can find joy in 20 percent of the work you do, that is enough to keep a person satisfied," she said.
For Jamal, that joy percentage already is substantially higher.
"The ability to innovate in education through clinical research; the inspiring part of being a leader and firing up that passion in my team; helping students discover their potential – all of this is part of my joy," she said.
Perhaps most important of all, thought, is the ability to develop connections with patients.
"I love that when I might be reaching a roadblock, I always have that patient connection to look forward to," she said.