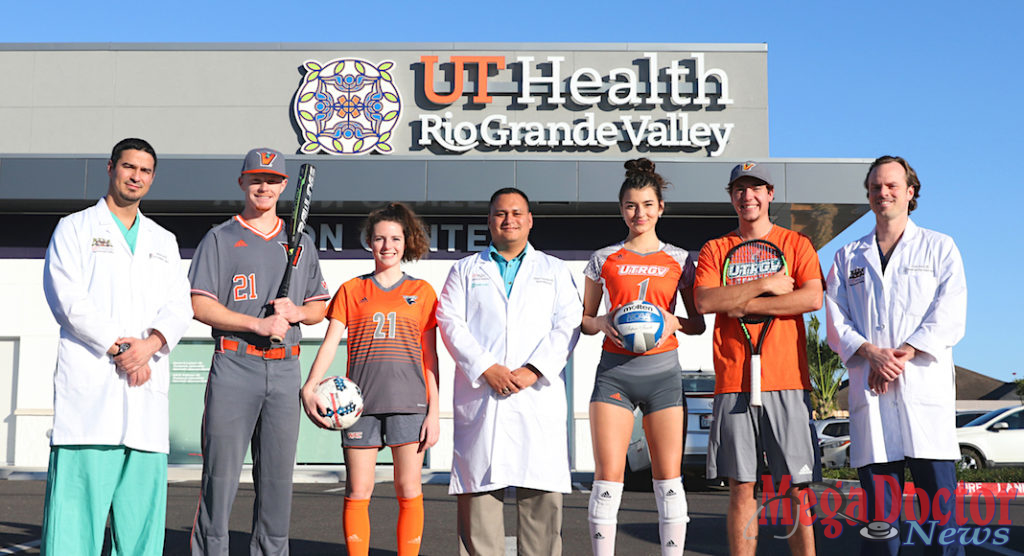 Mega Doctor News
Rio Grande Valley – The UTRGV Department of Intercollegiate Athletics and UT Health RGV are partnering to keep the university's student-athletes in the game.
UT Health RGV is now the official and exclusive healthcare provider for UTRGV Athletics, as part of a formal partnership designed to provide quality, comprehensive care, and education to student-athletes throughout their time at the university.
UTRGV student-athletes have access to UT Health RGV's sports medicine team physicians and orthopedic surgeons, as well as to specialists in primary care, mental health, women's health, psychiatry and neurology, ear, nose & throat, plastic surgery, and nutrition.
Dr. John H. Krouse, UTRGV executive vice president for Health Affairs and dean for the School of Medicine, said the partnership is a testament to the commitment and pride both programs bring to the region.
"UT Health RGV is a catalyst in providing healthcare needs to the Rio Grande Valley," Krouse said. "It is only fitting that we would want the same level of exceptional care for our student-athletes."
Chasse Conque, UTRGV vice president and director of Athletics, said partnering with UT Health RGV is a meaningful step forward for the entire athletics program.
"We are grateful to Dr. Krouse and his entire team for their investment in UTRGV Athletics, and we look forward to growing together for many years to come," Conque said. "UT Health RGV is transforming the Valley, while UTRGV Athletics is aiming to rally the Valley. Together, we will lock arms to raise the standard for healthcare both for our student-athletes and throughout the region."
Michael Patriarca, UTRGV senior associate vice president for Health Affairs and executive vice dean for finance and administration at the School of Medicine, said the collaboration is a way to bridge the two entities in a positive and supportive working relationship."This partnership ties our brands together as we are both growing and transforming the Valley," Patriarca said. "UT Health RGV is committed to the highest standard of quality inpatient care for the Rio Grande Valley."