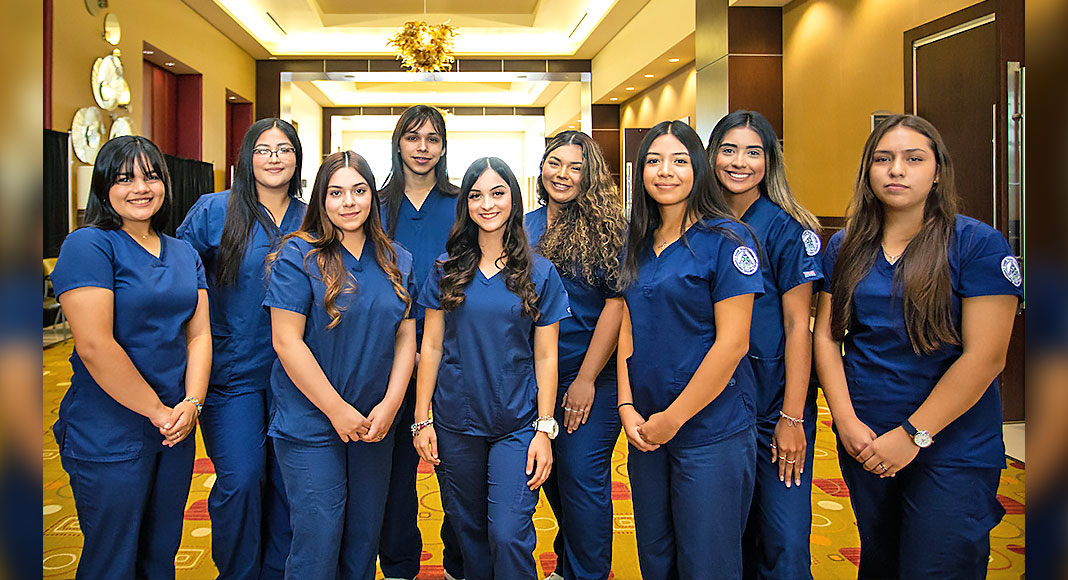 Mega Doctor News
McALLEN, Texas – La Joya High School senior Yeslem Arredondo earned a Certified Nursing Assistant (CNA) certificate from South Texas College this summer.
Arredondo was one of nine Academy of Health Science Professions students who took part in the Pathways Aligned to Health Science (PATHS) Project's CNA Certification Cohort, a five-week intensive summer program in partnership with STC, Region One Education Service Center, Doctors Hospital at Renaissance (DHR) and Rio Grande Valley College.
"I expected it to be really hard, and it was very challenging, but I'm thankful to have had such great STC instructors guiding us through every single part of the course," Arredondo said.
Elizabeth Diaz, program manager for DHR's education department, said the Region One ESC PATHS Project, funded by the Texas Education Agency through a federal grant, aims to provide high school students with different academic and career-focused curriculum in health science programs through college partnership.
"We immerse them with the content from these two colleges, and then DHR kind of intervenes and gives them the career perspective of what to expect once they're in the field," Diaz said. "We're prepping them as they're doing their course study. Every year we keep developing and implementing new ways for our students to be prepared once they hit the working field."
This is the second group to graduate from the CNA Summer Cohort. Dozens of families filled the Edinburg Conference Center at Renaissance recently with congratulatory flowers and gifts as they watched the high school students receive their certificates.
STC President Ricardo J. Solis, Ph.D., offered a message of encouragement to the newly certified students at the graduation.
"Higher education is the perfect equalizer to succeed and prosper in life," Solis said. "It's down to your determination if you want to continue. Clearly, you have proven that you will be able to succeed in life with this first step, and there really is more to come."
Jayson Valerio, Ph.D., dean of Nursing and Allied Health, said that, on a national scale, higher education is seeing the benefits of partnering with K-12 education. Especially in the health care field.
"They'll start their senior year and already have a certificate under their belt," Valerio said. "They're able to work, and hopefully, they'll then consider becoming a nurse, or a physician, a physician's assistant or nurse practitioner."
Waiting in the lobby after the ceremony were job recruiters from DHR. The collaborative project was created to address the demands of a critical shortage in the medical field by filling the vast variety of professional job positions currently available in the Rio Grande Valley.
"We have probably 40 postings just for CNAs," Diaz said. "We have our recruitment team here after the ceremony so students who are eligible to apply can get that information right away."
Valerio said research has shown the connection between a student's commitment to a field and how young they were familiarized to it. That's why STC leadership was excited to pilot with La Joya ISD.
"Research shows that if you introduce students as early as eighth grade, to any line of work that they want to venture into, then more than likely, they will pursue it in post-secondary education," Valerio said. "We are already doing this here at South Texas College."
Arredondo said she joined the program because she wasn't sure what path to take in college. But she always wondered if health care would be a good fit for her.
"I thought I could go into (PATHS) and figure out if it's something I want to do," Arredondo said. "And when I got to my clinical rotations, and saw the CNAs, the nurses and the patient care specialist working, I realized that this is what I want to do now. I know which way to go."
For more information about what STC's Nursing and Allied Health has to offer, please visit nah.southtexascollege.edu.