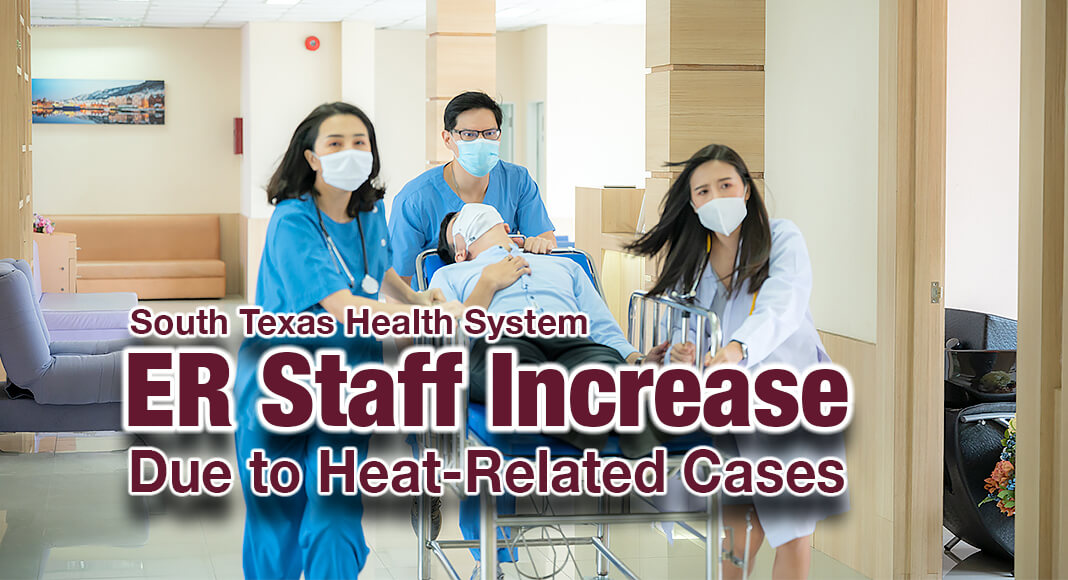 Mega Doctor News
- Advertisement -

The number of people seeking medical attention at South Texas Health System's emergency departments due to dangerous heat exposure continued to climb through the end of July, more than doubling the number of ER visits due to heat-related illnesses compared to the previous year.
Through the month of July, a total of 191 patients received treatment for heat-related illnesses at the healthcare system's 10 emergency rooms, including its six freestanding emergency departments, a 75% increase compared to the same period last year.
In June and July 2023 alone, there were 153 ER visits, a more than 120% increase from the heat-related ER visits during the same two months last year.
Additionally, there have been four patients treated for heat-related illness during the month of August so far, bringing the total number of heat-related illness ER visits in 2023 to 195 patients, already surpassing all of 2022's total of 166 patients.
As temperatures throughout the Rio Grande Valley persist at dangerously elevated levels, with the heat index reaching 115 degrees this week, according to the National Weather Service, the South Texas Health System Trauma & Critical Care Institute cautions residents to continue limiting their time outdoors and take extra precautions when they must spend any time outdoors.
"Heat exhaustion can come on very quickly, so it's important to be aware of any kind of dizziness, headaches, increased heart rate and confusion," said Kennetha Foster, System Chief Nursing Officer, South Texas Health System. "Once you're feeling confused, you need to take immediate action."
Other symptoms of heat-related illnesses include high body temperature; hot, red, dry or damp skin; heavy sweating; muscle cramps and losing consciousness.
- Advertisement -

With no clear end in sight for the above-average heat, STHS is prepared to take on additional cases and provide the highest quality of care to those in need of emergency treatment.
"Even though we're seeing more patients, we're ready and able to manage those emergencies at any of our facilities," Foster added. "We've opened up extra space in our emergency departments to accommodate the increased patient volume; and we've added additional staffing, including registered nurses and nursing assistants, to oversee the spike in ambulance volume."
South Texas Health System urges the community to seek medical attention if they suspect someone is experiencing heat exhaustion or another heat-related emergency as illnesses caused by extreme heat can lead to more serious health issues, including cardiovascular and respiratory complications, renal failure, electrolyte imbalance kidney stones, negative impacts on fetal health and preterm birth, according to the Centers for Disease Control and Prevention.
To help prevent heat-related illnesses, South Texas Health System Trauma & Critical Care Institute reminds the public of these important tips to help them stay cool:
Keep Cool Indoors: Stay in air-conditioned buildings as often as possible. This is the number one way to protect oneself from against heat-related illness and death. If a person's home is not air-conditioned, they can spend time in public facilities that are air-conditioned and use air conditioning in vehicles. They can also contact the local health department or locate an air-conditioned shelter.
Fans Aren't Enough: Do not rely on a fan as the main cooling device during extreme heat as they will not prevent heat-related illness. Take cool showers or baths to cool down.
Stay Hydrated: Drink more water than usual; don't wait until you're thirsty to drink.
Limit Use of Heat-Producing Appliances: Restrict the use of a stove or an oven as use of those devices will make a house hotter.
Avoid the Outdoors: Limit outdoor activity, especially midday when the sun is hottest. If outdoors, wear loose, lightweight, light-colored clothing and apply sunscreen.
Don't Leave Children or Pets in Cars: Cars can very quickly heat up to dangerous temperatures, even with a window cracked open. Remind yourself that a child is in the car by keeping a stuffed animal in the car seat.
Stay Informed: Check the local news for health and safety updates.
If you or someone you know is experiencing a heat-related emergency, seek immediate medical attention by dialing 9-1-1 or heading to the closest emergency room. South Texas Health System's 10 emergency departments, including the six freestanding emergency departments, provide round the clock, close-to-home care. To learn more about them, visit southtexashealthsystem.com/our-facilities.