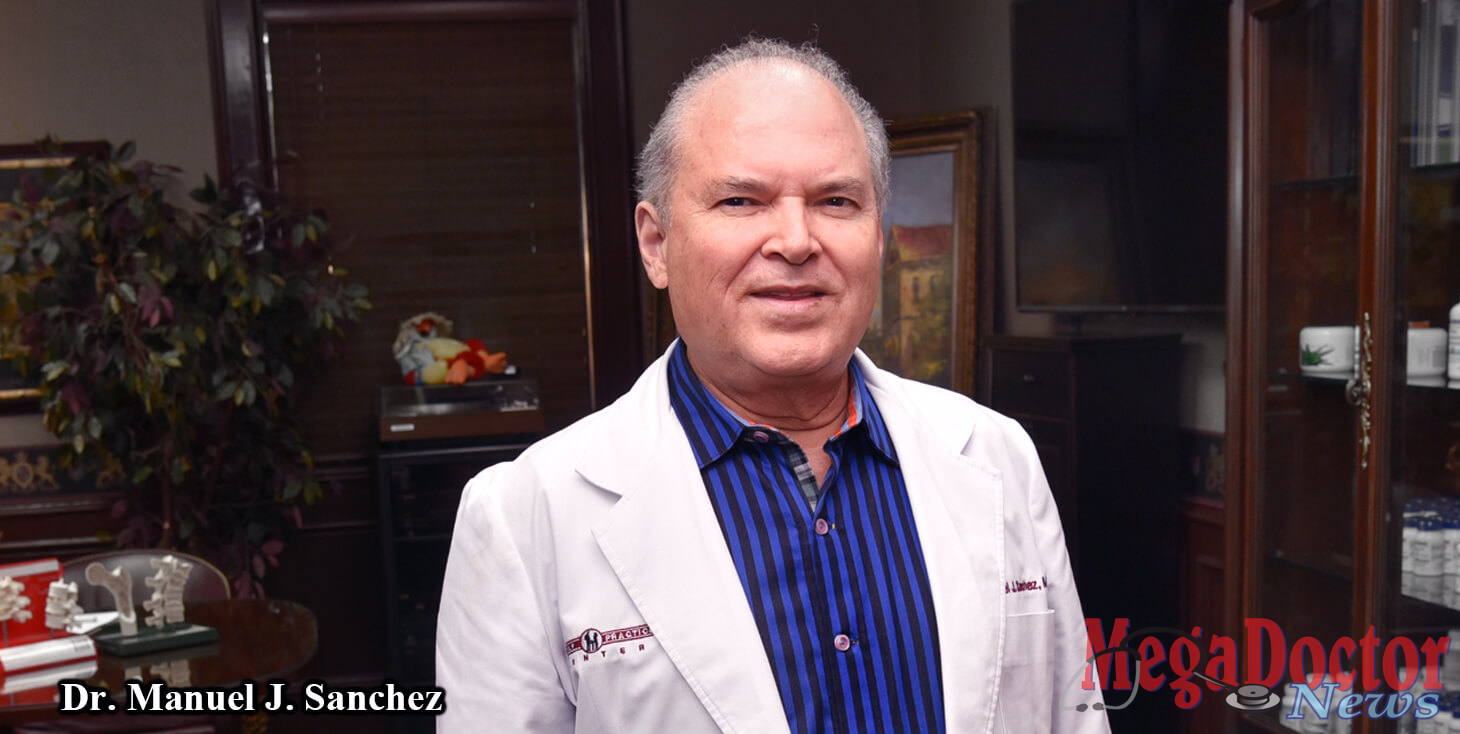 As originally published in Mega Doctor News newsprint edition November 2018
By Roberto H. Gonzalez
Featured in our November 2018 edition is Dr. Manuel J. Sanchez, a board-certified family practitioner with over forty years of experience in the field of medicine. He is a seasoned physician with admirable training and certifications due to his love and dedication to his profession.
Mega Doctor News has had the pleasure and honor to know Dr. Sanchez for over twenty years, we can attest that he is a passionate professional caring for his patients.
This time he talks all about osteoporosis and who is more susceptible, male or female. He stresses the importance of good nutrition and physical activity. I know that you'll learn a lot just by reading what Dr. Sanchez says and recommends.
On another matter: The idea is phenomenal, a health wellness center which is founded on sound science is ready to provide functional medicine. DHR Health Wellness Center, under the direction of Dr. Desai, is now open to the public. The center brings an integrative medical approach that focuses not only on the treatment of symptoms but also, on the root cause of illness. In this issue, read more about Dr. Desai, a board-certified family physician who truly believes that through the wellness center they will be able to enhance existing health of the patient.
Dr. Desai told Mega Doctor News that they believe wellness is achieved through preventative practices and self-care by balancing all areas of wellness of the mind, body, and spirit.
She is also of the opinion that traditional medicine is more about giving drugs to cure an illness; functional medicine is preventative by focusing on genetic, environmental, and lifestyle factors that influence chronic disease.
The Rio Grande Valley is no different when compared to other regions of the nation, the prevalence of complex chronic diseases is increasing, such as diabetes and heart disease. So, a wellness center focusing on good nutrition and a healthier lifestyle, to prevent and possibly reverse these chronic conditions is ideal.
Be in the know, find the story in this issue and learn more.
On another matter, Three McAllen physicians began new terms of service in Texas Medical Association (TMA) leadership positions. They are Dr. Lenore C. DePagter, an internist in practice for 17 years; Dr. Laura Faye Gephart, an obstetrician-gynecologist in practice for one year and Dr. Victor H. Gonzalez, an ophthalmologist in practice for 27 years.
One of our Mega Doctors is now providing services in Mission, Texas. Dr. Alejandro Betancourt, a neurosurgeon with more than 20 years of experience in treating brain injuries and major trauma cases is now providing advanced medical care at Mission Regional Medical Center. Congratulations!
A big applause to Mission Regional Medical Center for their 9th Annual Mission Pink 5K Walk/Run for Breast Cancer Awareness success. They managed to gather more than 3,000 participants and raised over $77,000.
On another note, area state lawmakers formally requested from Governor Greg Abbott his support for another vital resource to help protect the lives and health of an estimated 1.5 million Rio Grande Valley residents.
In a letter signed by the area's state legislative delegation, and presented to Gov. Abbott by Rep. Terry Canales, D-Edinburg, South Texas legislators urged Gov. Abbott to help secure state money for Level I Comprehensive Trauma Center(s) in the Rio Grande Valley, and for improved statewide trauma preparedness.
Enjoy this issue!
---
Stories mentioned:
Experienced Neurosurgeon Providing Advanced Medical Care in Mission
More than 3,000 People participated in 9th Annual Mission Pink
Valley Lawmakers Ask Gov. Abbott To Endorse Push for Level I Comprehensive Trauma Center